Pan-European anglophone expat magazine
Expatica
ran
an interview with me
yesterday. Or should I say "with me and my rabbit Baker"? Because Baker completely upstaged me, hogging the story's first and last paragraphs, dominating the photo, and getting all the best laughs.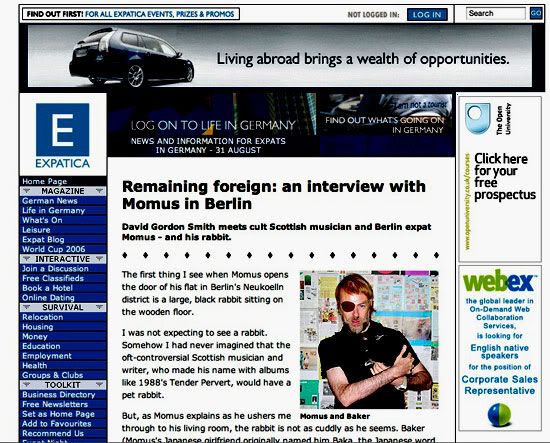 By the way, Hisae would like to correct one detail of the story. The story's author, the very charming David Gordon Smith, described the origin of Baker's name thus: "Momus's Japanese girlfriend originally named him
Baka
, the Japanese word for idiot, but this mutated into the more affectionate English appellation". In fact, that isn't quite the case. We first decided to call our rabbit Topo, after the character El Topo in Jodorowsky's film of the same name. I had my doubts about this at the time, mainly because of a horrible scene in
El Topo
where the existential cowboy shoots dozens of white rabbits dead.
In fact, I was the one who started calling our rabbit "Baker". He's called "David Baker", rather in the manner of a British businessman in a TEFL language learning exercise. Sometimes he's also "Debito Baker", as if this business man then travelled to Japan and became part of a Japanese language-learning tape for English speakers. (We could imagine the Japanese associates this man is introduced to stifling their sniggers when introduced to a man whose surname, with a slight twist in pronunciation, means "idiot".)
More recently, I've been calling him Small
mukatsuku
Baker, (
mukatsuku
means annoying), or just "Small" for short. For instance, when I come home the first thing I do is sing "the Baker Song". To the tune of the theme music from 70s sitcom "Those Were The Days" I sing "Small
mukatsuku
Baker, Small
mukatsuku
Baker, Baker Baker Baker, Bake-ah Bake-ah".
Hisae has never accepted the "Baker" name, and continues to try to persuade me not to call Topo "Baker", referring to the results of the rice experiments I detailed
here
and reminding me that language has the power to make things turn into whatever they're described as.
"I love the photo of you and Baker... there's a strong bond between you two, with a bit of comical sense but cute," she writes from Osaka, where she's currently trying to get visa stuff together to come and live in Berlin. "A little bit shocking to know that you introduced Topo-chan as Baker again to people, and it's wrong! Can you ask Expatica people to change his name in the article?"
Well, I think it's a little much to ask Expatica to change the article, but I'd like to take this opportunity to tell the world that, back in the days when he was
as cute as this
, the small, furry, black, irritating little idiot in my arms in the picture was officially named Topo. The fact that he grew up to be a "Baker" is not my fault. And I would like to apologize to David Gordon Smith for the loss of the ribbon page marker in his notebook, which got eaten.