Just when you weren't particularly waiting for a book about Rough Trade, along come two at once.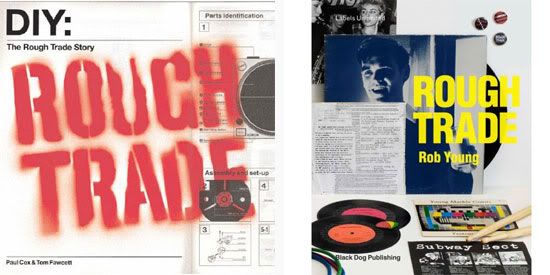 Rob Young's book
on the pioneering indie label has just been published. Which means that
Paul Cox's
, still forthcoming, has been pipped rather cruelly to the promo post.
The Guardian has gone overboard promoting Young's book which, at a cursory glance, seems rather coffeetable compared with Cox's (which claims to be "part authorised biography of Geoff Travis" and to model itself on David Cavanagh's exemplary
book about Creation
). Today's paper contains a
reminiscence
by Philip Hoare about his days "working" for the label in the early 80s, and the other day the Guardian ran this splendid
Jill Furmanovsky photo
of a young (and surprisingly good looking) Genesis P Orridge flogging the
latest
Throbbing Gristle offering to Geoff Travis back in 1978.
Since everybody is waxing lyrical about the label, I thought I'd scribble down my loose, oblique associations too. I remember a visit, way back in early 1982, to their legendary
Blenheim Crescent
warehouse, notoriously scented with brown rice and ganja. I was with my first band, The Happy Family, and we'd recently made a demo with Josef K's Malcolm Ross on guitar. Geoff Travis took the tape into his glass DJ booth and listened to it, then returned to tell us he "didn't think the guitars sounded committed enough". Which was his witty way of saying that he'd heard that Malcolm had joined Orange Juice, and that the guitarist was the best thing we had going for us. I remember the warehouse rocking to "Candyskin" by The Fire Engines while we were there; this was the record that was going to break them through. It didn't. It broke them up instead.
My next contact with Rough Trade was in 1988, when Creation was using their art department. By now they'd scored big with The Smiths, and had moved to new premises near King's Cross. I had to go and check the proofs for the "Tender Pervert" sleeve. The building felt haunted by Morrissey, I remember, and you couldn't quite forget all those rankling songs he'd written about Geoff Travis saying he "just hadn't earned it yet, baby". As it happened, the art department at Rough Trade was run by a very pretty blonde girl called Sallie Fellows, who became my girlfriend, leading to a certain amount of after-work drinking with the Rough Trade staff in King's Cross pubs. The affair didn't last long; Sallie met KLF timelord Bill Drummond, married him and had his babies. (She was commemorated on "Hippopotamomus" with a song about masturbating monkeys which she claimed to be too scared to listen to.) Rough Trade also didn't last long: in 1992 it went out of business for several years, stripping down to a distribution hub.
Geoff Travis did well as a manager in the 90s, with Pulp and others on his books. He revived Rough Trade as a label, and currently has some big acts signed. He's lost his signature afro and now looks like
this
.
My more recent contacts with Rough Trade are just as a consumer dropping into a series of excellent but short-lived record shops in Paris (Rue de la Roquette) and Tokyo (Cat Street). They've both gone, but the Slam City Skates store in London's Covent Garden is still there, and still a regular point of call for me. Somehow, when I'm in there, I feel like music still has the scale and meaning it had for me when I was in my 20s: small scale, big meaning.