I first met Christian Kracht in 1991, when he came to London to write a feature about me for Tempo magazine. The photos were by a then-unknown photography student called Wolfgang Tillmans. Christian's next assignment was to live for a month as a homeless person on London's streets and write about that. When I next heard from him, he'd become "one of the best-known writers and journalists of his generation", with books translated into 14 languages. In 2003 he commissioned me to write a short story for Der Freund, the literary magazine he was editing, and I responded with
"7 Lies About Holger Hiller"
(published here in English for the first time).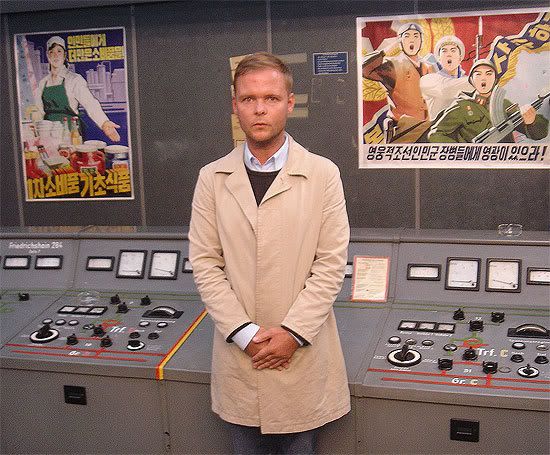 Kracht managed to edit this German literary magazine while living in Katmandu, Nepal. He's now back in Berlin (the phone and internet just proved too patchy in Katmandu to get any collaborative work done) and has just published a coffee table book about North Korea.
Total Recall: Kim Jong-Il's North Korea
proposes "the nation as time machine". Leafing through Eva Munz's gorgeously faded photos of monumental buildings, vast boulevards with only one car, suspicious rental crowds, opulent (but non-operational) underground railway stations, and patriotic collectivist murals, it's easy to see parallels with certain parts of East Berlin. For Germans, this really is a time machine back to their own past. It's also, in a certain way, beautiful.
Yesterday I attended the launch for the "North Korea coffee table book" in the control room of an old power station (later the Vitra Design Museum) in Prenzlauer Berg. North Korean propaganda posters decorated the walls, and video monitors streamed whitewashing films at us, accompanied by solemn ceremonial music. The result was remarkably similar to
ostalgie
-- with more beautiful, faded East Asian pastel colours.

"Those few thousand tourists -- and a few journalists -- who come annually to the North Korean capital of Pjongjang are accompanied by guides and only allowed to see what the regime considers worth seeing," the
publisher's blurb
for Total Recall explains. "Some places are prepared particularly for this viewing with actors, who represent pedestrians, but are not, with consumer goods, which are apparently on sale, but are unavailable, and with dubious statistics. Kim Jong Il's People's Republic of North Korea is a gigantic installation, a simulation, a play. Eva Munz, Christian Kracht and Lukas Nikol travelled to North Korea to make pictures of a country from which there are no pictures. What they show in this book is a window onto the gigantic 3-D production of Kim Jong Il, who writes the nation's statistics and makes its film script. Because, from the outside, no accurate view is available of this total installation, the authors make the only one possible: they commentate their photos with quotations from a didactic book of axioms on the art of film written by the dictator - who not only collects wine and Mazda RX-7 sports cars, but also has an enormous film library."
While photographer Eva Munz (who was born in socialist East Germany) had found her experience of North Korea menacing, Christian Kracht was full of praise for what he'd seen of the nation. It was simply beautiful. People seemed happy. He felt very free there. It was like participating in a nationwide piece of cinema. It was only when he approached the South Korean border that Kracht, wearing a pink suit, felt menaced by something sinister: from the unfree south, yoked by the tight bonds of capitalism, border guards and Americans watched him through binoculars, taking pictures. I laughed with delight at this reversal of the usual stereotypes.
Kracht will give
a talk
at Rafael Horzon's REDESIGNDEUTSCHLAND Wissenschaftsakademie on Monday, September 11th at 8pm. Apologizing for missing my lecture there a couple of weeks ago, Christian had the perfect excuse. "I was climbing Mount Kilimanjaro that day," he said.