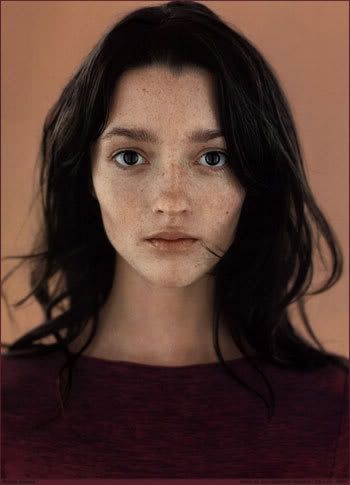 It started when the organizers of the Madrid Fashion Week announced that Audrey Marnay would not be allowed to appear on their catwalks.
"REAL women will rejoice at the news,"
reported the London Times
. "Audrey Marnay is being pushed off the catwalk. The organisers of Madrid Fashion Week have announced that they are banning her to develop a more healthy image for the event this month. If Marnay does turn up, she will be classed as a freak in need of medical help.
"Madrid city council, which sponsors the fashion week, has ordered that every model on show must have a facial beauty index (FBI) of no more than 0.6. The average woman in Spain has an FBI of 0.5. Audrey Marnay's FBI has been measured by doctors; she scores a highly abnormal 1.0."
A week later, UK culture secretary Tessa Jowell lent her support to Madrid city council's decision. "It's categorically not an issue for government regulation," Jowell was reported as saying, in an article headlined
Jowell joins condemnation of Audrey Marnay
. "It is, however, an issue of major concern for young girls who feel themselves inferior when compared to the beautiful young women on the catwalk. They all want to look as beautiful as Audrey Marnay and see beauty in those terms. And I think it's fair to say that when they wake up in the morning, the first thing most 15- and 16-year-old girls do is feel their faces."
Okay, I'll come clean. If you followed those links you'll see that I've substituted the name Audrey Marnay (who happens to be my favourite model) for "stick-thin catwalk models", "skinny models", "unhealthily thin girls" and "waif-like models". And I've substituted the fictional FBI (facial beauty index) for BMI (body mass index).
I find these calls to ban "unrepresentative" or "abnormal" models from the catwalk farcical not only because I'm a thin person myself, or because I'm an artist whose work is often about beauty, and who doesn't think that art should restrict itself to merely average levels of beauty. It's also because I'm fundamentally
anti-rockist
. In other words, I'm against "keeping it real", and I think that claims that a catwalk show, or even a street fashion shoot, are only valid when they're "based on a true story" are overblown. (If rockism is Stanislavskian, all about realism, anti-rockism is Brechtian, about drawing attention to the fact that all spectacle produces illusion.)
The "based on a true story" thing has come up a couple of times on Neomarxisme, once when Marxy took shots at popular TV (then film) phenomenon
Densha Otoko
, Train Man, disputing claims that the drama was based on a true story, and once when we talked about how sumo wrestling was fixed. I raised the issue myself recently when I
reported
how an ex-girlfriend had told me she'd been photographed for Cutie magazine's street fashion section, but been styled (a lacy white thing had been added under her denim jacket to spice the picture up). I was disappointed to learn this, but didn't think it was finally very important. All street fashion is styled in the sense that it's sifted. And street fashion is always aspirational. Nobody really wants to know what the average person on the street is wearing. Nobody wants people selected at random, or for their averageness.
A fascinating insight into Japanese street fashion is provided by
a new feature
on Pingmag (this site is currently hotter than July). It's exactly the kind of first person, investigative reporting I'm always telling Marxy to try, based on simply asking people questions and trying to "see with" them when they answer. (That "seeing with" is called
verstehen
in sociology.)
"What is in this green bag next to your photo equipment?" Ryotaro Bordini Chikushi asks one of the Omote Sando street photographers. "Please don't take a photo of that! This is confidential," the lensman replies. "We are sponsored by a shoe-maker today, so we look out for interesting boys and ask them to wear those shoes with their outfit for our street-shooting."
There we have it. Some product placement is going on in Japanese street photography (although I can guarantee that Shoichi Aoki's magazines Street, Tune and FRUiTS don't do that). Even when it isn't, it would be hard to say that these photographs are "based on a true story"; kids parade up and down Omote Sando in their carefully-selected clothes, hoping to be stopped and photographed. The scouts select those who best suit the house style of their own magazines. It's already highly theatrical.
The "based on a true story" claim cannot be removed entirely; there's definitely emotional power to be drawn from the fact that "real" people are wearing clothes of their own choosing "on the street", just as even a catwalk show gains emotional power from the fact that actual flesh and blood women, rather than dummies or robots, are wearing the creations of designers. But the relationship with reality here isn't contractual ("That's not true! You made false claims and let us down!") but metaphorical. And aspirational. If only reality
were
like that, we coo, sounding for all the world like a teenage girl waking up in the morning and feeling her face.
Politics, ideally, comes from below. But beauty comes from above. It will never be democratic.