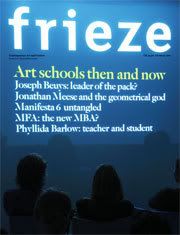 Colour me gobsmacked, bollock-chuffed and flyposted all over town. Not only is there a one-page picture of me in
Street magazine
this month, I've just found another rather amazing picture in another of my favourite magazines.
Leafing through the September issue of British art magazine
Frieze
I found, on page 155, a picture of Joseph Beuys doing a didactic lecture-performance called
The Jimmy Boyle Days
at the Canongate Demarco Gallery in Edinburgh in 1980. It's an illustration for an article by Jan Verwoert called "Class Action". You can read the feature
here
.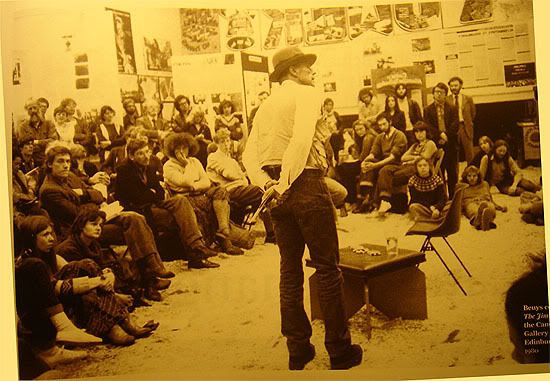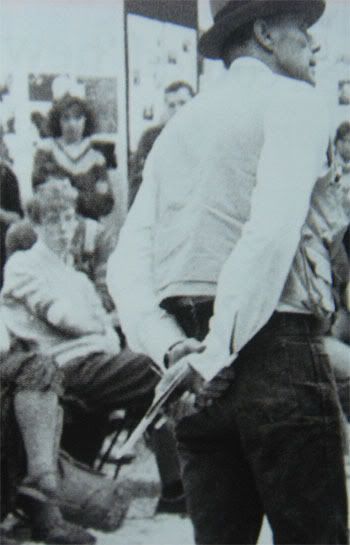 "Fuck," I thought, "I went to that!" And sure enough, on closer inspection, there I am, sitting in the front row, a skinny,
glaikit
student wearing Doc Martens and Metzler Harvard spectacles. I don't even think I have any photos of myself aged 20, but it's me all right, a stern virgin with a big crush on art. How bizarre that it should appear in Frieze magazine, 26 years later! And that I should have morphed in the meantime into some kind of performance artist myself!
I was in that historic, hot little room (it took a lot to make me roll my sleeves up in those days) largely thanks to two people: dynamic Edinburgh curator and culturepreneur
Ricky Demarco
, who invited Beuys to Scotland several times, and writer
Caroline Tisdall
, who the year before had published a very big, very stern and grey book on Beuys which I'd bought at the Edinburgh Bookshop. It was full of strange introverted drawings of hares and honey, or grainy black and white photographs of performances. Perhaps I hoped to impress the art student I was currently longing helplessly for,
Paula Garcia Sarria
, or perhaps the book just tied in with the grim, grey, grainy aesthetic of the latest album from
Dome
.
"Caroline Tisdall's book on Joseph Beuys, published by Thames and Hudson in 1979, was the first contemporary art book I bought," I
wrote last year
. "I can honestly say it changed my life. I fell under Beuys' shamanic spell and, when Richard Demarco announced in 1980 that Beuys would deliver a lecture in Edinburgh as part of the Free International University (Beuys' informal university), I made sure I was there. About twenty-five of us sat in a little room in a courtyard off Edinburgh's Cowgate as Beuys, rather enfeebled by his hunger strike in solidarity with Jimmy Boyle, sipped from a glass of water and made one of his tortuously intricate spidery blackboards explaining the connections between the striking British Aerospace workers at Coventry and ancient Celtic snakelore. There is a connection, you know. Let's find that blackboard and I'll prove it."
Well, I know it looks a bit like a scene out of Gnarls Barkley's
Smiley Faces video
, but proof that I was there in that room with Kunstler Beuys in 1980 is now on page 155 of the current edition of Frieze. For me, it's a giddy thrill.