Who believes that
Osama Bin Laden died
in Pakistan on August 23 after suffering "from a severe bout of typhoid fever" and a bacterial infection provoking a paralysis of his lower body?
Not us at Click Opera. Much better-documented reports are reaching us from Japan, where artist Makoto Aida has leaked
A Video Shot By A Man Who Calls Himself Bin Laden Who Is Hiding In Japan
.
Those who have seen the document
say it depicts "a terrorist growing chubby on tempura in his tatami-matted hideout, or an artist who sublimates his anger at US neo-colonialism into bizarre, Al Jazeera-bound broadcasts".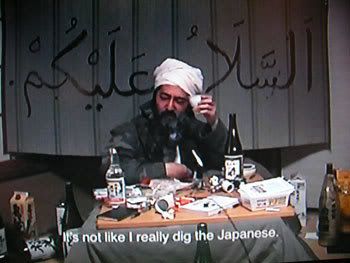 SF Weekly
, who have also seen the tape, describe "the terrorist at a table in a traditional room littered with dishes and empty sake bottles. As the character sips sake, he announces that he's hiding out in Japan and that the U.S. can stop looking for him because he's done with terrorism. He attributes this transformation to the pleasures of Japanese living: The food is great, and "Sake is awesome." Apparently, life in the Asian nation is so comfortable that it can make even a die-hard like Bin Laden go soft."
Curator
Roger McDonald
describes Osama as "speaking in 'english accent Japanese' about the woes of being an international terrorist".
Instead of Al Jazeera, though, this tape was, for reasons known only to the man behind it, sent to various art galleries around the world. It can currently be seen at the Singapore Biennial. Like every other Bin Laden tape, this one was carefully screened for coded messages before being released to the public. As Ozaki Tetsuya reports in his
Out of Tokyo column
this week in RealTokyo, security concerns in Singapore dictated that cuts were made: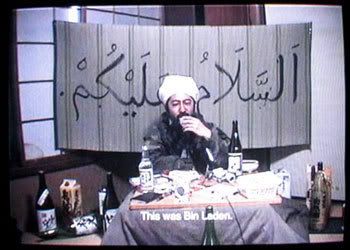 "According to officials, the Ministry of Information, Communications and the Arts espressed a couple of forceful "desires" concerning some of the rather politically inspired works to be shown... Aida Makoto's "Video of a man calling himself Binladen staying in Japan" was
de facto
only screened after a part ridiculing Japanese prime minister Koizumi Junichiro was erased".
Clear evidence that an older, wiser Bin Laden -- in rosy health and living in Ogikubo, apparently -- has discovered not only that life in Japan is sweeter than terrorism, but also that ridicule cuts deeper than any scimitar. Stay tuned to the art world for further developments.