Yesterday's
complaint about cell phones
was, to some extent, a complaint about the whole idea of being local. I confessed that I'd gotten my life somewhat out of kilter, skewed everything towards the global. This raises an interesting question: is it possible to be a "failed local"? If I were to appear in The Onion, would the article be headlined
Local Man Isn't
?

What
is
a "failed local"? Well, it might be someone who never talks to his neighbours, someone who doesn't really have local ties. A man who has no job in the area he lives in, no child to pick up from school. A man who prefers to live with other "failed locals" or
poor cosmopolitans
like himself -- Turks and Japanese, perhaps. A man with a laptop constantly connected to the internet, but no cell phone. A man who travels, but doesn't vote.
The archetype is familiar from literature. Our fellow is the man in the spooky children's poem:
As I was walking up the stair,
I met a man who wasn't there.
He wasn't there again today.
I wish, I wish, he'd go away.
Or he's a scholar from the Academy of Lagado in Jonathan Swift's "Gulliver's Travels". The professors of the flying island of Laputa walk around wrapped so deep in cloudy theories that attendants have to flap an inflated bladder into their faces periodically, rousing them to pay salutary, cursory attention to their surroundings.
Eating is the main thing that connects such a man to the city he lives in. Yesterday, ignoring the community centre next door, I made my way for lunch to Smart Deli, a Japanese cafe where I can read the latest issue of fashion magazine Fudge and watch tapes of Japanese TV while scoffing down salmon teriyaki. I like watching the TV there because it's "international TV". And yet if I'm in Japan exactly the same TV feels "domestic", and I avoid it. (What's more, you really only get teriyaki sauce on salmon outside of Japan. It's "export cuisine".)
Cycling home, our Laputan began to question how unusual his sense of removal really is. After all, he lives in a city with a peculiar history. West Berlin, once upon a time, was the "city that refused to be local". Located in East Germany, it nevertheless proclaimed an affinity with a different state far away to the West. Now the areas of the city our detached hero visits are as detached as he is; divided between a transient population of young creatives from all over the world, and "guest workers" from Turkey.
But it isn't just immigrants he feels affinity with. It's lodgers, people who
rent rather than buying
, people who
stay foreign
. But also, it's attractive women walking alone on the street. They too seem detached from the local, unwilling to meet a stranger's eye. It's not safe.
"Be here now", rockist hippies used to say. Reality was "the street". (There's some of this argument in my piece about cell phones: why aren't people on the bus actually talking to other people physically there on the bus with them?) "If you don't make eye contact walking on the street, you're one of them and you are safe, sleeping down the street," The Slits used to sing. But in another song Ari Up complained about the fellow on the underground train who "thinks if he asks you might". You don't necessarily want to be here, now with
just anyone
. Sometimes a lady needs some disconnect.
What's more, as Gertrude Stein famously observed of Oakland, sometimes "there's no there there". There are whole neighbourhoods (suburbs in particular) which are "utopian" in the sense that they are built to be "no places", to be "elsewheres". To live in them fully would be to let an emptiness rush into one's soul and define it. No offense to Oakland, but we wouldn't want that.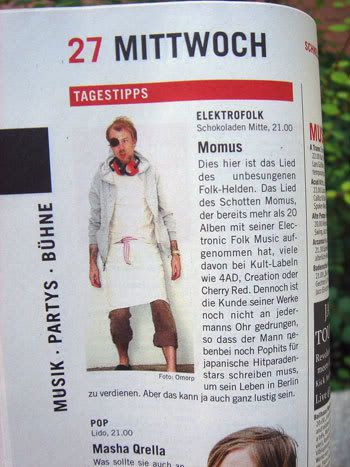 Instead of letting the banalities (or dangers, or eccentricities, or irrelevancies) of the street fill one's soul, perhaps the best relationship one can have with the local is to take it somewhere else, lift it away from itself by means of travellers' tales, real or invented. That's what I plan to do tonight at Schokoladen, Ackerstrasse 169, when I play a "rare hometown concert". Local Berlin listings magazine Zitty selects the gig as one of the most interesting things happening in the city tonight, commenting:
"This is the tale of an unsung folk hero. The Song of the Scot Momus, who plied his Electronic Folk Music for more than 20 albums on cult labels like 4AD, Creation and Cherry Red. These works not being to everyone's taste, the man was obliged to write pop hits for Japanese singers in order to pay for his life in Berlin. But that can also be completely merry."
It can indeed. If the local fails you, there's always the global. Come fly with me tonight!