On Saturday night I went to see
John Bock's Medusa im Tam Tam Club
at the Berlin
Staatsoper
. Bock is probably the leading Berlin-based artist of his generation (
Artfacts
ranks him currently 200th
most important contemporary artist
, whereas
Carsten Nicolai
scrapes in at 462), with video installations or performances (they all meld together) at the Venice Biennale, London's ICA, PS1 in New York, the Pompidou Centre... pretty much anywhere that makes you anyone in the art world.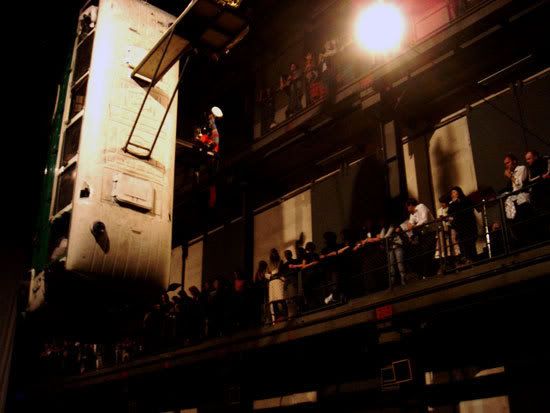 Medusa im Tam Tam Club -- a sort of Adam Ant video crossed with a Matthew Barney performance and a really squidgy, disgusting puppet play made by extremely naughty children -- is Bock's apotheosis. The New Romantic flavour comes not just from the cast's frilly white shirts, but the high Romantic subject matter: it's inspired by the sinking of the frigate Medusa off the coast of Africa on July 2nd, 1816. After the ship ran aground and broke up the VIPs aboard took the lifeboats, leaving 150 menials to save themselves on a raft, which was first towed along and then cut free. After 12 days, just 15 survivors were discovered, with a grim tale of cannibalism to tell the world. French painter Théodore Géricault made a famous oil painting of the scene.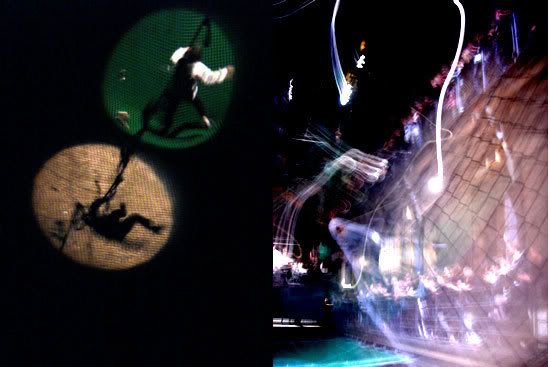 The punk-opera version takes place in a shabby rehearsal space opposite the official Staatsoper. The patina in there is to die for; the clocks are Cold War classics, and the No Smoking signs look as if they were commissioned by Goebbels. You file in and take your place behind the railings at one of three levels; this is more three-ring circus than opera. You can stand where you like, and walk around at will. Dangling from the ceiling, high above the green safety net in the pit, is "the raft of the Medusa" -- a green-and-white German police van. At one end of the hall a rock band called Blackmail (a sort of middle-aged Placebo, apparently quite a hit at the German summer festivals) plays sporadic lite grunge. At the other is a video screen onto which the actions of the actors (each one equipped with a live Handycam) are projected as they clamber precariously up and down the inside and outside of the van, declaiming manically absurdist New Romantic poetry, casting wild-eyed looks, or creating "sculptures" out of liquid resin, shaving foam, and goodness knows what other gooey stuff. For the final act, the survivors disappear into the bowels of the building (the "catacombs"), invading a boiler room and some offices, and eventually sitting with a macabre stuffed horse on the sidewalk outside, directly below the room of the mezzo-soprano who's been bellowing along (sounding remarkably like Klaus Nomi) with the rock band.
I have mixed feelings about Bock. He seems to have preserved his childhood imagination, his polymorphous perversity, very well. He could put on the world's best puppet show, and keep your delinquent nephews from joy-riding for 90 minutes. But he's also preserved some bad things from childhood: silliness, narcissism, a delight in everything disgusting, a desire to shock. His performances are much less evocative, oblique and hieratic than Barney's. He's like a comedian going for laughs which leave you feeling a bit sick.
There's something punkily psychotic in his work that reminds me of John Lydon. In fact, there are
stills from a PiL video
in which Lydon's enacting "The Flowers of Romance" in a haunted house, and it looks a bit like a Bock performance. I also think of Berlin squat art from the 80s and 90s, all day-glo, dogs and danger, taking place in the ruined shell of some monumental Berlin building, or the early performances of Einsturzenden Neubaten (but with a much more mediocre rock soundtrack). It's worrying when this sort of thing gets an official imprimatur -- it becomes "official rock and roll", repressive desublimation,
Dionysus in the throne of Apollo
stuff. And you can't get much more official than the Berliner Staatsoper, and a big thwack of government funding.