Thursday
: Hisae and I arrive at lunchtime at Liverpool Street and make for Brick Lane. Here we re-enact our first meeting. Hisae walks up to me at the exact spot where we first clapped eyes on each other, back in May 2003. "Excuse me, are you Momus?" she asks. But instead of letting me answer she throws her arms around me and kisses me.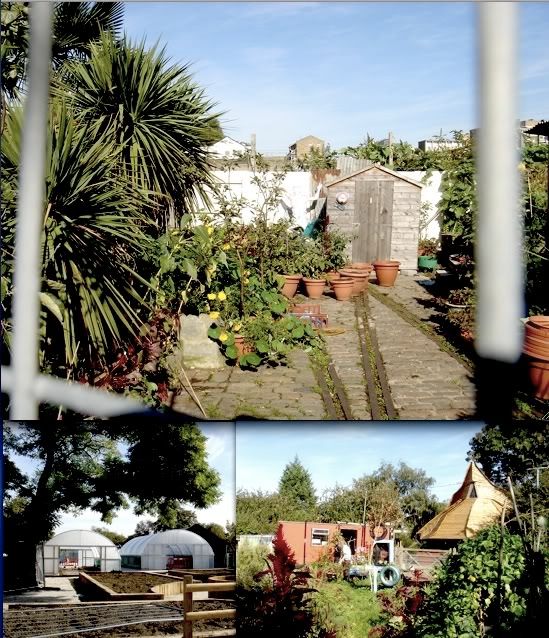 We look at a huge show of huge paintings by James Rosenquist at
Haunch of Venison
, who have a temporary space off Truman's Yard. Then it's over to the
Spitalfields City Farm
, where we look at the rabbits, ferrets, ducks, chickens. The weather's squeaky-glorious and I snap photos of the lovely range of hut architecture. (I'll stick photos into this entry soon, I have to be at a Mac to do that.)
This farm is one of my favourite places in London, a city I feel increasingly alienated by; a place where peace all too often feels like war, a thunderdome of money and logistics. But I love bubbles of it, stuff to do with animals and art and foreigners. I love, for instance, Sweet and Spicy, the Pakistani refectory on Brick Lane. We lunch there then head to Atlantis, the artists' materials shop (the noticeboard is a good source of information about openings). We also look at the house where Hisae used to live with Joji Koyama.
Then it's down to Tate Modern, where we look at (but don't have the stomach to slide on) Carsten Holler's chutes, which twirl down from the various levels into the turbine hall. "They all sound the same when they scream," Howard Devoto once sang. But it's not true. Holler's installation wrings different screams from everyone. From me it wrings an inner, silent scream of despair about art becoming a big amusement park.
A meeting with Adrian Shaw, who's setting up a Momus concert at Tate Britain in early January. Adrian kindly lets us into the Fischli and Weiss show free, so we get a chance (actually my third) to see "Rechte Weg", the Swiss artists' epic, funny and touching film of a panda and a rat who climb the Matterhorn.
Coffee at the Design Museum, then a trip up to see a Jan Family show in Hoxton (it turns out to be locked, despite the "open" sign, and we don't think to ring the bell). Dinner with film director Joji Koyama at the Viet Hoa. Joji has directed a film starring Hisae, which will be shown next month on Channel 4. He's the most thoroughly English of Japanese, having been sent to boarding school here at an early age. Very clipped and controlled, in a way which reminds me of how my first impressions of Japan linked it to Victorian England (politeness, superlegitimacy, mechanical ingenuity).
Later, we head out to an opening at Mile End. Some Chelsea School of Art graduates have done a series of "blog-generated installations". They underwhelm, and the evening isn't helped by the presence of the Irish boyfriend of the Japanese girl we stayed with here
two years ago
, who tells me that the rude rant I wrote made him want to stab me "for two years". I check my watch: it's exactly one year and eleven months later.