I have three British engagements coming up. There are two London concerts in the first week of January (January 4th at the Spitz Club in Spitalfields Market, and January 5th at Tate Britain). But before then, on November 17th, there's a lecture in Birmingham, at the
Birmingham and Midland Institute
. The lecture, the first of an annual series, is themed around digital technology and creativity. You can book tickets for it online
here
.
The lecture has been set up by Gregory Sporton of UCE Art Department's Visualisation Research Unit to commemorate his assistant, Dan Hunt, who died earlier this year after a heart transplant, aged just 26. Dan used to comment sometimes here at Click Opera, and when UCE were considering how to commemorate him, they thought that a lecture by Momus would have been something he'd appreciate.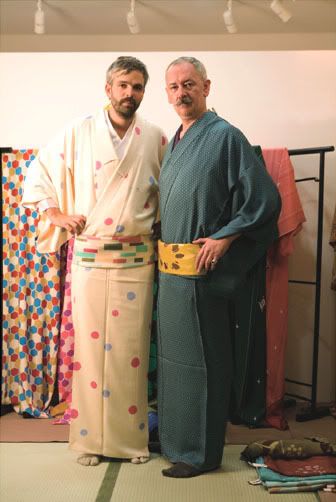 The last time I played a concert in London -- at the George and Dragon pub in Hoxton in June -- artist Cerith Wyn Evans stood (nay, towered) in front of me. (He's pictured on the right in Japan, courtesy of the
relaunched Tokion
magazine.) I first met Cerith in about 1997 at a party at Abigail Lane's house, and was surprised to get a huge bear hug from him at the end of the evening. I thought it was a case of mistaken identity, but apparently it wasn't -- Cerith has followed my work for years, he told me in June.
I remember becoming aware of him as a film-maker in the early 90s -- he was associated with Derek Jarman's set. Then his concave mirrors and video pieces relating to Pasolini started to pop up in group shows at the Hayward or the new Prada store in New York (where Rem Koolhaas incorporated the videos into his store design). Earlier this month I visited Cerith's show at the ICA -- surprisingly, his first solo show at a major public institution in Britain.
Take my eyes and through them see you
was an elegiac, nostalgic show. Rather than cram in as many of his existing works as possible, Cerith decided to make something site specific; to make new work about the ICA itself, and about the Marcel Broodthaers show he saw there in 1975 on his first trip to London, a show that changed his life. (Hisae and I saw lots of Broodthaers at MACBA in Barcelona last weekend.
This piece
was also on display at the amazing
Beyond Cinema: The Art of Projection
show currently on at the Hamburger Bahnhof, and accompanied by a symposium we've been attending this weekend.)
Upstairs at the ICA Cerith had installed blackened-out films running through projectors (somewhat reminiscent of Jarman's "Blue"), shutters opening and closing to tap out morse code, stuffed birds, potted palms and copperplate script. But the boldest gesture was on the ground floor, where he'd opted to empty the ICA's largest room entirely, pulling out the white walls that divide it from its Mall windows and, for the first time in the ICA's history in the site, exposing the gallery to the Mall and the Mall to the gallery. From inside, it's a potently symbolic view, of course, with Horseguard's Parade, Downing Street, Whitehall, St James' Park and Buckingham Palace all visible. And it's fascinating to wonder what Tony Blair, various horseguards, and the Royal Family would make of what goes on inside the ICA -- what would happen, in other words, if British power really did pay attention to British art.
But the empty room, its shabby paint exposed, couldn't help but feel forlorn. Like the black films upstairs, it shrieked of loss. Elegantly.