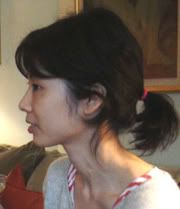 Couples that stay together surf together. This
we know
. What we don't know is whether they're hitting the same sites. Given the vastness of the internet and its tendency to wrap around each user, it's safe to say they aren't. But sometimes the blogs two people are hitting -- despite being in different languages and different countries -- can be surprisingly compatible. That's what I discovered when I asked Hisae to name her Top 5 favourite blogs.
1
Dining Table which Oba-San makes for Oji-San
http://sesenta.exblog.jp
Hisae
: "This is the site I'm looking at most at the moment. It's a blog maintained by a couple, both 68, living in Kyoto, been together for 43 years. She cooks dishes every day, he takes photos. Five or six years ago, the doctor told him to be very careful what he eats. So they became aware of what they eat, and decided to document it. Their son is getting married, and they're making a big meal at home for him. Sometimes they use what they picked up from the mountain or field. And seasonal vegetables or fish. She goes to the field, picking up just nuts. Sometimes a neighbour gives them fish or something. They've been blogging for over a year now. And now a publisher has asked them to publish a cooking book. It'll be called
Always Two People Together
."
Nick
: "That's a really sweet story. I don't mean to be cynical, but the layout of this blog is suspiciously professional for an elderly couple living in the country. I suspect it was designed from the start by the publisher, and that what we're looking at is a
blook
."
2
Nikiiiiiii and Nikiiiiiii
Kiiiiiii Diary
http://kiiiiiii2.exblog.jp
Hisae
: "I like the blog of this group, Kiiiiiii. It used to be
here
, now it's moved
here
. Kiiiiiii are Lakin and u.t. (pronounced Uta)."
Nick
: "Oh, this is hilarious! All the while I'm spilling my bile on
Marxy's blog
, you're visiting his wife's band's fan page! I don't go to Kiiiiiii's site, and you don't go to Neomarxisme! We Western males like to disagree, you Eastern females like to agree! The symmetry... and the irony!"
Hisae
: "The other girl in the band, Lakin, also married this year. She's making drawings or visual works with her husband. I think they are the same age as me. I like their writing sense; I like the way they describe people. They mention idols they had when they were teenagers, so it's easy for me to identify, sharing the same generation. They haven't updated much."
Nick
: "Probably because they married. Same happened with Kaori Mitsushima when she married Mika, remember? Now she's just disappeared off the internet."
3
Nakako Books
nakakobooks.seesaa.net
Hisae
: "There's a blog now of a lady called Hayashi Nakako. She's the person who started Here and There magazine. I like Here and There and also
Nieves Books
, who now publish Here and There. Nakako talks about business on her blog; quite a lot of Here and There news, or things about friends of the magazine. How she is getting on with people and stuff."
Nick
: "I like the look of that one, I like Here and There too."
4
LDK
http://www.basedonatruestory.com/ldk
Hisae
: "I discovered this from another blog which was involved with Abake. I saw some photos of Abake in Tokyo and then I discovered LDK's site. She's a Japanese girl called Jun. She used to live in London, now she lives in Tokyo. I guess she's married to a Western person, probably British. She may be a friend of
Alex Rich
, the designer, because she mentioned his exhibition. Very clean pictures taken by keitai. Just talking about her daily life, friends visiting from Germany, that kind of thing."
Nick
: "I like the layout, the photos. And I like how the text is in Japanese and English."
5
London Art Diary
http://www.fogless.net
Hisae
: "Toyoko Ito is a Japanese woman who writes professionally for Japanese art magazines. Now I think she got lots of writing jobs after she started this site, so now she goes to other countries to see exhibitions and review them too. To the Berlin Biennial, for a special report, for instance. It's very good writing, descriptive, with nice photos which she takes herself. Here she mentions that she interviewed the Time Out editor for Japanese Marie Claire magazine, for instance. At the bottom it says "This site has been designed and managed by Toyoko Ito. Don't use any pictures etc."
Nick
: "Whoops!"