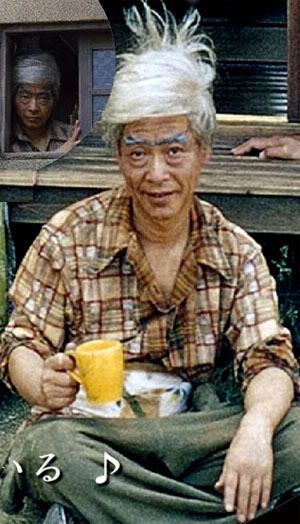 I'm not quite sure why I like this peculiar unibrowed man so much. He's a Japanese character actor. This is him in the show-stealing role of the eccentric grandfather in the excellent 2003 film
The Taste of Tea
. Even if you don't know his face, you'll know his voice if you've seen the Japanese versions of Miyazaki's "Spirited Away" (where he's the green frog) or "Howl's Moving Castle" (where he's the fire).
Why the big empathy for Big Eyebrow, though? It could be his cool, tousled hairstyle (and no, it isn't a wig, as he
once proved on TV
). It could be that he looks like
a Japanese Stanley Baxter
. It could be
that unibrow
. It could be because I feel solidarity with
a fellow musician
. Or it could be that I am destined to face a midlife crisis as severe and strange as the one he did.
But before I tell you about his midlife crisis, we have a not-unrelated problem. What do we call
this man
? He's changed his name so many times it's hard to keep track. His birth name is unrecorded -- all we know is that at 18 he became
Sakura Ippei
and launched himself as an
enka singer
. When that failed, he changed his name again, to
Wakata Akira
, and made a living playing music in cabarets. After that he made his name impersonating pop idol Go Hiromi (despite not looking very like him --
Go Hiromi
doesn't have a unibrow). With some other famous impersonators he founded a mimic group called Monomane Daimao, but the association was short-lived.
Then, in 1991, our hero got lost. He'd gone on a fishing trip to Atami when suddenly he disappeared. For three days, nobody knew where he was. The press reported it, the police and rescue services hunted along the clifftops, combed the beach. People were beginning to think he'd committed suicide when suddenly he turned up in Odawara City, Kanagawa, 40 kilometers away, just squatting on the ground in the middle of the street. He couldn't remember his own name.
Some thought the actor was faking it. Others believe to this day that he was kidnapped by agents, taken to North Korea, brainwashed, then released when the agents
realised he was a famous actor in Japan. A psychologist from Tsukuba University diagnosed "memory erasure syndrome".
In 1993 our man changed his name again. He asked a Buddhist priest to choose what he swore would be his last name. The priest selected
Tatsuya Gashuin
from a Buddhist sutra. For a while he worked again in cabaret, arranging songs to make ends meet. But in 1999 things took a turn for the better when film director Katsuhito Ishii cast Gashuin in a film called "Shark Skin Man and Peach Bottom Woman". That led to energy drink commercials, chat show appearances, and a starring role in a Smap video. Then Studio Ghibli brought him in to voice characters in Miyazaki's two greatest films, and he was cast in a string of comedies, including Ishii's
The Taste of Tea
(check out the Gashuin video interviews at that link).
If I
do
have a midlife crisis, I hope my "afterwards" is as good as the one enjoyed by "the man with one eyebrow and four names".