"Portable Shibuya" was the title I gave the first Kahimi Karie tour of America, almost ten years ago. The phrase is still quite a suggestive one -- it captures how a scene can be rooted in the local, and then, once defined, become global. The Japanese art world is similarly "portable"; you're as likely to find it happening in New York, London or Berlin as in Tokyo or Osaka.
Last night Hisae and I ended up eating Vietnamese food and drinking organic
weissbier
at the Kino Hackesche Höfe in Mitte (currently hosting a
Short Film Festival
) with an interesting posse of displaced Japanese artists, all women. Talk was of visas, partners, art, how life in the various cities compares ("After Berlin, I feel Tokyo so stressful!" "When I go back to Japan my mother says "You don't look like a human being any more!"). But never mind getting red-faced drunk with someone, you don't really know them until you've got home and had a really good google. Here's what I discovered about these "portable Japanese".
Kei Takemura
Takemura is from Tokyo, but lives in Berlin now with her partner, Kaihatsu Yoshiaki, with whom she often makes joint performances. A typical piece from a recent show at her Berlin gallery
Alexandra Saheb
is a Polish lightbulb whose broken glass has been repaired with Japanese silk thread. Before being damaged by a fall, the lightbulb had worked for twenty years.
Kei Takemura has published
a book
detailing her experiences living in Berlin. At the opening of her last show she made not-entirely-potable cups of tea, echoing
a performance
by her partner Kaihatsu Yoshiaki.
Kaihatsu Yoshiaki
Kaihatsu (his name means "development" in Japanese) wasn't there last night (he was in Hamburg), but I thought I'd include him, because he's interesting. He had some polystyrene shapes in the
Berlin - Tokyo
exhibition, mounted on the ground floor windows. He became famous in the mid-90s in Japan with performances like "Brains Have Already Stopped", in which, dressed as a gigantic baby, he crawled around outside Tokyo station at rush hour. (He also attended kindergarten dressed in a business suit.) In other actions, Kaihatsu sent his own blood through a 10 metre-long tube around the audience in a gallery... until he fainted. (It's reported that some of the audience fainted before him!) Later, he sent 365 boxes of his art to people all over Japan then visited them one by one to see how it fitted into their lives. Kaihatsu has since become known for white environments made with polystyrene packing blocks... and for wearing only grey clothes.
Shizuka Yokomizo
Shizuka Yokomizo lives in London, but is in Berlin now installing her photographs in
a group show
that opens this weekend at the Akademie der Kunste in the Tiergarten. She's been compared to Sophie Calle; she's taken photographs of people sleeping, and also arranged for strangers to step out onto their balconies at a pre-set time, so that they can be photographed.
Miya Yoshida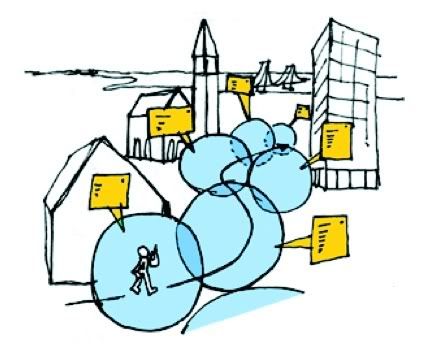 Miya Yoshida is studying German at the same college as Hisae. She's just moved to Berlin from Malmo in Sweden. She's a graduate of Goldsmith's College, and her work has been in curation. But she's also specialized in projects which combine art with mobile phones. One of these involves
"Geostickies"
; "invisible layers on the place: place as database of memories, audience as browser".
Speaking of portable culture and displaced Japanese communities, the Japan Society in New York has asked me to tell you about a film series they're showing called
"Lolita in Full Bloom"
. These 80s films, rarely seen outside Japan and specially subtitled for this series, feature angst-ridden idols (80s bubblegum pop singers in real life) who take over yakuza syndicates armed with machine guns (well, that's the plot of "Sailor Suit and Machine Gun", anyway).
It all kicks off with a Lollipop Party at the
Japan Society
on Friday November 10th. Tickets are available at the door from 6:30 pm, and the party, featuring DJ Jaiko Suzuki (Mon Mon Mon Amour), starts after the screening. "Lick lolitapops, sip pink drinks, nibble on tasty treats, and win prizes when you come dressed as a school girl," says the puff. Even Japanese school uniform seems just that little bit more portable (and exportable) than anyone else's.