"In China we have a special way of preserving the eggs," says artist Gou Shaolan. "It's called salty eggs and we preserve them with a lot of salt in a container for one month and afterwards that egg can be eaten or can be preserved for another two or three or ten years."
The BBC, on the other hand, doesn't salt its eggs -- audio-on-demand radio programmes like the very interesting
Sunday Feature on Beijing's Factory 798
stay online for only one week before they're obliterated. A couple of years ago the BBC
announced
that they were contemplating using p2p to distribute their vast and valuable archives, but nothing seems to have come of this. As a result, the public part of the BBC archive is a bit like the way Gou Shaolan describes Beijing: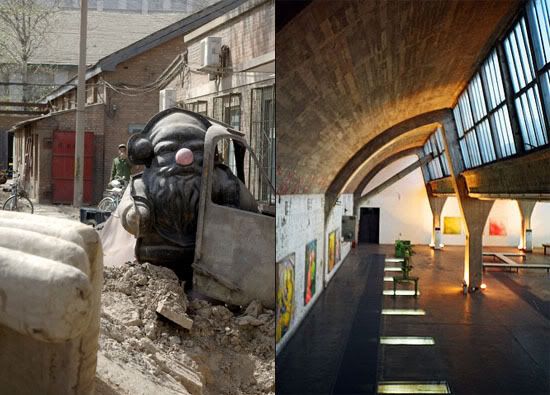 "I'm amazed at the speed with which China changes, the city, the landscape and in terms of the shops around you -- the whole street can be torn down in two weeks time... I started to think that for a city or a nation like this, memory is no longer valid. Because you don't need, really, to remember anything, because things can change so fast."
One area that's changed is in Dashanzi in north east Beijing, just beyond the 4th ringroad, on the way out to the airport. Here, a 1950s factory complex on a wooded site (financed by the Soviets, designed by East Germans) has morphed into China's most creative artistic centre. A series of industrial units have been transformed into galleries, studios, bookshops, installations, workshops and cafes. After making several incognito visits wearing hats and sunglasses just to see just what was going on, senior party officials decided to let Factory 798 remain and even expand. It's undergoing a sympathetic architectural renovation (unfortunately the last traces of actual industry are also being forced out of the area).
I found BBC Radio 3's documentary about the area so interesting that I thought I'd make it available here in the form of a sort of audio salted egg:
The Sunday Feature: Factory 798
(40.3 MB stereo mp3 file, 45 mins. First broadcast Sunday 19th November 2006 on BBC Radio 3.)

You can enhance your listening experience by watching
Roy Wang's Flickr slideshow
of the complex. Here's a China Daily
article
about Factory 798, published to co-incide with the 4th Beijing Dashanzi International Art Festival on April 29th 2006. And here are some interesting tidbits which emerge in the course of the programme:
*
The way you identify artists in China is that all the guys have long hair and all the women have short hair and crew cuts.
*
One artist brought a gun to the gallery and shot her own installation, a telephone booth, then got arrested.
*
Another dipped dolls in a bucket of red paint to protest the government's one-child policy.
*
Another played a traditional Chinese instrument wearing a punky mohawk hairstyle, and another tore up the flag of the Communist Party.
*
Not everybody interviewed in the documentary thinks these shock tactics are the way forward.
*
Selling paintings and doubling, tripling or quadrupling your money is just a small part of what running a gallery is about. It's also about building relationships and trust with your artists and your collector base. Galleries who don't realize that can't deal with Western museums. "They can't talk the talk."
*
One Japanese gallerist who thought he'd established a bond of trust with a Chinese artist was appalled to see her showing her work with two other galleries at a major art fair. The Chinese are very business savvy, but they fail to grasp that sometimes getting the best possible price for your work just overheats the market and isn't good for anyone in the long run.
*
"What does China make money for? Money can't make people happy if they don't have any freedom for themselves."