"I feel like I'm thirty years in the future... and I'm from New York. I've never been so moved by a city, except for New York."
That's Jordan Wolfson, a
young artist
who participated with me in the Whitney Biennial, and who now lives in Berlin. He's
describing
the impression Tokyo made on him during
his first visit
to the city earlier this year. It's very much the impression the city made on me on my first visit in 1992, and continues to make each time I go back. I may end up living in the world's biggest city eventually, but for the moment I'm happy to make annual trips there from my home in Berlin. I like to feel like a tourist, and I like reliving those first impressions each time, from a slightly different angle.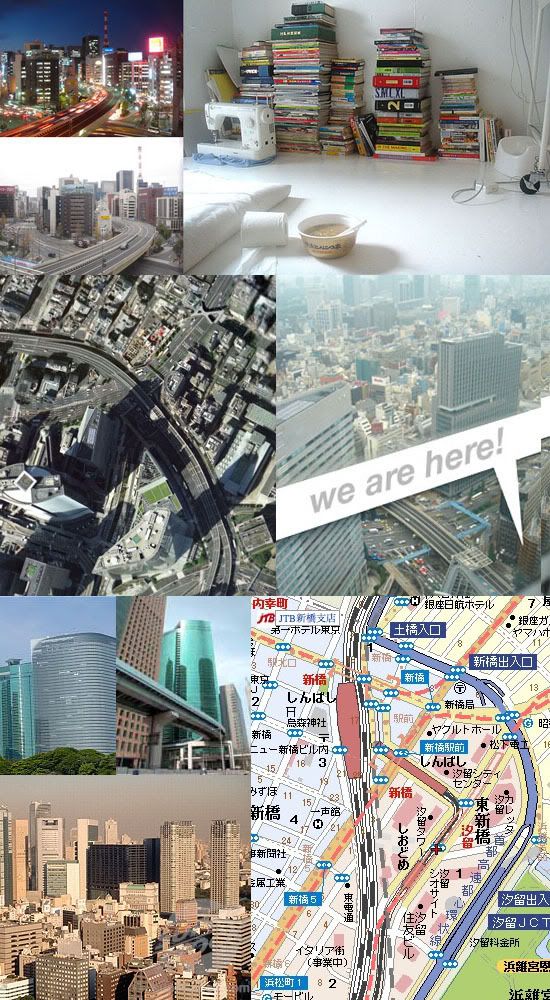 So right now I'm looking five months into the future; from mid-April to mid-May I'll be living in Tokyo again. I've arranged an apartment exchange with Australian artist
Alin Huma
(his website is
here
). Alin has a "21 square metre L-shaped box" (he's just added four and a half cat's foreheads -- the traditional measuring unit in Ginza -- by removing an inner wall) in an area I'm not too familiar with. That's mostly because Shiodome Shiosite, a new skyscraper district at the south end of Ginza and just east of Shimbashi, didn't really exist when I last lived for any length of time in Tokyo (2001-2002). It's sprung up since then, becoming Tokyo's biggest media district, with advertising company Dentsu occupying about 50 floors of Caretta Shiodome, a vast axe-shaped building, the Nippon Television Tower nearby, and other towers housing Matsushita Electronics and Nippon Express. This mushroom cluster of skyscrapers will be my home for a month. (Hisae's first thought: "I hope there aren't any earthquakes.")
Despite the freeways you see in the picture, this is a location ideal for cycling and walking; it's not far from the Ginza kabuki theatre, the Tsukiji fish market, and the terminal for the monorail to Odaiba, another mushroom district; Odaiba literally rose from Tokyo Bay on landfill. Expect reports on
hatsu sakura
, the first cherry blossom, live from Shiba Koen, at the foot of the nearby Tokyo Tower. I'm living for the spring -- my chance to get back to the future!