"I was treating Shimokitazawa a bit like my private apartment," I wrote from Tokyo back in
September 2004
, "bathing in the sento then singing at Club Que as if it were my private shower. But I ended up in the guest bedroom of Zoren Gold, the German photographer who's shot recent album sleeves by Ua and Kahimi Karie. What a nice guy! He has a house in Nakameguro, up on top of the hill. It's gorgeous here, I'm sitting on the terrace in the sunshine and it feels like the countryside. Cool autumn sunshine, crows cawing,
semi
whirring, a helicopter somewhere in the distance."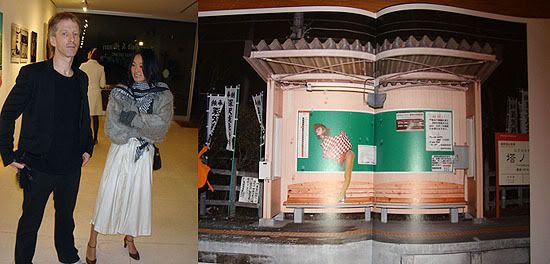 On Friday night I ran into Zoren again. He was opening a photography show at Berlin gallery Viaux. It featured lots of baroque shots of his girlfriend and
collaboratrice
Minoru lounging in provocative poses around the roomy and trad hilltop house Hisae and I stayed in two years ago. The event was a launch party for
Zoren and Minoru
's new book, published by
Die Gestalten Verlag
, who also put out the
Yokoland book
. Gestalten are shaping up to be the Taschen of the noughties, if they don't mind me saying so (and I hope they don't, because I've just discovered their PR girl, Lina, lives in my building).

Zoren's launch (he directed the
Kahimi Karie Divers video
too) lured shy, reclusive singer-songwriter
Jason Forrest
out. Jason tried to get us to an
Ed Banger records
all-nighter featuring label founder Pedro Winter, aka
Busy P
. Pedro used to manage Daft Punk, but long before that, ten years ago, I used to see him around Paris. He seemed a tremendously elegant, tall and refined young man back then, essentially a graphic designer who'd make club fliers for his nights at the Folies Pigalle out of traditional tie patterns. These days he's really loosened and louched up -- even a
trip to the supermarket
with Pedro risks becoming a whacky disco riot.
Hisae and I had a sedate meal in a nearby Japanese restaurant instead of checking out Busy P's gig -- we're just not hardcore hedonists who like to shout and wave our arms around -- but back home I was half-amused, half-embarrassed by his track
Colette C'est Chouette
, a tribute to the famous Parisian select store in the style of Fab 5 Freddy.