I love Berlin! Where else could you wander around a space station-like "winter bathing ship" filled with naked men and women?

Hisae and I stumbled across
this wonderful structure
by chance. We'd been shopping at the Treptower Market (where I found a lovely wig), and came out to look at the river. I'd hung out here in the late summer with friends, sipping mojitos on artificial sand and watching people swimming in the elegant pine pool that floats in the river. But for the winter the Arena's Spree beach complex has suddenly sprouted three curved greenhouse covers. For €12 (a couple more if you rent dressing gown, flip-flops and a towel) you can spend three hours lazing about, going from the sauna to the big cool pool, getting a massage, or just sipping
weissbier
lying on a big white reclining chair in a fluffy hooded gown.
We're totally used to bathing in sentos in Japan, splitting up at the door and filing into the men's and women's sections with a "See you in 30 minutes!". Here, though, you can stick together the whole time, swimming naked under a full moon (the pool has outdoor edges) or sweating in the eucalyptus-scented steam of the sauna cabins while gazing out over the Spree.
My first sight, as I went to shower, was a flabby naked woman with a hedge of hair between her legs. But it soon felt pretty natural -- or naturist -- to be mingling in the nude with strangers. There were lots of gay men there, and some single middle-aged men who were definitely scoping the women out as they lay in their deck chairs with blankets over them. But mostly the longstanding German tradition of nude lake bathing, or public park nudity, made everything totally smooth. I wonder if you could introduce mixed nude bathing at the new, rather similar-looking
Piscine Josephine Baker
in Paris? It seems to me that the fact that women are more sexualized in Paris makes the city less sexy, because stuff like this would just be too charged to happen.
There were interesting cultural contrasts in the sauna, though. When I stepped in naked, a naked German told me, in a relaxed sort of way, that the regulations state that you should bring a towel to sit on "to protect the wood from your sweat". (At first I thought he was telling me not to have an erection.) A British couple soon arrived, dropping the towels wrapped around the important bits of their bodies only when they were settled on the bench. Next an American arrived. He kept his towel tightly tied around his midriff the whole time.
Different cultures, different attitudes to the body. The British are a bit uptight, but willing to unwind in the right context. The Americans stay in their comfort zone -- clothing. The Germans are totally relaxed -- as long as you follow the rules. You could walk naked down the street in Berlin... as long as you stopped at the red man.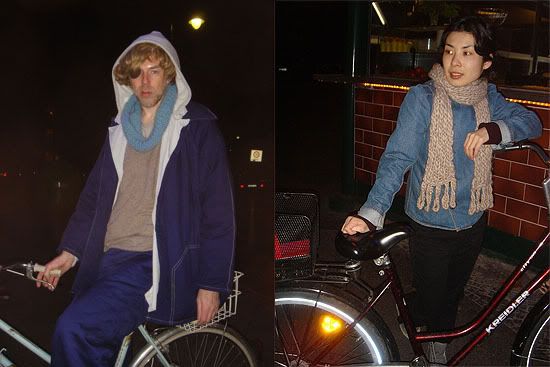 As for Hisae, she felt a bit strange. She's used to being naked in front of females at the sento in Japan, but in front of men (some of them looking up from their magazines to watch) it felt odd. It would have been worse if they were Japanese, she says. Modern Japanese -- in a sort of "Adam and Eve realised they were naked" way -- have lost their mixed bathing habits; they were phased out at the end of the 19th century when Commander Perry and his men let the Japanese authorities know they considered mixed bathing indecent.
Contra
Perry, I consider it a very civilized habit. Hisae and I cycled home in the pink of health, resolving to come back to the badeschiff at least twice a week until mid-April, when it reverts to a normal -- and clothed -- beach.