I'm not sure whether this says more about where culture's heading or where I'm heading, but I can't help noticing that, whereas a couple of years ago I was writing a lot about design, these days I seem to be writing more and more about art. The answer, I suppose, is both: internationally, art is booming, with more and more visitors flocking to art fairs like Frieze or
Art Basel Miami Beach
(which opens tomorrow -- even my next-door neighbour here in Berlin is flying off to see it today).
More art fairs, more biennials, more prizes, more visits to blockbuster museum shows of contemporary art, more art sales, more art books and magazines being published and sold, more need for text to fill out the pages. Of course, it's text that, by and large, nobody reads: art books tend
to live or die by their visuals, with text as a sort of small-print guarantee that the author has been legitimated by scholars as well as the market. But it's the market, not the scholar, which really gives the work value.
And so commissions flood in; this month alone I have to write a 2000 word essay for a monograph (published by Edinburgh's excellent
Collective Gallery
) about a young artist (he won the
Beck's Futures Prize
this year) called Matt Stokes and a 1000 word profile of another young artist, Jordan Wolfson, for Zoo magazine. And as someone with a parallel career as an artist myself, I also generate my own fair share of printed art-gabble; next week,
Spike
, an Austrian art magazine, will publish a dialogue between the two Momuses, the performance artist and the pop musician, and in the spring Phaidon will publish their survey of emerging artists,
"Ice Cream"
, with an essay on my work by curator Philippe Vergne.
One interesting thing about the "increasing chatter" of art talk is that it's happening at a time when ideologies and big ideas are dead; where once art dialogue would have been filled with ideas from Marxism, psychoanalysis, or post-structuralist French theory (most of it half-digested and badly-written), now it tends to be much more situational, social and direct. Sure, the current
ArtForum
has a big piece on French philosopher Alain Badiou as its centrepiece, but I'd say the general tendency is for art writing to be chatty and informal, a bit like Matthew Collings' admirably direct and honest diary pieces for
Modern Painters
-- modelled, I've always thought, on Andy Warhol's diaries, and focused on the networks of personal relationships that so much define the art world. In the same Warholesque spirit are the regular Art World
Power 100
lists published by
ArtReview
. It's pretty irresistible to leaf through and see who's in, who's out (wow, Klaus Biesenbach isn't even in there, but my own gallerist, Zach Feuer, is at 70!), even if you do feel a bit yuk afterwards.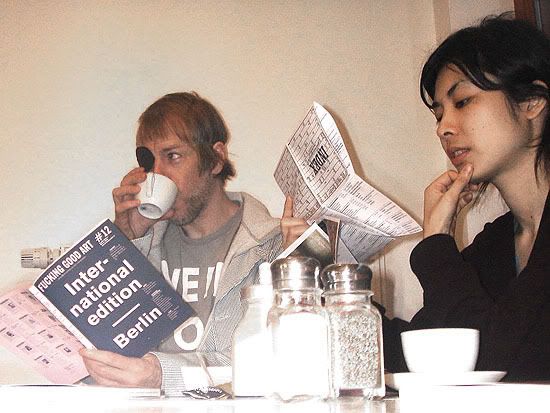 The week in which Art Basel Miami opens is also the week the
Turner Prize
gets awarded; on Monday night it went to Tomma Abts. Relevant facts: Abts is German, a woman, a painter and a quiet, meticulous abstractionist who's been working on the same format of canvas for years. It's interesting that, of these identities, it was the "painter" part that
got the journalists excited
. To be a woman artist is no longer a story, to be
a foreign artist winning Britain's top art prize is not news, and to be abstract hasn't been shocking for a century. But to be a painter... well, knock me down with a squirrel-hair brush!
The Stuckists
have won! But they'll have to change their motto (cheekily adapted from a Martin Creed neon) "THE WHOLE WORLD MINUS THE TURNER PRIZE = A BETTER WORLD". Change the minus to a plus, perhaps, guys?
Andrew Renton, one of the Turner judges this year, gives an object lesson on how to do art chatter in the audio files on the
Tate's site
. I must say I was thoroughly uninspired by this year's choices, and didn't really even have a favourite. But Andrew's commentary did help me muster some enthusiasm for all of them. I used to hang out with him in London, oh, years ago, and even have a cassette tape he gave me somewhere of himself and Lawrence Crane doing silly rap numbers about sumo wrestling and minimalist composers under the pseudonym "Andy R and the Funkmaster Crane". If I'd made the Turner shortlist this year, I could certainly have blackmailed my way to the prize.