Curly Carl writes
: I'm delighted to announce that my ward, whipping boy and protegé, Momus, will appear live in concert in Madrid, Spain this coming Saturday. (That's me in the poster, drinking Bud while doubling as a security guard.) Apart from the show at
Neu Club
(dot .es, not dot .com as it says on the flyer, sorry,
muy
bad) there are also a couple of London shows coming up, one at The Spitz (January 4th), one at Tate Britain (January 5th). Details on
Last FM's Momus events page
.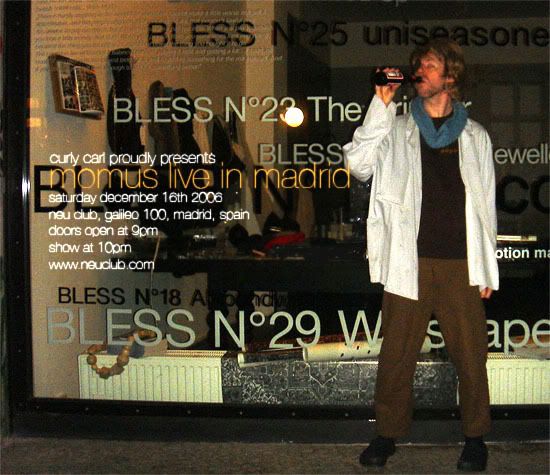 The last time Momus
quoted some press
about his current album
Ocky Milk
, some concerned passerby got defeatist on our asses. "Momus, are you seriously happy with the attention Ocky Milk has been getting?" wrote Mr Concerned. "I mean, a forum thread or two, a blog here, a Pitchfork-wannabe there... it's not exactly blanket coverage, is it? My kid brother's myspace electronica does as well. Not in any of the music mags (that I can find), not in Wire, not even in Pitchfork, let alone national newspapers or anything like that. While at the same time someone like Green Gartside gets a Mercury nomination. It's not a bad album, I guess you deserve better."
Well, Mr Concerned, just so you don't have to keep scouring the music mags, here's a little round-up of
the latest UK reviews
. As you can see, we've now got at least one national newspaper on board with the bard; The Independent on Sunday, who give the record three stars. "All told, a challenging but compelling collection," says Record Collector. "His eccentricity is bubbling into a fine, but still twisted, maturity... like listening to the music an alien observer has produced on an undercover anthropological mission to Earth," says Plan B magazine. "Vaudeville with vocoders? Well, it's different... perversely cultish and relentlessly spasmodic," muses Rock Sound magazine. "A wholly unexpected, glorious return," chatters Teletext -- "finally he's relevant again."
Opinions on Momus himself vary -- for
Expatica
he's "the most intelligent man in pop", whereas for
Stylus
he's "an unscrupulous, emotionally vacant pervert with a good sense of humor". Still, the Stylus scribes have stuck "Nervous Heartbeat" at 44 in their
Stylus Top 50 singles of 2006
list. Who's complaining? Certainly not our unscrupulous, emotionally-vacant pervert friend. He knows full well that he didn't even release a single in 2006. But his -- our -- lips are sealed.