Browsing at a bookshop in Birmingham airport at the end of my last trip to Britain, I cast a skeptical eye along the shelves of ghostwritten TV memoirs, expecting to find little of interest. Suddenly
A Winter Book
, Selected Stories of Tove Jansson, caught my eye. Now this
was
of interest. Not only had I been brought up on the Finnish childrens' writer's Moomin tales, but this collection of her lesser-known adult work was introduced by Ali Smith, with whom I'd been smitten at university (she's since gone on to be one of Britain's best-known novelists). In fact, in one poem young Nick wrote for young Ali (we were both in the creative writing group, but I hadn't yet sussed that she was gay) I compared her frostiness to that of the Groke, another Moominland character.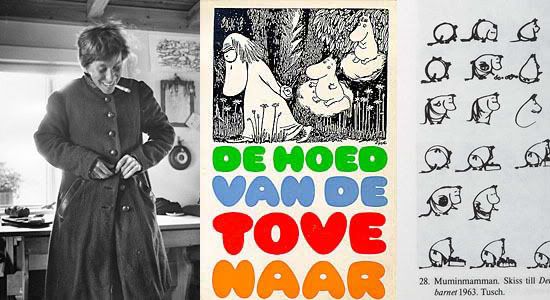 Moomins are yet another of the thousand-and-one things I agree with the Japanese about the brilliance of, and yet another example (we saw it the other day in the way Helsinki kids are so Tokyo-oriented in their dress sense) of the weird affinities between the Finns and the Japanese. Ali's foreword to the short stories of Tove Jansson (also herself gay; she spent her life with a woman artist called Tuulikka Pietilä) begins like this:
"How old must you be to write a story?" a young Japanese fan wrote and asked her heroine, the Finnish writer and illustrator Tove Jansson. Jansson, at this point, was in her seventies and world-famous as the creator and illustrator of the Moomins, the extended family of big-nosed philosophising creatures (and their various neighbours, including a tiny anarchist no bigger than a thumbnail) who, simply by mildness and geniality, survive the terrible upheavals of their often topsy-turvy life in a beautiful Scandinavian setting of mountains, forests, seas and valleys."

I'm not sure exactly what creates the Japanese-Moomin
affinity
, though it is probably tied up with the mildness and geniality Ali mentions. You can see the Moomintroll in his simply-furnished house (no doubt there's a sauna nearby), or Jansson in hers for that matter (the wooden shed you see above was a country cottage; her Helsinki flat is now a museum) as Japanese people, somehow. You're certainly more likely to see images of Moomins in contemporary Japanese advertising than anywhere else, although a somewhat compromised Moomin family appeared worldwide in
a TV
animation
in the 70s. They were also ripped off, some would say, by
Barbapapa
(seen here hilariously shearing his own son like a sheep).
I'm rather pleased to find myself, today, transformed into a folk character of sorts. Someone called Eva, in Calgary, Canada, has
baked a shortbread homage
"to her favourite one-eyed, apron-wearing Scottish folksinger. She maintains that those are not nipples; those are buttons". I hope I tasted good, anyway; I always imagined Moomins would taste like marshmallow.