"Ax Mr. L" on the Alva Noto / Ryuichi Sakamoto EP
Revep
(2006) is a track which hums and crackles with the chords from the lovely theme tune to
Merry Christmas Mr Lawrence
, which many consider Sakamoto's most accomplished
composition
. It appeared, with vocals by
David Sylvian
, as the single and
video
"Forbidden Colours" in 1983, taking the title of Mishima's most homosexual novel -- not to mention the Oshima film's strongly homosexual undercurrents -- into the British Top 20.
I've always thought that David Bowie's absence from the video has to be more than co-incidence; images of Bowie were almost certainly, themselves, "forbidden" by his management company. That ban was probably connected to the gay theme; this was, after all, the year Rolling Stone published a cover story on Bowie entitled
"David Bowie Straight"
, and the somewhat macho Bowie almost certainly felt that Sylvian's cloying hymn to him was embarrassingly effete.
For those of us less concerned to,
ahem
, re-butt gay themes, though, this is a beautiful and haunting piece of music. When I listen to Carsten Nicolai and Ryuichi Sakamoto's spinning-top post glitch version, though, I keep wanting to hear the original burst out, with its lovely chords, piano top-line, and lugubrious, yearning mid-section. So, today, as my slightly-homosexual Christmas present to you, the readers of Click Opera, I've made my own remix, a mash-up of the Noto-Sakamoto hum with fragments of the original song and layers of my own plinky-plonky piano playing.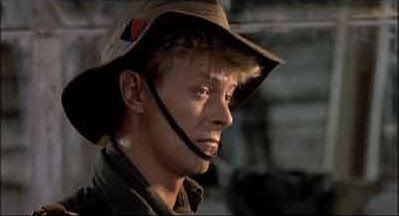 Re-me-X Mr Lawrence
(4.6 MB stereo mp3 file, 5 mins)
I hope this homage to a homage to a homage makes your Christmas day just that little bit more gay. Isn't it funny that, although Sylvian, Sakamoto, Nicolai, Bowie and I are all straight men, something so deeply, satisfyingly homosexual emerges when you put us all together?