I've
gone on about this before
, but there's something friendly, superior, sensitive and deeply humane about the work of
Alejandra and Aeron
. Their recent album,
Be Mine
, contains people talking about the things -- and people -- they love, over field recordings, sounds, and fragments of songs. It's a sort of documentary CD, and also the record of an installation held in Berlin in 2005. How could I not love a record that begins with two tracks featuring friends of mine --
Anne Laplantine Loves The Sea But Loves Her Computer Most
and
Xavier Loves Videogames
?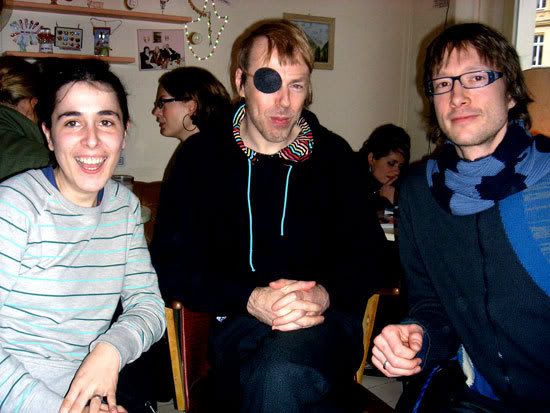 So, anyway, yesterday, out of the blue, I got an email from Alejandra Salinas and Aeron Bergman saying they were in Berlin, and would I like to meet up for coffee? A couple of hours later we were sitting in Kauf Dich Glucklich, sawing with teaspoons at banana waffles and exchanging CDs. Theirs come in beautiful rough-papered artisanal sleeves, still overseen by Alejandra's mother in Spain, although the couple are now living in Gothenburg, Sweden, where Alejandra is doing a second degree at the art school.
"We met young and married young," says Aeron in a "confession" on the "Be Mine" album, "we have an ongoing love story." It's true; they make quite an impression -- Alejandra (29) has a high voice and the most incredibly enthusiastic vitality, making fierce-yet-kind eye contact all the time, bursting often into laughter. Aeron (35) is much more measured, serious and studious. He's from Detroit, but hasn't lived there for years, though he went back to gather sounds and stories for the pair's contribution to the
Shrinking Cities
exhibition.
Alejandra and Aeron met in Toronto, married when Alejandra was just 20, lived in Barcelona together, then moved to Sweden, where they'll stay for at least another couple of years. After that they may even move to Berlin, who knows? We tried to think of other artist couples who've stayed and worked together. They suggested Vladislav Delay and Antye Greie, Otomo Yoshihide and Sachiko M (I didn't even know they were a couple!). I suggested Christo and Jeanne-Claude. Nobody said Sonny and Cher, which I suppose is just as well.
Later, I went to the first event in the
Kleine Field Recordings Festival
, at which I'll be performing on February 9th. I went to see my friend Bernhard Gal's set, which contained a witty juxtaposition of a printer and meadow insects (they sounded very compatible). But I couldn't help feeling that some of the other performers were using raw, natural sound in too "musical" a way, and that meant becoming bombastic. Raw sound mostly isn't bombastic, but a certain (and understandable) human desire to impress makes it so when it's edited and played back in a concert setting. And I was reminded of just what it is I like about Alejandra and Aeron -- their sounds are sweet and soft and friendly and cool and objective. They're two of the least bombastic people alive.