I'm living a pretty hectic social whirl at the moment, with my ex-wife Shazna and her boyfriend Ron in town, my Hong Kong friend Cheung Lik too, and Hisae's classmate Miya accompanying us to a host of Berlinale (Berlin Film Festival) events.
The
Golden Bear
awards were announced last night, and we were pleased to see David Mackenzie honoured for best use of film music for his Domino Records and Franz Ferdinand-heavy soundtrack for
Hallam Foe
, which we saw on Friday night and enjoyed. Where else are you going to see the actor known for his role as the "little dancer" in
Billy Elliot
clambering over the rooftops of Edinburgh's old town, watching people having sex before he retreats to his home inside the clock face of the North British Hotel on Princes Street?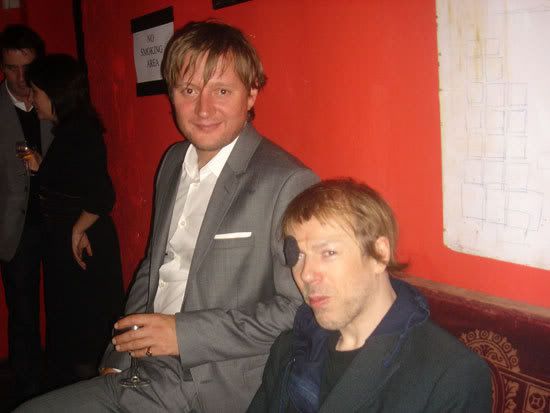 Here I am with director David Mackenzie at the after-screening party for
Hallam Foe
. When I asked him about the possibility of winning a Golden Bear he was modest and dismissive: "We're not really here to compete and win, just to get the film shown and see what other people have been up to." Congratulations anyway, David!
Although we didn't manage to see it, the Korean film I blogged about the other day,
I Am A Cyborg, But That's OK
won its director Park Chan-wook the Alfred Bauer Jury Prize, so we're happy about that too.
But the film which undoubtedly made the biggest impact on us -- we saw it last night -- was
Scott Walker: 30 Century Man
, the documentary about the legendary avant crooner directed by Stephen Kijak, who very kindly led a group of six of us, all holding hands like pixies, through the big knot of people waiting to get into the sold out screening of his film last night, and walked us in to a row of comp seats.
The documentary -- with Scott's songs being pumped through the big Dolby 5:1 speakers -- was powerful and fascinating, featuring the likes of Bowie, Eno, Jarvis, Damon Albarn and Marc Almond detailing their first impressions of Walker's work. Neil Hannon is featured only on the DVD extras section, and David Sylvian not at all, although he apparently offered to be interviewed. Walker's managers thought that Scott "wouldn't be comfortable" with Sylvian's presence in the film. Perhaps David Bowie's presence as Executive Producer also had something to do with it: as we
noted here
on Christmas day, Bowie's absence from the video for Forbidden Colours is very noticeable. Poor Sylvian seems to be somewhat unpopular with his heroes.