Exactly ten years ago, in May 1997, designzine
Shift
, then on their 12th issue, started a new feature called
Tokyo Cutie Girls
. Here were Harajuku girls in garish acid colours, shot close-cropped in the harsh flashlight of early digital photography.
Ten years later, a re-designed Shift quietly killed the feature after a final shoot in their 121st edition. By now retitled
Girls on the Street
, the last pictures showed Sapporo women of almost nun-like sobriety. The predominant colours were black, grey, cream and beige. The super-protestant spirit of Muji and Uniqlo seemed to have won. Japanese street fashion -- as a funky freakshow cliché, at least -- went from active to archive.
The Shift Cutie Girls feature was the bit of the "e'zine for digital generations" I always turned to first. I suspect I wasn't the only one -- Shift suspended the feature for two years (1998 and 1999); the Cutie Girls were clearly attracting the wrong kind of surfer and eating bandwidth. In late '97 sarcastic notices appeared on the site asking "Do you want to see those girls, to touch them with your hands, ever?" and "Ooooooooops! This month
feature boys!
" The Cutie Girls page became a more neutral-sounding "Tokyo Snaps" -- and then went into hibernation.
Two years later, having banished the pervs, Shift's editors had another change of heart. Perhaps agreeing with Brian Eno -- who once said that the hair, clothes and make-up of the women passing his London studio were the best cultural barometer he knew -- or perhaps just better equipped with bandwidth and keen to glam up their designer readers' lives a bit, the Shift people brought back their fashion feature in late 1999.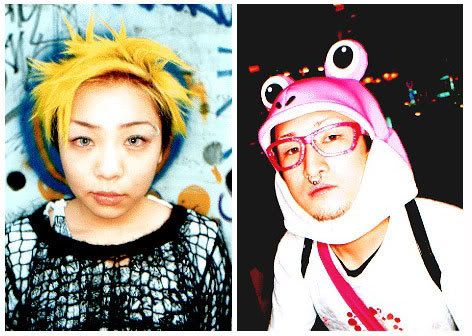 By
1999
the acid-fruit eyestrain of the Shibuya-kei years has been toned down. It's a relief, actually. Things have got more organic. Women have chestnut brown hair cut into mushroom shapes or boyish ragamuffin spikes. Outfits are slightly hippyish, featuring autumnal ponchos with a thrift store Missoni look.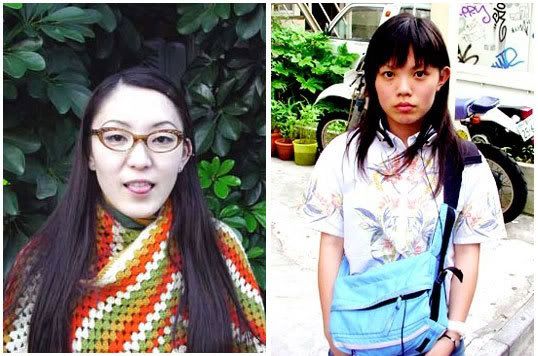 As the noughties arrive, pictures still show
an exuberance
-- girls are clearly thrifting creatively, putting their own looks together. In the new decade, cultural references cede to natural ones -- Slow Life takes hold. The manga-like cyber-geisha look of the 90s (summed up visually by
Mariko Mori
) seems clumsy and unsubtle next to these new, more relaxed, more recognizably Asian women. There's a fad for
peppermint stripes
. Colour begins to ebb away, drawing the eye more to form. Skirts give way to jeans. Easier to wash.
In desperation, the Shift editors open the feature up to other countries. Features from guest photographers show us what people are wearing in
St Petersburg
or
Zurich
,
Baltimore
or
Barcelona
. We get the message: street fashion in Japan isn't what it used to be. Nothing to see here, folks, move along, please.
But it's Japanese women we want to see on Shift. We want to take
a virtual visit to the Cafe Soso
, Shift's HQ in Sapporo, and peek shyly at the kind of friendly, creative girls who come there to sip latte and chat. By 2005 the
chromophobia
is thawing -- it's
80s retro now
, so it's the kind of pinks and dark greens you might have seen in 1984 accessories worn by Madonna or Cyndi Lauper. Gorgeous ostentation also slips back in via
traditional kimono patterns
-- 2005 is the year I notice
a new mood of narcissism
swelling up in Japanese culture.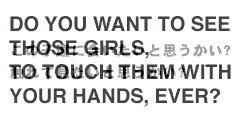 By
2006
, though, Sapporo girls have banished all colour except the odd splash of red. (Hisae attributes the new look to the influence of singer
Mika Nakashima
.) Colour's loss, though, is
form's gain
: there are some interesting cuts and shapes going on. The
final Girls on the Street
may be dead colour-wise, but quirky cuts and accessories compensate -- a huge safety pin hanging from one girl, a white donkey pouch pocket slung inventively around the loins of another.
It may be that street fashion is dealt with perfectly well elsewhere. Sites like
FashionSnap
,
Tokyo Street Style
or even Fumi Nagasaki's New York video reports in
Flasher
serve the purpose Shift's Cutie Girls page once did, and the indefatigable Shoichi Aoki continues to publish
Tune
and
FRUiTS
for those who want hard copy confirmation that interesting looks still thrive on Japanese streets.
I guess you really need to be in Japan to gauge how interesting its streets are looking and feeling. I've just booked my next trip -- Hisae and I will be there between mid-May and mid-June, staying in
visually-conservative Ginza
, but ranging far and wide. I'll update you then. In the meantime, here's a glimpse of what I use street fashion snaps
for
. I copy the ideas. To find something you actually want to copy is a great pleasure. It's just not a pleasure I'll be getting from Shift again. Thanks for ten years, guys, and do please leave the archive online -- this is cultural history we're dealing with!