Name:
Momus
Age
: 47
Yesterday was "Meetings Monday", a day in which I met with as many of my New York friends as possible, one after the other. It was a bit like being a therapist or doing a piece of "relational aesthetics" performance art. The day began at 12 noon and ended at 10pm. I met each friend at Sunrise Mart, the Japanese grocery and deli on Soho's Broome Street, and spent an hour chatting with them, either at the Sunrise Mart tables (dipping chips in wasabi and munching tempura vegetables) or round the corner at Hiroko's Place on Thompson Street. Here's a series of capsule descriptions of the meetings, with snaps of some of the people who are the real core of my New York experience -- my living New York roots.
Name:
Jesse Pearson
Age
: 32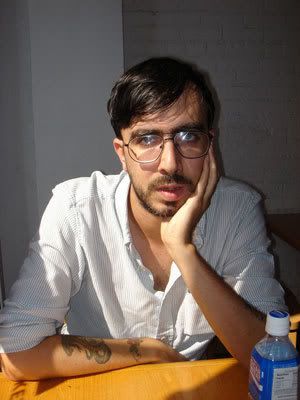 Jesse is the editor of
Vice
magazine. We met in 2000 while we were both gravitating around
Index
, painter Peter Halley's take on Andy Warhol's Interview. I wrote a bit for Vice after Index disappeared. Jesse has moved from the Lower East Side to the Financial District, is getting married on Halloween, is excited by
VBS-TV
, is making Vice more serious and adult (partly by adopting the Index formula of Q&A interviews, some of which I may do for the magazine at some point in the future). He thought the style of this decade (which he didn't have a name for) was baggy t-shirts, Morrissey badges and fedoras. "Everyone used to be doing speed and coke, now they're doing heroin." When Lord Whimsy arrived at one, Jesse was rather excited to talk to him about the New Jersey pine barrens, an area where they've both lived.
Name:
Lord Whimsy
Age
: 39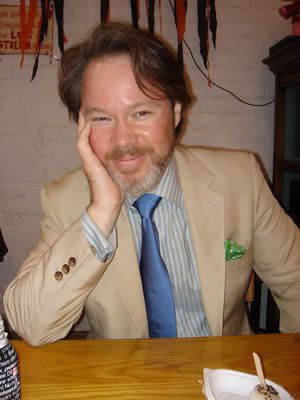 Lord Whimsy -- Allen to his friends -- arrived bearing a suitably eccentric array of gifts, amongst them the bone from an ocelot's penis (I think). He's looking remarkably distinguished these days, a cross between Rip Torn and Orson Welles. It seems that the Johnny Depp movie based on his "Affected Provincial's Almanac" is now at the script stage, and that the screenwriters have been to Philly and New Jersey to study Whimsy and his haunts. Deflecting attention from himself, Whimsy mostly tried to turn the writers on to the miracle of pondlife. He says he'd like to live in a house modelled on plant cells one day. He's following Craig Venter's Dr Frankenstein-like attempts to create new lifeforms with considerable interest. That, he thinks, is the future of texture.
Name:
Dyan
Age
: 22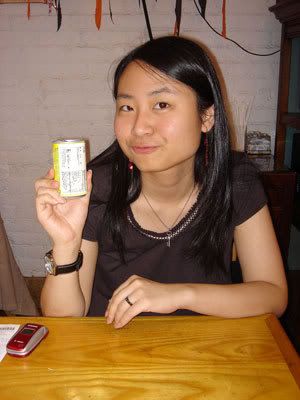 One of two people I met yesterday for the first time (the other was Jordan Fish), Dyan was born in Malaysia and raised in Hawaii. She's a Hunter College student, an aspiring nomad and "culture pirate". Dyan wrote asking for advice on how to "move around nations without a pension plan".
"Don't have children, don't take out a mortgage, never get a credit card, and do projects rather than a job!" was my rather silly advice.
Dyan thinks she might move to Berlin in 2009 after a year of working here in the US. It turns out she's already been much more nomadic than I was at her age.
Name:
Karin Komoto
Age
: 34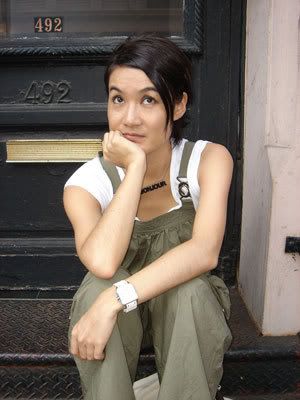 I met Karin Komoto at a show in San Francisco in 1998. She's sort of like a cross between a Siamese cat and Peggy Guggenheim -- a really warm and reassuring person to be around. Karin moved from SF (where she had the most amazing luxury loft) to a little bedsit in New York about three years ago and is now working for the World Bank. Sunk into the soft green chairs at Hiroko's Place we talked about having babies -- some of Karin's gay and bi friends are currently organizing artificial inseminations. A mother can get sperm from a man she's never met, and one woman can receive another woman's egg.
Karin will fly to Paris next week to be at our good mutual friends Gilles and Flo's wedding, so I'll see her there too.
Name:
Jordan Fish
Age
: 23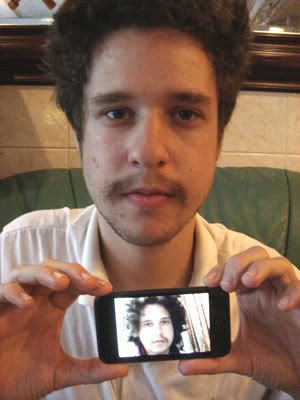 I felt like I knew Jordan so well, because his
vlog
has become a must-see in our flat in Berlin. In real life he looked several years younger, almost like a teenager. He hasn't done as much of the vlogging recently because his weeping response to the V-Tech shootings got too much attention (it was a YouTube editors' selection) and marred the performance art element of his vlogs with too much raw, real, direct, unmediated emotion. There were also some really mean comments under that episode -- a bit like the ones I got in Wired News when I admitted Apple expos had sometimes made me weep with gratitude. We're "girly men"!
Being a super-mediator, Jordan has already
blogged
about our meeting. But not on video, and not weeping, thank god.
Name:
Elsie
Age
: 25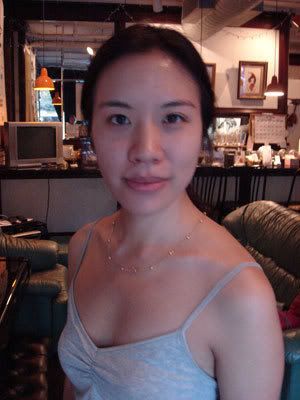 Elsie is an art history graduate student at the CUNY graduate center, and an unapologetic Canadian. We met last year when I was the Unreliable Tour Guide. She gave me invaluable help this year by inventorying all the boxes I'd left in designer Mirko Ilic's studio -- all my worldly possessions, basically -- and organizing their shipment back to Europe. Elsie told me mostly about her studies -- she's studying mid-century Modernism, with a side of Ancient Rome -- and her new hamster, Roland, who's ginger with red eyes. While we discussed how Canada is much closer in many ways to British culture than American, Elsie made a stupid sketch of me looking like a stick-legged pirate.
Name:
Hikaru
Age
: 27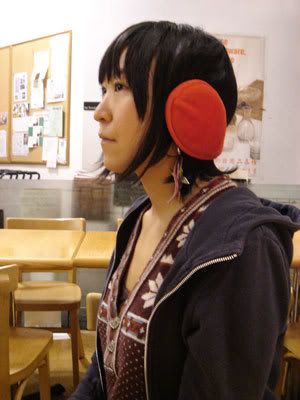 I first met Hikaru in 2002 when she was an art student at SFIA living with a bunch of kids who called themselves the
Seahorse Liberation Army
, and it's still through photographs that I mostly keep track of her: I love
Hibisanpo
, her Flickr page. I spent a while trying to persuade Hikaru to sell me her battered but beautiful
Sony DSC-T7
, because I've been completely unable to find a decently-designed digital camera in the stores here. In the end she decided to keep it, though. We talked visas -- I recently wrote a letter in support of Hikaru's new application, and she's waiting rather nervously to hear the outcome. She wants to stay in New York (she's currently very much involved in the green branding of Green Point, her neighbourhood) but wouldn't mind living in Europe at some point too.
Name:
Hiroshi
Age
: 35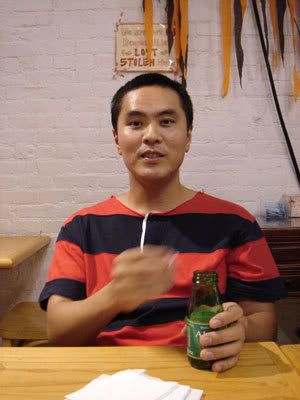 Hiroshi Sunairi is a Japanese artist who's been living in New York for about ten years now. I met him when I first toured here with Kahimi Karie. Hiroshi used to be a wild guy whose sculptures at Kreps Gallery showed him masturbating and whose screaming performances usually involved him dropping his trousers at some point. Now he's a prof at the NYU art school and makes memorial museum art, like the enamel white elephant (a memorial not just to 9/11 but to all the people who've died since then in Iraq and Afghanistan) currently showing at the Japan Society show
Making a Home
. "What happened to Wild Hiroshi, then? Does he still exist?" I asked. "Oh yes," said Hiroshi, "I got quite drunk at the Japan Society opening." "What did you do?" "Oh, I talked a lot," said Hiroshi.
Name:
Jing
Age
: 25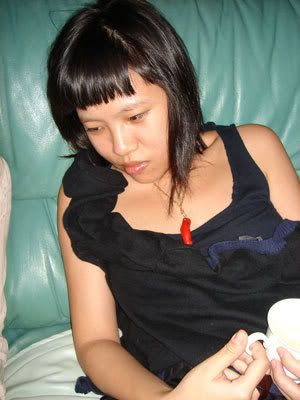 I must've met Jing around 9/11. We dated for a while just before I left New York for Tokyo. You can see her helping me move out of my Orchard Street apartment in the
Sterile Cowboys
documentary. She came to New York to study painting, ended up working at a gallery specializing in Asian art, but now works part-time in a secondhand clothes store (rather a smart one, judging by the way she was dressed). Jing had some kind of flu brewing and was a bit under the weather, but it was good to see her again. When Hiroko's Place closed at 10pm she headed back to Harlem (where Hiroshi also lives these days) to the apartment she shares with her boyfriend and a small dog. I couldn't believe how hot the night was -- 30 degrees centigrade, but the humidity made it feel like 35. Anyway, thanks, my New York friends! I thought this day would exhaust me, but in fact it energised me. I must be some sort of vampire!