On my last day in Denver I take a little morning break from the AIGA conference to tour the city's culture districts; the
Center for the Performing Arts
(gigantic kulturbunker), the
Santa Fe Art District
("funky" alternamall for the local creative class) and the Daniel Libeskind-designed
Art Museum
.
The Santa Fe art district is a few blocks outside the iconic-comfortable centre of town, and -- as usual when trying to walk anywhere in American cities that aren't New York -- you only really pass homeless people (who ask you for tobacco and matches) and cars on the way there. Nobody else is walking on Santa Fe, and there aren't even any shops to stop in at. The art district (currently in the midst of some sort of festival) is a classic alternamall, with a bunch of "contemporary art galleries" showing mediocre or downright kitschy work. Nothing interesting to see here, folks!
Accompanied by the melancholy Western wail of train horns I walk back towards the centre of town through Bail Bond City, a whole
district
full of Spanish-speaking bungalow offices who'll help you stay free as you await trial for, well, horse-rustling or vagrancy or whatever. I remember seeing an abundance of these law-shacks in Arizona too. Can there really be so much crime here that you need a whole
city
of bail bond people? What's this all about?
Just beyond the bail bonds (and some centres for unemployed black people) looms the "iconic" Art Museum. But what's it an icon for? A knife, slicing into Denver? A shark, about to rip open the belly of its prey? Libeskind's building is in a style I find rather distasteful, a showy, aggressive style I call "sharkitecture". It expresses all too clearly a kind of Hobbsian worldview, it seems to me: dog-eat-dog, shark-kill-shark, kill-or-be-killed. And, sure enough, Libeskind's other projects are all redolent of dead-sharp angles and death: the Jewish Museum in Berlin (which I've never been inside; I find it rather uninviting) and the planned Freedom Tower in New York. The other leading sharkitect is Zaha Hadid, whose dagger-sharp, fanged shapes I find even more unnecessarily aggressive than Libeskind's.
During his presentation on Thursday, Libeskind called his shape a "cantilevered crystal", which must have pleased the Denver mayor, an ex-geologist. But to me they're sharks. So, too, is the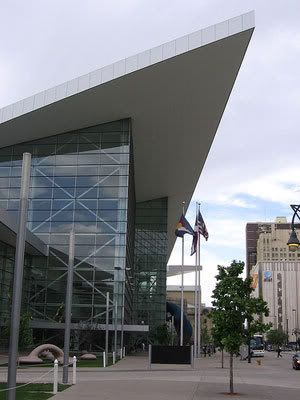 conference center AIGA Next has been taking place in. We delegates have been waffling in the belly of a shark. The city seems to like them. Perhaps it's because it's so far from the sea and doesn't know how horrible real sharks can be.
Actually, there have been some fascinating sessions at this conference. There was ID magazine editor Julie Lasky, for instance, saying that "as in education and healthcare, the US lags behind other countries in its graphic design. Not that there aren't individual things that are excellent, but the overall level is lower". That observation was really brought home by a fascinating presentation on Saturday of three Olympic logos by their creators. Dana Arnett showed Chicago's bid for the 2016 Olympics, a really conservative and even rather fascist-looking
torch / city silhouette
. Then Patrick Cox of London agency Wolff Olins showed his London 2012 logo.
This logo has been roundly -- almost universally --
condemned
(not least
by Steve Heller
, holding a panel on blogging just across the hall), but -- as I told Cox, an Edinburgh man -- I think it perfectly fulfills the New Ugly / New Rave, energy-before-quality stuff I was talking about last week when I was thinking about
the style of a decade which has not yet been named
. Cox stressed in his presentation the importance of avoiding already-established "good taste". I tend to agree with the commenter
on the Creative Review blog
who said:
"I love this logo, yes it's cheesy, brash, crude, but it's a real grower. The confrontational nature and "nowness" of the design is its real strength. When you look at the pedestrian tripe of the Chicago 2016 logo it makes you glad that we live in a city that is willing to take some risks rather than create some garbage based on local landmarks."
There was a
teensy
cloud of suspicion in my mind, though, that the London logo was the graphic design equivalent of "sharkitecture", and the presentation bore this out. Cox said he wanted Londoners to get actively involved in the Olympics, running with the runners. While that can be seen as "making people proactive" and as "inclusiveness", it shares a problem with what I've called "police woman feminism": that when you make ordinary people into a sportsman -- or force women to compete with men on men's terms -- you're creating second-class sportspeople, and second-class men. You're creating losers. By transforming the city into a huge sports zone you're also edging it a little closer to social Darwinism (social sharkitecture). A survival-of-the-fittest world in which the homeless, criminal deviants in need of bail bonds, and unemployed blacks are ranged around a Disneyfied city centre patrolled by shark-shaped iconic arts centres flanked by pricey loft apartments. Like the shark-shaped cars that swim down the avenues, though, these arts centres are much more friendly inside -- insulated from their own fumes, padded against their own sharp angles, they seem to bring out the
Garfield
in all of us (I certainly felt a bit like Garfield as I padded back and forward between my comfortable hotel room and the comfortable, sharky conference centre). An image of contemporary America: Garfield piloting a deadly mechanical shark.
The final Olympic graphics presentation was by Min Wang, dean of the School of Design at the Chinese Central Academy of Fine Arts. I liked the non-sharkiness of the 2008 Beijing Olympics design, which emphasizes Chineseness (Wolff Olins tried to avoid appeals to nationalism in their logo) via calligraphic pictograms. The torch and medals are particularly nice: they look like elegant old relics of some former dynasty. Although I like London's New Rave logo, I can't detach its sharp angles from my feelings about Western aggression, symbolized by knives, axes, predatory eagles and sharks. Even the horses unveiled by young designers during the Command X panel game (itself worryingly Social Darwinist, with its "weakest link" structure) looked manic, possessed and deranged to me.
Just before I left the stage after my presentation moderator Kurt Andersen asked me why I seemed to like the "capitals of the Axis powers" -- Berlin and Tokyo -- so much. "At the risk of sounding terribly Calvinist and Scottish, it's because guilt is good," I explained. "Having been on the wrong side during World War II has made Germany and Japan much more cautious about expressing aggression in their cultures. Look at the World Cup 2006 logo: a couple of friendly, smiling, bouncy balls. That's based on a taboo on aggression -- a taboo I didn't see in the football logos of the Command X designers."
Andersen made a comment about Japanese culture retaining a childishness, perhaps because of that guilt and fear of aggression, and I responded with Murakami's use of the title Little Boy for his Japan Society show: the name of the Hiroshima bomb, but also the image of a Peter-Pan-like
otaku
. Peter Pan also has a scary shark lurking just out of sight, of course: the one that nipped off Captain Hook's hand.