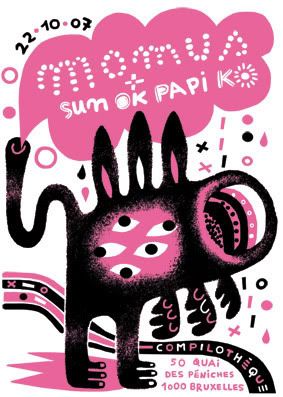 I'm in Brussels, staying in an apartment without wifi above the venue where I'll play a show on Monday night, so for the next couple of days there'll just be these show posters here on Click Opera.
I will say, though, that Hisae and I have already experienced
La Centrale Electrique
, a rather impressive contemporary art centre, and a great stand-up seafood eaterie next to it called Nordsee. Oh, and tonight (Sunday, although the post says Monday and is advertising my Monday and Tuesday shows here) Aki Onda is playing at the
Palace of Fine Arts
, accompanying the films of Ken Jacobs.
Below are my show details, in French. I play Monday at an arts centre and Tuesday at a fashion shop, as part of fashion week. Both events start at 8pm.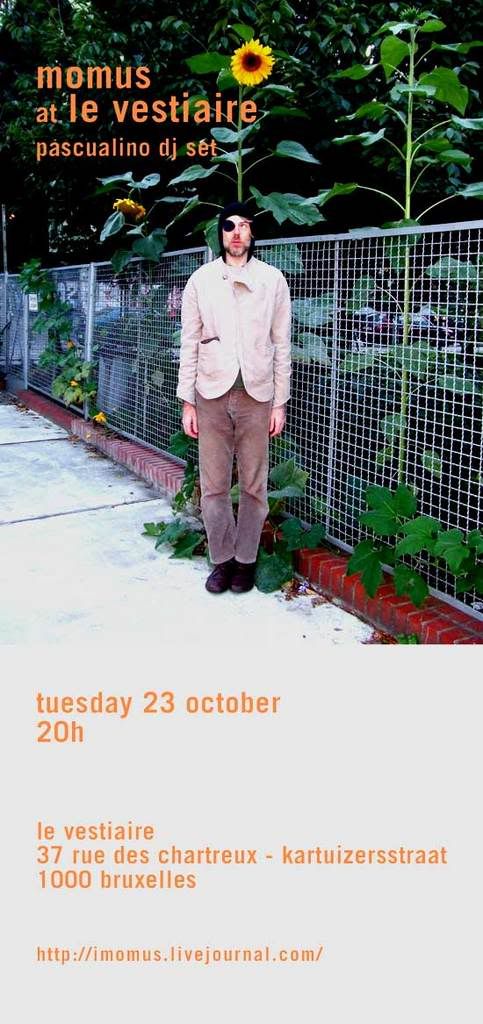 le 22 Octobre 20h
avec Sun OK Papi K.O.
la compilothèque
50, quai des péniches
1000 Bruxelles
Depuis plus de deux ans se réunissent les quelques membres d'un drôle de "club échangiste": la compilothèque est une collection de compilations musicales de tous horizons, empruntables, et à laquelle on est soi-même invité à participer. Une autre manière de découvrir et de partager de la musique. La compilothèque s'étoffe et rassemble déjà des compiles pour la route, les enfants, pour danser ou passer l'hiver, pour résister à ça, ou chercher une autre face, pour se faire un film dans la tête, s'interroger sur la constance multiforme de l'esprit british à travers les âges, ou encore descendre une piste au sport d'hiver... D'abord dans un petit café espagnol de Saint-Gilles, et depuis quelques mois dans un café sur le quai des péniches, la compilothèque y propose également des projections de films, des concerts et des tables d'hôtes.
le 23 octobre 20h
shop Le vestaire
37, rue des chartreux
1000 Bruxelles
Le Vestiaire est le projet de 2 jeunes créatrices bruxelloises. Céline Collard a étudié la mode à la Haute Ecole Francisco Ferrer. Sa collègue, Caroline Foulon a fait ses classes à La Cambre. Jusqu'à il y a un an et demi, leurs vêtements ne pouvaient s'acheter qu'à Anvers et à Paris. Ces 2 créatrices essayent d'être compatibles. Céline s'occupe des patrons, et développe des pièces de base classiques: essentiellement des jupes et robes en coton ou en fine laine. Quant à Caroline, elle conçoit plutôt des pulls et n'hésite pas à jouer avec des motifs particuliers. Chaque saison, le duo complète ses propres collections par celle d'une 3e styliste dont le style s'adapte au leur.
http://www.iqons.com/celine+collard
http://www.celinecollard.com/
http://www.fashionweek.be/?homepageID=37