Berlin today is cloudy, hovering between minus 4 and minus 5 centigrade, and lightly brushed with snow. It's perfect weather for, well, staying in and dreaming you're somewhere else. You're sitting at your desk, but you can travel anywhere on an electronic magic carpet. Naturally, you pick Tokyo. Let's imagine you're there; where do you go? What do you see?
In Tokyo it's 10C -- much more tolerable. You might head out first of all to
Work People Not Allowed
, the Bruno Munari show at
Shiodome Italia Creative Center
(transferred from the Milan Triennale, where it originated). Munari, the veteran Italian designer, maker of charming children's books and wooden toys, is a good example of the genre-crossing that -- you have a feeling -- is going to become today's theme. It's something that Tokyo does well, because of the way it tends to structure things. Cross-genre exhibitions mix up
practical commercial stuff like design with fine art, erasing the dividing line just as Japanese culture has tended to do. It's tempting to think of that erased line as a class divide in other countries, and its erasure as part of Japan's massive middle-classness. But of course its erasure is also a way of financing art exhibitions, because, in the absence of local collectors and art institutions, it's useful to have corporate sponsors -- who of course want you to put their products in the show. What's more, there's a utopian cheerfulness in cutting-edge design (or cutely retro cutting-edge design, in Munari's case) which sits well with Japan's love of novelties, its refreshingly benign sense of the future and of technology.
After the Munari show at Shiodome (you lunch rapidly on lip-blackening squid ink pasta amongst svelte office workers in the faux-Italian piazza) you ride the Oedo line out to MOT -- the Museum of Contemporary Art Tokyo, set in Kiba Park. They've got a big show on called
Space for your Future
, vaguely inspired by Buckminster Fuller. It's
divided into four parts
, Body Inner Space, Metaphor, Body Sensation and Memory / Data. The blurb says it "aims to give a spatial execution to a variety of concepts and projects that propose future spaces able to stimulate and transform the sensibilities, sensory perceptions, and intellectual curiosity of those within them. The idea of space implied in the exhibition's title does not simply mean physical space but rather space as an environment which envelops the individual; space as a being possessing both physical and spiritual sensibilities." Wow, space as a being with a spirit! How very Shinto! But overall, the show with its personalized micro-architecture theme (lots of nice little cyber-huts to explore!) reminds you of Takako Minekawa's Roomic Cube concept ("does your way of life require a room?") and a similar show at Tokyo Opera City a few years back called
My Home is Yours / Your home is mine
.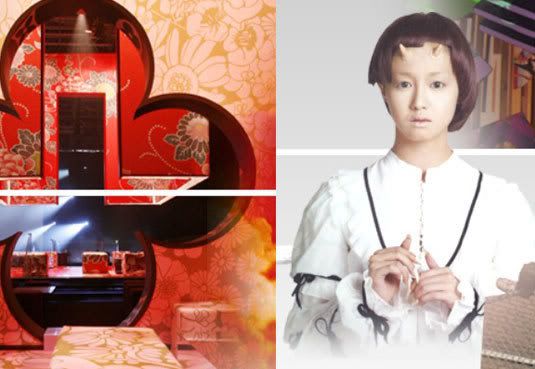 The MOT show is super-inter-disciplinary, and it's nice to see people like Bless and Cosmic Wonder in it. Sure, they're the same old faces (people you see every time you open
Here and There magazine
,
for instance), but they're the
right
faces, the ones who
deserve
to be repeated. They don't seem to be very successful, commercially, so although they're "fashion and design" in an art gallery, they're very much at the art end of that, the non-profit end, the lab end. You also like the bouncy bean / cocoon chairs that become a part of your body. Comfortable!
In the MOT bookstore you flip through the new edition of Art It magazine. They've changed the cover design! The editor's theme is Tokyo: city of chaos and transformation. "What is it about Tokyo suddenly inspiring such a blossoming of artistic creativity? In this issue, we test the pulse of the Japanese capital's ever-evolving art scene, focusing on three major 'cross-genre' exhibitions. Just what constitutes evolution in Japanese, and in world art?" Woah, they're on this "cross-genre" tip too! Something in the air!
Dusk is falling now (the days are short in December!) so it's time to head to Roppongi, where you're going to ride to the 53rd floor of a skyscraper, have a quick look at Tokyo's nightscape, then catch
Roppongi Crossing 2007: Future Beats in Japanese Contemporary Art
, the Mori art museum's annual survey of new Japanese art. No rush, the museum's open till 10pm. Here too the theme is fusion -- "For Roppongi Crossing 2007 four curators focused on the idea of intersection, selecting 36 artists whose work has an energy and sphere of influence that spreads beyond the confines of conventional artistic categories. Their art takes a variety of forms, including painting, sculpture, photography, design, video, manga, games, and even unlikely genres such as dollmaking and bathhouse mural painting".
As usual, you're a bit nervous about earthquakes as you walk round on top of the Mori skyscraper. But your mind is taken off imminent death (and it would be a glamourous one, at least) by Koichiro Tsujikawa's video for Cornelius' "Like A Rolling Stone", a twirling field of formal synergies played out by stiff little figurines (or, if you prefer, a visual metaphor for a society waltzing in harmony) -- and the perfect way to end the perfect December day.