The Wire magazine has published its writers' list of
the 50 best records of 2007
. At number 20 there's a Japanese artist called Akio Suzuki, nominated for his September release
K7 Box
. It's a record of calming, slightly cosmic music recorded in live installations around the world -- the sound of bottles being blown and tapped, bamboo cylinders being lifted and set down, ancient stone flutes, and the strange semi-human singing sound of the Analopos, an instrument of Suzuki's own invention based on the image of two mirrors facing each other. It's all very haunting and charming.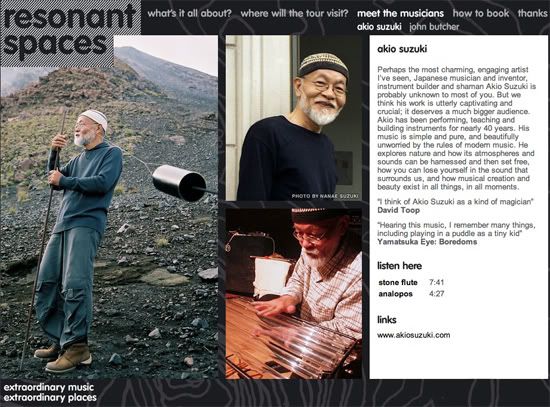 Suzuki was born in 1941 in Pyongyang, North Korea (his parents must have been part of Japan's occupying force). He lives on the coast of Japan, in the countryside, and desolate, windswept sounds are very much part of his music. In 2006 he embarked on
a tour of Scotland
. Instead of the usual venues musicians play -- places where amps and mixers make everything sound the same, and bars and stages provide the familiar organisation of space -- Suzuki played ticketed but free events in remote, atmospheric outdoor locations:
Smoo Cave, Durness
Ring of Brodgar, Orkney
Lyness oil tank, Hoy
Tugnet Ice House, Spey Bay
Wormit Reservoir, Wormit
Hamilton Mausoleum, Hamilton
Before we go any further, let's listen to a couple of pieces by Akio Suzuki. Here's
Analopos
and here's
Stone Flute
. The stone instrument -- an iwabue -- is one that's been in Suzuki's family for generations; in 2002 he played it at the Brunei Gallery of the School of Oriental & African Studies in London (sorry, anti-orientalists!). The resulting series was called Mogari.
One of Suzuki's specialities is the sound walk, or
oto date
, an
open air sound ceremony
. He plans a route (through the cemeteries of Paris, for instance), designating certain spots as places where the walkers should stop and listen to specific sounds. As with the concerts in reservoirs and caves, Suzuki plays here on his own humble charisma as a sort of Zen sound shaman, but also harnesses the charisma of his raw locations, so much more evocative than trad, deadened music venues.
When he does play indoors, he's likely to start by slowly tearing up a newspaper in spirals, before moving on to performing on his handmade instruments.
Music for arty, orientalist hippies, then? It's true that Suzuki perfectly fits The Wire's criteria for a great artist: he's an old man as comfortable in art galleries as jazz clubs, a humble "master" in a knitted hat whose insights are as much spiritual as musical, a charming guru of sound. His music is avant garde (his first piece, in 1963, involved throwing a dustbin down a staircase at Nagoya Station to hear the regular beats the steps made on the can) without being particularly "difficult" or "challenging" to listen to. His music makes great background sound, injecting a little touch of spiritual magic into your room. He's had a DAAD residency in Berlin and
collaborated with David Toop
. (
Suzuki
: kikkokikiriki, stone-flute, small stones, pan pipe, silent toy.
Toop
: flutes, bone whistle, dog whistles, stones, whistling pot, organic materials, feedback device.)
The principles structuring Suzuki's music are "sound-based topography" and echo and response. In the late 80s he made a different version of his two-mirror instrument, this time using two parallel walls which, set in a landscape, capture and bounce back the sounds of nature. When someone sits between the walls, they can focus on the directed natural sound and "purify their hearing". In this way, says Suzuki, "sound, which had been conceptually imprisoned in various spaces, is freed to circle the world".
Because I've been thinking about orientalism over the last 48 hours, I can't help wondering whether the reception of Suzuki's music, by The Wire and others, isn't heavily "orientalist". His ideas very much fit with our Western conceptions of Zen Buddhism and Shinto. I have no problem with this at all. If, bewitched onto Scottish hillsides by Akio's sagelike Zen Pied Piper act, we learn other ways of thinking and feeling, reconnecting with our own landscapes as we connect with another culture, it seems to me a mutually beneficial arrangement, a "cultural exchange". Orientalism is a game with two players, and sometimes both win.