Jan Kaplicky of Future Systems will build a new library in Prague. The blotchy green and purple building has its opponents in the Czech Republic, Stephen Bayley tells us in his
Guardian article
, but now looks as if it will shortly rise, like a blob, a noro-viral spore or a jellyfish, in the centre of the city of Kafka.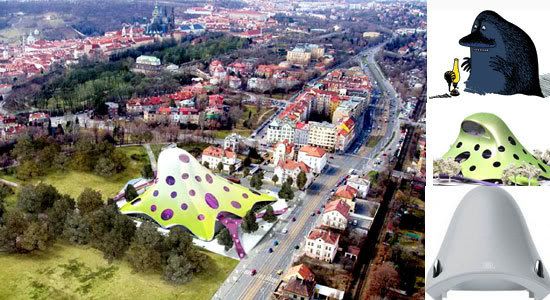 I have to say I'm a bit tired of this style. It smacks of the recent past, evoking my 1990s Swatch pod-phone, my old JBL Creature subwoofer. Sure, the rounded organic curves of the International Pod style are preferable to the razor-sharp angles of
sharkitecture
unleashed by Liebeskind, Hadid and co. But blobitecture, over the past fifteen years, has replicated too quickly, mutating its "natural" forms through a whole range of plastic consumer products. It's time for something fresh.
I posed in front of another Jan Kaplicky building -- Selfridges in Birmingham -- a year or so ago, and
wondered at the time
whether its "panspermian" futurism wasn't already retro (and not in a good way). I can't help thinking of 90s Bjork albums when I look at this stuff; it seems informed by the same collision of techno and the computer-organic. We even have some of it in the London skyline now in the form of the gherkin-shaped Swiss:Re building.
Personally, I'm much more excited by architects and designers who neither blob nor shark, but clutter their spaces with a kind of radical impurity, a cheapness, an equality of all forms, a generosity. I've been watching Mike Meiré talking about his Farm Project in three interesting videos spread out on Vernissage TV:
Farm Project 1
Farm Project 2
Farm Project 3
If Kaplicky's blobs smack of the last decade, Meiré's farm kitchen feels very much a product of the current one, with its boredom with minimalism, its desire for human clutter and impurity, its emphasis on sustainability and affordability, its eclecticism rather than didacticism, its post-bit love of the things computers
can't
do.
In Meiré's farm-lab there's straw on the floor, there are references to Vermeer, there's a Philippe Starck-like use of stuffed trophy heads on the wall, there are parallels with
Lacaton and Vassal
and Rem Koolhaas in the way cheap plastic panels define a space which is essentially about human interaction -- a space that's relational, communitarian, reassuringly post-digital, and rather
shelfish
. Think of Liam Gillick's plastic panels and didactic spaces, or Phoebe Washburn's
Regulated Fool's Milk Meadow
installation.
Meiré's farm kitchen project is a place of plethora and plenty, a place between Dean and Deluca and Chinatown, between children's zoo and fish store, restaurant kitchen and plyboard art installation, manufacturing plant and plant shop. The self-described "professional dreamer" likes crossing inter-disciplinary boundaries and fusing disparate lexes, but says that "architecture is the most creative field we have right now because architects are able to realise physical new contexts". He quotes Krishnamurti and calls
Mark Borthwick
a friend, which brings in a whole host of other connections (with Cosmic Wonder, for instance, and even the Boredoms crew -- and speaking of them, you might want to know that someone is currently
giving away
Yoshimi's "Yunnan Colorfree" documentary soundtrack).
Oh, and while I'm signalling cool things, there's a newish "magazine for architectural entertainment" called
Pin-Up
which I've found interesting recently, and which I think embodies the same spirit of generous clutter and juxtaposition I find in Meiré's work. Read it in your laboratory kitchen before feeding the black sheep.