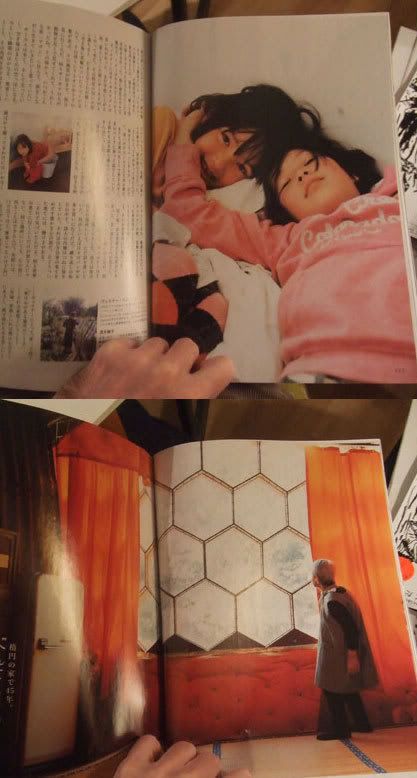 Maybe I'm a big old lady's blouse, but my favourite Japanese magazine has become
Ku:nel
, the Slow Lifestyle bi-monthly from Magazine House. Sitting in the kitchen of a friend's house last night, I found myself genuinely excited to see the first Ku:nel of 2008.
Flipping through its pages, constructing my own narratives for the sequences of pictures, I tried to pin down what this immaculately art-directed publication is all about.
LOHAS
, of course. Wabi sabi and patina. Postmaterialism. A kind of good-heartedness, some sentimentalisation of the very old, the very young, and the countryside. Kitchens, modesty, practicality, with a few touches of elegant Mid-Century Modern thrown in (this is, after all, a sister to Magazine House's Modernism-crazy
Brutus Casa
, rather too glib and bling for my taste). If I had to sum the whole thing up, I'd say "Think Shakers, think nuns, think Buckminster Fuller".
Those are rather personal associations, perhaps. I happen to have a Ken Burns documentary about the Shakers on loan at the moment. And something about the Ku:nel photography style (very sepia-colour, warm and retro) and all the images of cute old ladies makes me think of Tacita Dean's 2005 film about nuns,
Presentation Sisters
, also suffused with tenderness, worn patina and warm colours. Have a gander at
this big spread of layouts from the current issue
, though, and you'll see that there's a Bucky Fuller-meets-the-Eameses thing going on in the feature about the widow of a dead Modernist architect -- including an amazing beehive window framed with bright orange curtains. Patina this may be, but it's experimental Modernist patina. Imagine the Shakers on Mars.
Ku:nel launched in 2002 as a one-shot accompanying Anan magazine. It went bi-monthly in 2003, and currently has a print run of 150,000, which is pretty solid. One of the reasons I like it is that, in a sense, Ku:nel has swallowed some of the spirit of its recently-deceased sister,
Relax
. It's a less funky and more feminine Relax, aimed at serious young women in their 20s and 30s. But some Relax hallmarks are visible -- first of all, the generally relaxing feel (after all, the "nel" in Ku:nel's title comes from the verb
neru
,
to sleep
). Secondly, the photography. It really looks like Masafumi Sanai's work, and some of it probably is. Sanai uses a 6x7 format camera, capturing
contre jour
natural light with delicate, sun-faded colorations. He prints by hand. This is Slow Photography, with a very distinctive look. Sanai's regular "Girl Like You" slot in Relax captured fresh young girls "as if crossed by chance in a vegetable market or some neglected, crumbly arcade full of plants, bicycles and tiny, cute old ladies." In Ku:nel, the fresh young girls have gone, replaced by cute old ladies, children, and kitchens.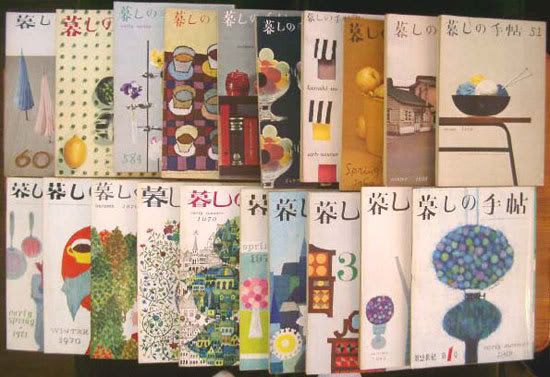 There's a precedent in Japanese magazine history for Ku:nel -- a magazine founded in 1948 with the lyrical title Notebook of Beautiful Life (later shortened to Notebook of Life).
Kurashi No Techo
is still around, a bi-monthly magazine, just like Ku:nel. It sells 160,000 copies -- almost the same circulation. Notebook of Life is a magazine full of the same diffuse good-heartedness and rustic practicality you find in Ku:nel, as
this biography
of its founder, Yasuji Hanamori, spells out. Remarkably, Notebook's founder decided to accept no advertising for the magazine; he didn't want his consumer testing to be influenced by ad sales.
"In the beginning [editor Hanamori] tested such things as rice, soy sauce, soap, towels, pens and pots -- items indispensable to all. Determining the points to be tested is a difficult and important part of the work, he points out, and must be based upon normal use conditions. Taking the simple example or a bar of soap, testing should determine if it washes well, is harmful to the skin, dissolves and suds easily and continues to do so throughout its life span, its cost per gram and its efficiency per gram."
"In some ways Hanamori is a paradox," continues the biography. "He has a rational mind combined with a warm, concerned heart. He is old-fashioned with high moral standards, yet anti-establishment and an original thinker. Hanamori's philosophy of life is simple: work hard, do what you believe in and work for others, especially the "nameless people"."
The look and feel of the two magazines brings them texturally as well as thematically close -- this Notebook picture of a magic practitioner in Lithuania, for instance (one of the "nameless people" the magazine celebrates, perhaps?) looks like something from the latest Ku:nel. A page from another notebook of beautiful life.