I'll fly later today to Denmark, then cross the eight-kilometer
Scandinavian mega-bridge
into Sweden (I'm playing
a Momus concert
on Friday evening in Lund). Looking back over the past week in Berlin, the three most significant events have been that I finished my novel, bought a video projector, and went to see David Bowie's old apartment on the Hauptstrasse.

The projector is symbolically significant because I had one ten years ago when I was living high in Clerkenwell (literally: I had a penthouse flat near the Barbican with a balcony and a flat roof the size of a tennis court), and I've been trying to claw my way back to that standard of living ever since. I doubt I'll ever do that, because I doubt I'll ever have charting hit singles again (at the time I was living on Kahimi Karie royalties). But
Moore's Law
is on my side; in 1999 I splashed out on a Sharp projector and the first Apple flat screen monitor. They cost me four times what better versions of the same devices cost today. My old Sharp projector (€1200 at the time, although the euro didn't exist then) got hooked up to a satellite dish but stayed tuned to Arte (I felt very smug about
avoiding the gatekeepers of British TV
, I recall). Now I disdain Arte (it's gone downhill a bit) and keep my Texas Instruments PJ503D (cheap American tech, a snip at €380) hooked up to YouTube (
East European animations
) and
the films of Toshio Matsumoto
on Ubu.com. In the ten years since I last had a video projector, not only have the prices plummeted, the programming possibilities have got much better. I'm now my own gatekeeper, transforming my dark ground floor flat into a cross between Plato's cave and Aladdin's.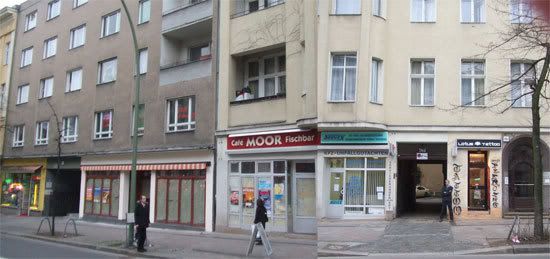 Talk of Aladdin -- and rising and falling standards of living -- brings us to my visit to David Bowie's Berlin apartment. Despite having lived in Berlin for almost five years, and despite my presence here being somewhat influenced by Bowie's stay in the city (he lived here between October 1976 and February 1978), I'd never made the pilgrimage to 155 Hauptstrasse. It took the composer
David Woodard
-- if anything, a bigger Bowie fan than I am -- to invite me to see the place. David had mailed me in late November about an extraordinary co-incidence that befell him. He was in a secondhand bookstore, looking for a copy of Ballard's "Super-Cannes", and began browsing a biography of Bowie, reading about the Berlin years. Bowie was apparently so poor during these months that his main preoccupation was chasing RCA records for $20,000 he was owed in royalties. His relationships with his wife and manager were at an all-time low.
Anyway, Woodard suddenly realised that Bowie's Berlin apartment was right next door to the bookstore he was standing in. "I turned back to find that the bookstore itself is the ground level of David Bowie's old building. There were what appeared to be poverty-stricken children meekly lingering in the doorway to the apartments, one of them eating a piece of taffy, possibly oblivious to the building's eternal significance." The following day Woodard went into the cafe next door, Neues Ufer, a gilded place with a mostly gay clientele where Bowie and Iggy would often take coffee and cake late in the morning. He found an open wifi signal and starting reading
my blog
, which happened, that day, to be about Bowie's awkward meeting with Andy Warhol at the Factory.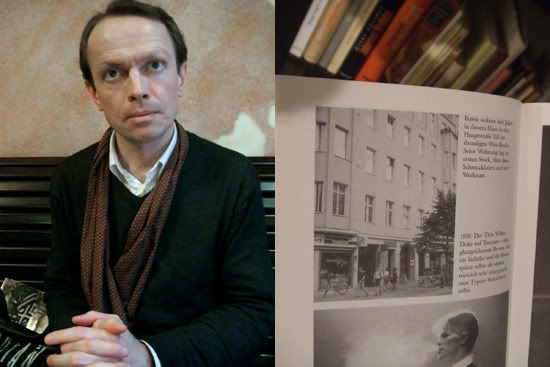 I met Woodard -- a sinister, sensitive, morbid, mesmeric, delicate, charismatic, intense and impressive man, and a talented composer -- yesterday afternoon, and drank green tea with him in the Neues Ufer, talking of his collaborations with William Burroughs and Timothy McVeigh, his upcoming three months in Kathmandu (where he's writing a book). Before and after the meeting, we took photographs in Bowie's old doorway, next to a tattoo parlour and a taxi garage. It's a surprisingly shabby building. Bowie's first floor flat is now a dentist's surgery. It's not the kind of area any right-thinking Berlin hipster would ever visit -- there's really nothing here. I doubt it was very different back then; Bowie obviously just wanted a bolt-hole and didn't much care where it was. He was down on his luck, but artistically on the upperest of his uppers. We shouldn't feel too sorry for him, though -- when he got sick of his Berlin
vie de Boheme
he could always go back to Clos de Mésanges, his chateau in Switzerland.
I'll bet Bowie didn't have a video projector back then, anyway (though he probably did have a cine-projector and some reels of Pabst). Thanks to Moore's Law, we can now all live the way only kings and rock stars -- or delusional idiots in Plato's Cave -- once could.