Hisae and I headed up to Wedding yesterday, attracted by two events,
Wedding Dress
, a festival of urban fashion and arts, and
Camp Berlin
, an inter-city art exchange between Berlin and Hiroshima featuring Japanese artists from
the Berlin Bubble
.

We started with the Wedding Dress event, which occupies vacant 1970s storefronts along three blocks of the Brunnenstrasse, just where Mitte turns into Wedding, its poorer, more multi-ethnic neighbour to the north. The first attraction was lunch in a place called
Pop Up Pub Bento Centre
. Here, a couple of designers served us a collision between a trad Japanese bento box and the area's local Turkish cuisine. It was delicious, but it was also food with a message: right there in the polystyrene take-away containers, a cultural dialogue was going on.
The next stop was the big Festivalcafe, where a multimedia artist called Christina Lissmann collared us as models for a piece called ANTISTYLE. This involved dressing us up in colourful shirts and posing us on a mountain of beanbags in front of a big black banner painted with the words "ANTISTYLE GUERILLA". The radical chic was pretty silly, especially when, reading the festival brochure while waiting to get styled as ANTISTYLE GUERILLAS, Hisae and I discovered that the festival's main sponsor is a property letting company called
DEGEWO
. In other words, all this urban grit, culture, street style and rebel attitude is really about gentrifying a poor neighbourhood and hiking the rents. So it goes... We are antistyle rebels with a cause, but it's someone else's.

Thinking about the "dialogues" going on between the black and Turkish residents of Wedding and the incoming armies of hooded fashionistas with their dreadful ironic 80s music, it was hard to look at the shop-window dummy remake of The Last Supper without thinking that the meal was a fusion cuisine commemoration of Wedding's last days as a working class neighbourhood.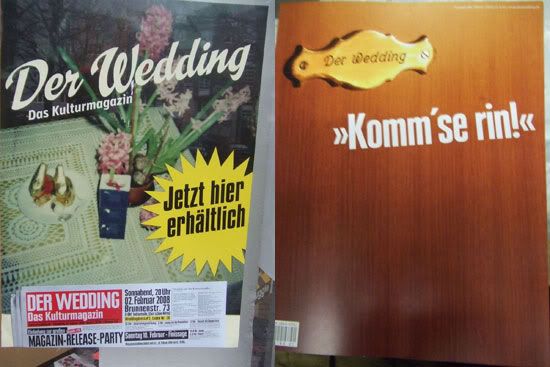 The same thought crossed my mind as we met the editor of a new (and excellent) magazine called Der Wedding, and purchased the first issue of his magazine, a beautiful document full of photographs of Turkish working men's clubs and the corner pubs white working class Berliners call
Kniepe
. Photo essays on "how we live in Wedding" showed people from all ethnic backgrounds posing in their drab-yet-cosmopolitan apartment blocks. It reminded me of a photo exhibition I saw of old East Berliners in their flats on the Karl-Marx-Allee when I first moved in. That, too, turned out to be a show subsidised by a letting agency, celebrating a culture it was in the process of destroying by attacting -- using the very culture it was displacing -- a new, younger, more affluent group of renters.
The Camp Berlin show also took immigration, globalisation and dialogue as its theme. This time, the dialogue was between the cities of Hiroshima and Berlin, but also between the art show and the fabulous BVG warehouse the show was staged in. BVG is the company that runs Berlin's underground network, and this vast shed is where they used to overhaul their train engines. So, while I obviously enjoyed works like the portable plastic cherry tree which allows you to stage an
ohanami
celebration wherever in the world you are, and whatever season it happens to be,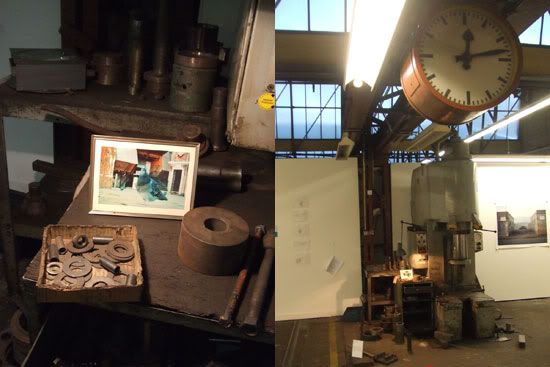 or Carolin Wachter's beautiful video piece "Wednesdays I Have Sewing Lessons" (which documented her sewing lessons with immigrants, a kind of spying intended to give her an insight into the women's living conditions and concerns), I ended up feeling that the heavy machinery and fuseboxes of the tram engine shed upstaged the art. When you dialogue with your context, the context sometimes wins. And when you choose, in your trendy art or design event, to dialogue with the community, sometimes the community wins.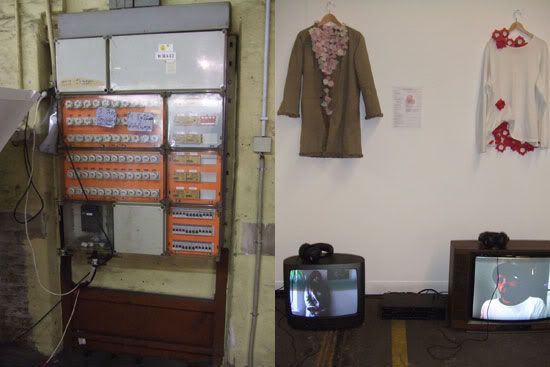 On the way back towards the U8 line which would take us back to Neukolln (Wedding's twin district to the south, separated, some say, by some kind of continental drift) we looked into a wonderful bazaar where we ended up buying some clothes: a slate-grey
thawb
for me, a light cotton cape for Hisae. Nothing in the Wedding Dress "urban fashion" festival had been able to seduce us as these traditional Islamic garments did.

On the U8 line home, I flipped through my copy of
Der Wedding magazine
, admiring the articles on community, dialogue and gentrification, and above all the dress sense of the muslim women featured in its pages. This, rather than the tedious urban streetwear of the letting agency-sponsored "antistyle guerilla" yuppies, is what inspires me; given the choice between accommodated fake rebellion and the beautiful trad conformity of Islamic immigrant culture, the choice seems pretty clear.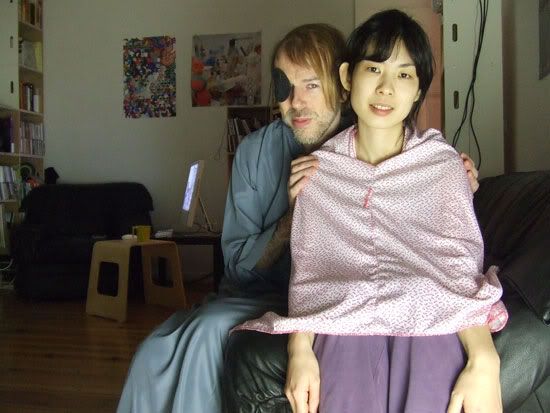 Let's hope DEWEGO don't force the immigrants out of Wedding and turn it into another Prenzlauer Berg (a place of expensive trainers, hooded tops and baby carriages). The Wedding Dress festival has a
Street Clash page
which pits urban fashionistas in various cities around the globe against each other on a daily basis and allows viewers to vote on "winners". This is one area where the "dialogue" concept hasn't been adopted: there are no working class muslims pitted against
the skinny-jeaned, white-shoed hipsters
(who look remarkably similar, wherever they happen to be in the world). Maybe the organisers are worried the muslims would win the street clash (they'd certainly get my vote). But if that happens, how the hell do you hoist and hike the rents -- let alone the price of trainers and hoodies?