Tonight, if you're living in the UK and have digital television, you can watch
Caledonia Dreaming
, a documentary "defining the sound of young Scotland". It's on BBC 4 at 2100 BST, and it's basically the
Postcard Records
scene getting the
Retro Necro
treatment.
Caledonia Dreaming isn't
The Sound of Young Scotland
, the Grant McPhee documentary about Postcard that's been in production for what seems like years -- that's supposed to be coming out later this year, but it may well have been shot in the groin by the BBC doc, which inevitably uses a lot of the same footage and the same talking heads.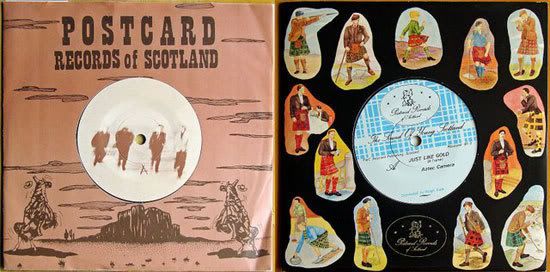 This being the crazy upside down world of Retro Necro, the sound of young Scotland is the sound of Scotland when people as old as me were young; in other words, it's the sound of old Scotland circa 1980, with a nod to the young Scots in bands like Franz Ferdinand who've revived it. That's how Retro Necro works; the young salute the old, and before long a scene like Postcard gets a sort of
total recall media scrutiny
. We remember it better than we remember yesterday. (What
did
I do yesterday? Oh, I gave a long interview about The Happy Family to
Fedge Net
, a 4AD fan site.)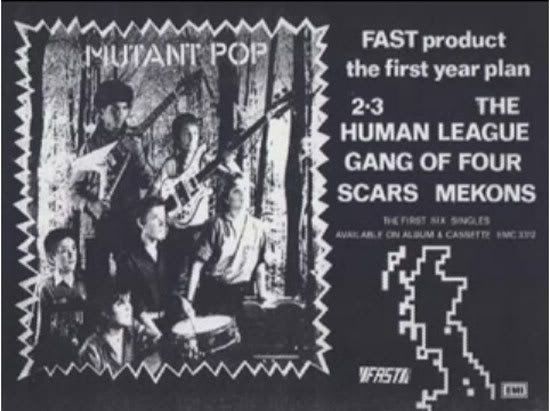 I'm not interviewed in either of the Postcard docs. In 1980, when most of this stuff is happening, I'm a glaikit wee boy with a pointy chin, studying English Literature in Aberdeen and writing rock reviews for
The Gaudie
, the student paper. But the most exciting thing I can do, when I go back to Edinburgh between terms, is head up to Clouds or the Art College to watch local postpunk heroes Josef K playing. It becomes my ambition to sign to their label, Alan Horne's Postcard Records. So I make
a scratchy, funky postpunk cassette
and hand it to Malcolm Ross at what turns out to be Josef K's penultimate live show, asking him to give it to Alan. Instead, when the K split a week or so later, Malcolm calls me up. I'm to be the singer in a new band with Josef K (all of them bar the singer, Paul Haig, who's going solo). It's quite possibly the most exciting thing that will ever happen in my life, on a par with losing my virginity three months earlier. The resulting band, The Happy Family, signs to 4AD and the rest is... well,
my story
.
What's interesting to me is how the hierarchies in place at the time are still pretty much in place, 28 years later. I still feel that Postcard was an exciting local scene, but that it never produced anything as artistically important and compelling as
Magazine
or
Talking Heads
. Similarly, I still feel like a junior figure, doffing my cap to Edwyn Collins (the lemon-tart grandfather of tweepop) and Roddy Frame (the slightly-vanished boy wonder) although perhaps not to Paul Haig any more. Haig's solo career
started promisingly
, but -- the odd stylish album like "The Warp of Pure Fun" aside -- fizzled into
twenty years of plodding synthpop
incapable of setting anyone's heather on fire.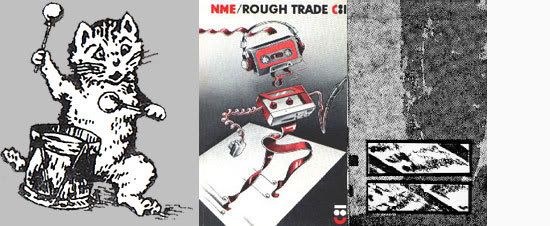 Taking that "intact hierarchies" thought further (and in view of the fact that I've just been given an exciting new job as a columnist at
Frieze.com
), I'm tempted to say that the Postcard Records story, as it's being told now, works rather like the story of various "peripheral Modernisms" being told in blockbuster exhibitions in the art world at the moment. When you tell the story of Tropicália in Brazil or Fluxus in Japan, you're not overturning the Modernist hierarchy, upsetting its canon or even rewriting its story. You're actually reconfirming Duchamp and Picasso, Paris and New York as the hubs and centres and pinnacles, then adding some colourful local detail in footnotes which jaded gallery-goers, over-familiar with the central narrative but unready to overthrow it, may well find more interesting than the old protagonists. The more local colour (in our example, record sleeves featuring men in kilts,
stag's heads
, heather, salmon and other Scottish kitsch) the better.
Personally, I think I'd rather watch a documentary about Giles Havergal's great early 80s productions (staged in the Gorbals, and free to the unemployed!) of Jean Genet and Karl Kraus plays at the Glasgow
Citizens' Theatre
. They were just as formative for me as Postcard Records was, just as exciting. There's actually a chapter in my forthcoming novel based on the 1981 production of The Blacks. There are no chapters fondly reminiscing about Postcard, though I do remember it fondly, of course. If anyone's making a Genet-at-the-Citizens documentary for BBC 4, put me in that one!
Perhaps we should give Paul Haig the last word: "You lived in the past, dear, with things we all gave up then."