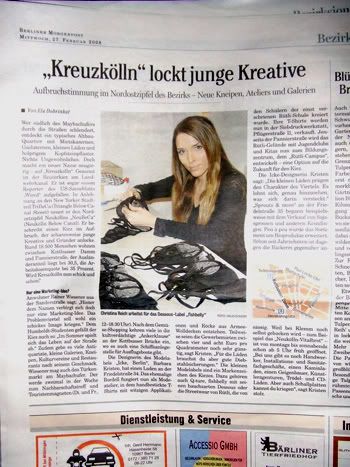 "Kreuzkolln" entices young creatives!
That was the headline over an article that ran in the Berliner Morgenpost on 27th February. It began:
"Sauntering through the streets south of the Maybachufer Canal, you'll discover a typical old district with tenements, gaslamps, small shops and cobblestones. Nothing unusual. But the area -- the Reuter neighbourhood on the Landwehr Canal -- has a curious new name: Kreuzkolln [an amalgam of Kreuzberg and Neukolln]."
Aha, an article about my neighbourhood! But wait, now they're talking about me, right here in the first paragraph!
"It's even been noticed by a reporter from the trendy US magazine Wired. Referring to the New York district of TriBeCa,
he calls
the northeast corner of Neukolln NeuBeCa (Neukolln Below Canal). He describes a neighbourhood on the rise, young and creative people coming to the area. Around 18500 people live between Kottbusser Damm and Pannierstrasse, 30% of them foreigners and 35% unemployed. Is Kreuzkolln now chic and slick?"
Then, under the subheading "Just a marketing idea?" the article quotes a cynical Humboldt University student who lives on my street. "Behind the imported name is just a marketing idea. They're trying to give the problem neighbourhood a chic image."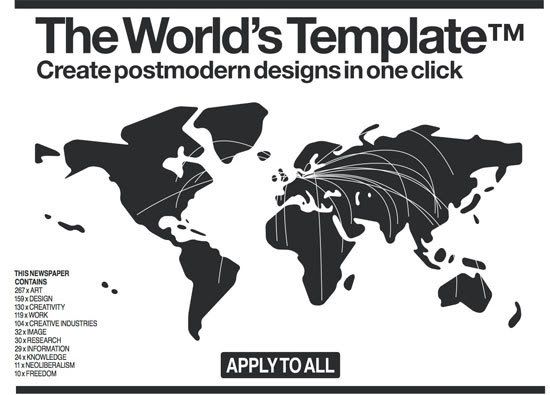 Hang on, young feller! Why would I be marketing my own neighbourhood? What's in it for me -- I don't own property here, I'm not being paid by anyone. No, my interest is basically in seeing a "scene" develop. I want cultural action on my doorstep, and countercultural action too. Money and marketing don't concern me; I just want there to be a certain vitality here. And sure, I want "where it's at" to be "where I am". Of course, when other districts do it -- and rope me into
dressing up in silly abstract expressionist shirts
-- I'm quick to echo the cynical student's refrain: it's all marketing bullshit.
But at least my Wired article talked about the specific ethnic minorities in the neighbourhood, unlike the Morgenpost piece, which just brackets the "foreigner population" with the unemployed, as if they were both "problems". My writing about this neighbourhood has focused, instead, on the
unexpected similarities
between cosmopolitan creative workers and immigrants. We're both alienated, but that's not a problem -- we should be allowed not to integrate. We fly as often as each other, we retain multiple loyalties, we share a similar distance from the indigenous culture, our situation makes us cultural relativists who believe in pluralism, we share poverty and material precariousness, we occupy the same tiny shopfronts where we tend to start tiny businesses expressing some kind of otherness. This alliance between cosmopolitans is a theme the Morgenpost and the Humboldt student don't seem interested in exploring; they don't entertain the possibility that to be connected to this neighbourhood is
to be connected to various forms of disconnectedness
.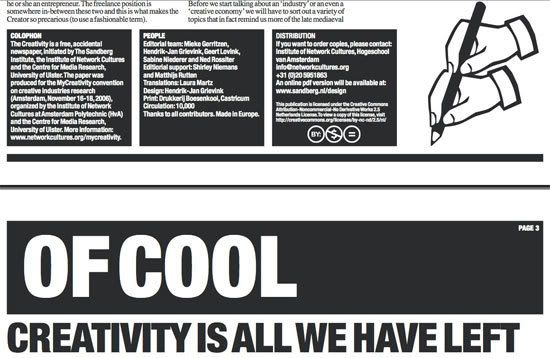 But what if, for all our good intentions, the "creative class" now bringing trendy bars to Weserstrasse and scaffolding to the facades of buildings in the
Reuterkiez
is -- like the foreigners and the unemployed, a "problem" for this neighbourhood? That charge is laid in a newspaper I've just been sent in a huge package of books by
Geert Lovink
, media theorist, net critic and activist.
The Creativity Newspaper (you can read the whole thing in pdf form
here
), lavishly illustrated throughout with inventive graphs, logos, images and isotypes by
Hendrik-Jan Grievink
, asks us to "consider uncreativity", and makes a "plea for an uncreative city". In essays entitled "the end of the creative class" and "of lofts and latte" and "California Uber Alles", the paper lays out some interestingly dissenting ideas on the subject of the harnessing of creativity by "city managers". Here are a few of them.
"The creative is precisely that which by definition does not allow itself to be standardised. Those who try to standardise creativity have not understood it, and run the risk of coming across as somewhat pedantic. If ever people do succeed in standardising creativity, then it will be able to be automated and handled by computers and bureaucrats. As soon as that happens, however, it will by definition no longer be the creative. Your creative-industry tactics will come back and hit you in the face. People will come to work in flip-flops! Like a virus, our creativity will screw up the system world. Even if that is the only thing we have left."
Koert Van Mensvoort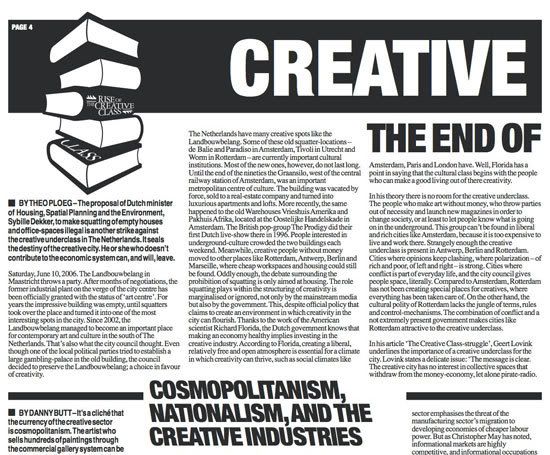 "It was while teaching in an art school that I realised how often the development of the creative cosmopolitan was based on a dis-identification with one's cultural environment. The paradigmatic art school student (like that other cosmopolitan, the academic) is one who never quite fits into their peer group while growing up, who was forced to retreat to the world of the imagination, expressing creativity from a kind of cultural exile, sending aesthetic remittances back to the homeland."
Danny Butt
, helping explain the alliance between creative and immigrant "cosmopolitans".
"The absence of a relationship with government -- or the presence of a negative relationship -- does not mean that the cultural forces in question are not objectively complicit in the creative city regime. By this we mean that, however much resistance an alternative cultural initiative might have encountered, it doesn't take away from the fact that it functions very well within the urban economy as proof of the city's high creative factor. In spite of themselves, many alternative cultural projects are communicating to the outside world that the city possesses a happening urban subculture -- which is precisely what the city managers would like to see happen in their attempt to attract investors and highly qualified workers... Even if as a creative actor you are ignored by the government or the market... your creative activity can still fit perfectly into their urban development strategy."
Gideon Boie and Matthias Pauwels
, who add:
"We're not arguing for "uncreativity" just for fun. It's more about setting aside the prevalent compulsion to be creative... We must stop complaining about the recuperation and cooption of so-called authenticity by the existing order.... Can we please have a little self-knowledge and self-criticism?"
There are interesting case studies on Barcelona (creativity successfully harnessed by city managers, but real estate speculation problems resulting from it) and China, which,
Michael Keane
says, has adopted a "copy and paste" approach which mocks creativity, "arguably a Western concept".
"Perhaps Cage's 4'33" could act as the new soundtrack or hymn for the creative class, as it enables people to listen to their own creative thoughts and their inner voice that sometimes says: stop!"
Michael Vaniersel
Well, that suggestion at least is one I'm following: tonight at 6pm I'll play "visual field recordings" -- along with my neighbour Udo Noll, Kim Cascone & Leif E. Boman (via stream) and Seiji Morimoto -- at Das Kleine Field Recordings Festival,
Program Gallery
, Invalidenstrasse 115, Mitte. Entry is €5. Now
that's
what I call marketing!