When I lived in Tokyo in the early years of the 21st century, I enjoyed talking with Japanese friends who'd spent time in Britain about the similarities between the two islands -- and the differences. I often steered the conversation in the direction of the speculative: if you had unlimited power, what changes would you make at pivotal points in history to make Britain more like Japan? Answers revolved around things like giving more respect to Britain's Shinto-like pagan animism, the embrace of Buddhism instead of Christianity, and improving food and hygiene. Talking and thinking like this was a fun way to pass lunch in a synthetic thatched Shimokitazawa rice restaurant.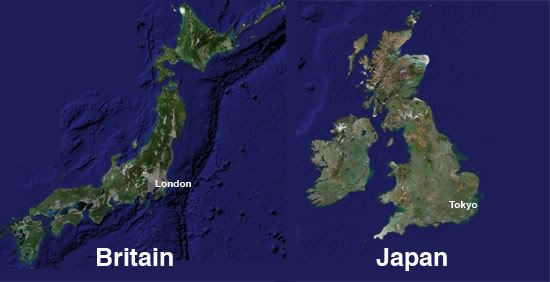 In fact, you wouldn't need unlimited power to transform Britain into Japan, just the power of imagination. Today's entry -- not just a Click Opera speculation, but a proposal to be used by the
Hide and Seek festival
to raise funds for a performance which would happen on London's South Bank this June -- is an outline of one simple and cheap way it could be done: with a tour of London as if it were Tokyo.
Tokyo Tour London
is a piece of
pervasive urban gaming
I'm planning in collaboration with Alex Fleetwood of the Hide and Seek Festival. Should it receive funding, it'll take place on London's South Bank. It would range along the two mile pedestrian river walk from the London Eye to the Design Museum at Shad Thames, an area which is safe, relaxed, car-free, relatively playful in tone, art-friendly, leisure-oriented, acoustically suited to speech, and well-stocked with iconic London landmarks.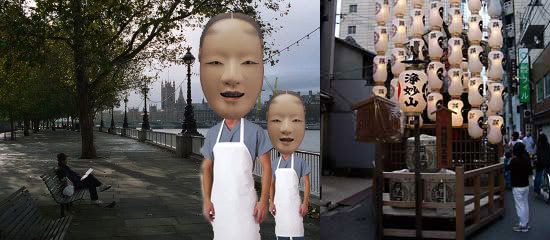 Two tour guides, one male, one female, one British, one Japanese, would carry a small booth or stall, decorated with paper lanterns on sticks, and equipped with paper masks on sticks. They would take this small stall (light enough to be folded up and carried -- a portable sign, basically, announcing the tour) to sites along the river walk, raise a lantern and don a paper mask, and start addressing the passing visitors, explaining the history of the buildings and other features they're seeing around them. Instead of the real stories of the London sites, though, these tour guides would explain them -- in English and Japanese -- as if they were sites in Tokyo.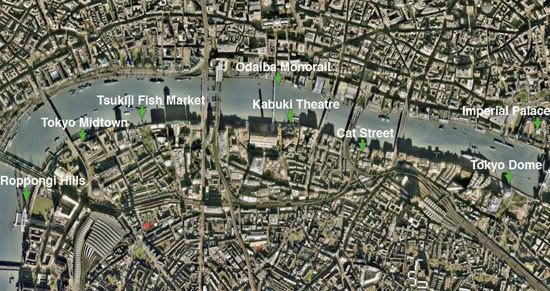 So the Globe Theatre would become the Kabuki Theatre in Ginza. An area of beach down by the Thames would become the Tsukiji Fish Market. The footbridge from Tate Modern towards St Paul's Cathedral would become the monorail linking Tokyo to Odaiba, the manmade island in Tokyo Bay. Tower Bridge, with the Tower of London on the other side, would be a bridge crossing the moat surrounding Tokyo's Imperial Palace. The blobby London City Hall would be the Tokyo Dome sports and entertainment arena. The Design Museum would be the Watarium, an 80s museum in Aoyama striped like a wedding cake. Clink Street would become youth fashion alley Cat Street. And so on.

The idea for this game comes directly from two previous Momus projects. The first is a
2005 residency
at the Future University in Hokkaido where I investigated R. Murray Schafer's idea of Schizophonia, the playback of field recordings made in one environment into another environment, and how this simple superimposition creates a "third place" in the listener's mind. The second is a performance as the
Unreliable Tour Guide
, in which I led visitors around the 2006 Whitney Biennial every day for three months, making up bizarre fictional accounts of the work on display.
The London performance would differ from these actions in that it would have an element of audience participation or "evangelism". At the end of each section of the presentation the audience would be asked to take a small Tokyo Tour lantern on a stick and spread the tour themselves, continuing the idea up and down the South Bank walkway in mini-tours of their own. They could do this in their own languages, and whether or not they'd visited Tokyo or knew anything about the city. The talismanic Tokyo Tour-branded paper lanterns and masks they'd be given would provide them with a certain license -- the necessary legitimacy and confidence to speak about London landmarks as if they were places in Tokyo. In this way, several imagined or invented Tokyos could begin to take shape -- a parallel world, the archeological layers of a sort of psychogeographical dream -- on London's South Bank.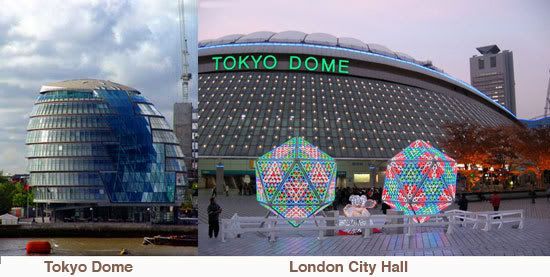 One of the interesting things about this tour is that, although it runs "against the grain" of traditional tours (and might even clash with some of the real tours plying their way by boat and on foot along the South Bank), it draws attention to the fact that every tour is inevitably a fiction, and every city synthetic. It also highlights some of the schizophonic harmonies that already exist in major cities: visitors to Odaiba, for instance, gaze out into Tokyo Bay at a scale model of the Statue of Liberty, which transforms the Tokyo skyline temporarily into the Manhattan one. The New York Liberty is, of course, originally a gift from Paris, a city which -- like London -- prominently displays Egyptian obelisks. There's a long tradition of dreamlike superimposition and exoticist disorientation going on in the world's great cities already. It's this tradition the Tokyo Tour London hopes to continue this June.