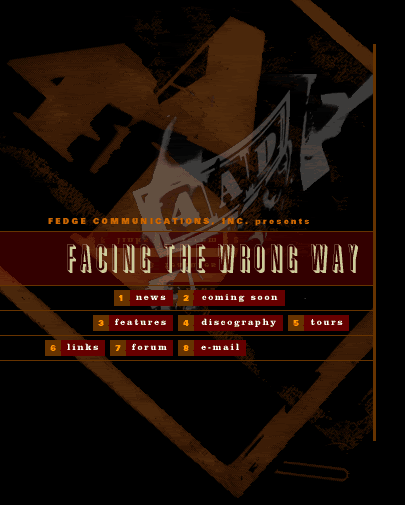 Yes, children, I am old. Very old indeed. Mostly I manage to forget that fact by keeping slim, quick, and focused on the future rather than the past. But occasionally someone reminds me that I've been around for a very long time. By, for instance, asking me questions about an album I made back in 1982, before many of you websnappers were born.
Jeff Keibel, who runs
Facing the Wrong Way
, an interesting website dedicated to cult indie label 4AD, is one such person. Jeff approached me last month with an incredibly detailed set of questions about my first (and only) band,
The Happy Family
. He seemed to care -- in fact, he seemed to be about the only person in the world to care about this band, and the odd Brechtian concept album we made -- so I answered his questions. At length. It was a rather fascinating exercise in time travel, in fact.
For some reason it's impossible to link directly to the interview, but if you
go here
, click "3 Features" then click "Interviews" it's at the top of the page. I talk about how the band formed, how we never quite felt we fitted with the 4AD aesthetic, how I regret now not getting
a Vaughan Oliver sleeve
when Ivo offered us one (I designed my own, since my big ambitions at the time were "to be a journalist, a novelist, a graphic designer, and David Bowie"). I talk about the album's themes of incest, ambition and terrorism, and why I made it a concept album:
When did you come up with the idea that the album would be a conceptual affair?
It must have been just after the EP came out. We had these songs that felt a bit wishy-washy to me. The song that became "Revenge", for instance, started life as a song saying "my first home was a woman, I've been homesick from birth". The themes were just too vague and well-meaning. I wanted to inject some venom and some drama. I wanted to be more Brechtian, make a complex work of art rather than a straight set of songs. So I rewrote the songs, starting with a sketch I already had called "The Salesman", and made them into a drama
involving a lottery win, a political landslide, a Red Brigades assassination. I think the wide sweep of Swiss and Italian landscape, the lushness of vision, was also inspired by what fellow Scottish bands like The Scars and The Associates were doing. Everything was very European at that moment, very widescreen, very Sound of Music.
The album is at once rather happy sounding but when the listeners really understood the lyrics they realized that this was quite a dark experience. Was it your idea to make appealing music with daring and risky subject matter, like incest?
I think the incest theme came from my favourite novel of the time, Ian McEwan's The Cement Garden. My parents' divorce casts a big shadow over the album, combined with my political frustration over Thatcherism. My mother married a rich accountant who was thoroughly Thatcherite in his values. Personal trauma mingled with political anger, and you can hear it all quite clearly on the record, I think.
How much of your lyrics come from your life and past compared with things straight out of your imagination?
As the last answer shows, it was a mixture of the two. There were lots of aesthetic references I wanted to make, to Brecht, Pavese, Calvino, Pasolini, Kafka. But there's also a lot of personal stuff about my family's disintegration in there, and the politics of Britain in the early 80s as seen from a frustrated leftist perspective.
Do you sometimes feel as if The Man On Your Street was ahead of its time - that if released today would have a better shot at mainstream reach thanks to the internet and sites like Pitchfork preaching the musical gospel?
I think it would always fall outside the mainstream, even the mainstream of indie, because it was too intelligent and complex for the audience. But also not very exciting musically, perhaps. I mean, it wasn't avant garde enough to excite by its sonic novelty, and not universal enough in its themes to reach a wider, more conservative
audience. It sort of fell between two stools in that sense (the trad stool and the avant stool), and those stools haven't really shifted much since. Any records like that would still fall between them.
Since many of you probably haven't heard The Happy Family, here's a track from the album we made. It's called The Courier, and it owes something to Auden's "
Paid on Both Sides
" (it even references the drama in its lyric). But it's also a very direct and personal manifesto of sorts expressing a young, fierce, skeptical and neurotic puritan's determination to remain unsullied by compromise. "Hell's the way we get on in this world, not where we go when we die... We all carry a language, we all carry a love, to keep them sublime to the end of the line, please say that's enough..."
The Happy Family: The Courier
(from the 1982 album on 4AD, "The Man on Your Street", mp3 file)
Amazingly enough 4AD is still in business (Ivo was bought out a few years ago, but the label still has interesting groups like The Mountain Goats and Blonde Redhead) and you can still buy The Happy Family album
in digital form
. Feel free to listen to the clips or even buy some of them. You won't be compromising my fierce Maoist-Calvist sense of integrity; 4AD haven't accounted to me since the early 80s. As far as this record goes, I'm paid on neither side.