Until Friday I'm in Prague and Vienna. The Vienna trip is to talk to local magazine Falter about
an event happening
on May 24th, when I'll be singing chemical formulae at the Technical University in an installation / performance / collaboration with water bowl musician
Tomoko Miyata
.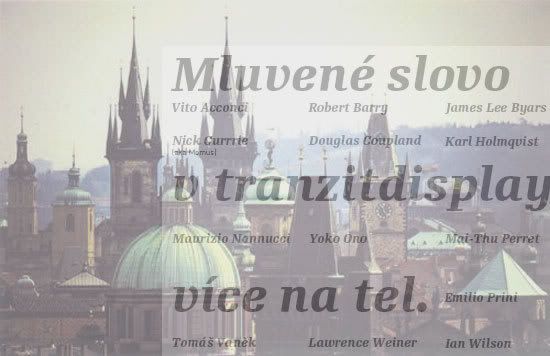 Tonight (Tuesday) in Prague I'll be performing at
Tranzit / Display Gallery
at 6pm as part of the opening of A Spoken Word exhibition, curated by Mathieu Copeland. This is the same show Mathieu held at
Blow de la Barra gallery
in London and
The Swiss Institute
in New York. At the performance tonight I'll read two chapters from The Book of Jokes -- or rather (in the style of the
Book of Jokes videos
I've been posting) I'll mime reading them along to a computer voice, my own recorded voice, and the voices of Peking Opera actors. The performance will be winking in the direction of
Robert Morris
's 1964 piece "21.3", where he lip-synched along to a reading of an essay by Erwin Panofsky.
This will be my first trip to the city of Kafka, so I'll spend Wednesday exploring the city. Any recommendations accepted with gratitude!
A Spoken Word Exhibition
featuring works by Vito Acconci, Robert Barry, James Lee Byars, Nick Currie, Douglas Coupland, Karl Holmqvist, Maurizio Nannucci, Yoko Ono, Mai-Thu Perret, Emilio Prini, Tomas Vanek, Lawrence Weiner, Ian Wilson
Tranzit / Display Gallery
Dittrichova 9
120 00 Prague 2
Czech Republic
Map
Opening 6pm, March 18th 2008
Free entry
Take metro C red to Florenc, change to line B and go to Karlovo namesti stop. From there it's about 2 minutes to tranzitdisplay gallery.