Here's a video podcast / playlist thing from a trawl through YouTube in which I was looking for "natsukashi bideos" from the 80s. The first one you'll have to click yourself to get to the YouTube page, embedding is disabled. It's Miharu Koshi in 1984, singing synthpop on a TV show. 懐メロ!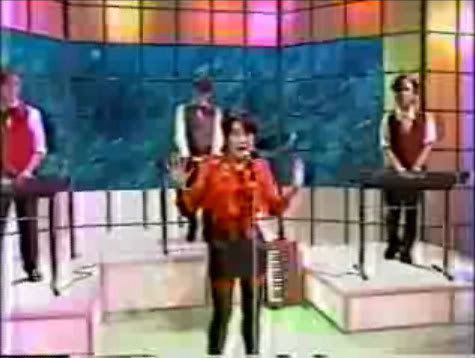 The Miharu Koshi I really love is her later 80s work with Haruomi Hosono, like
this one
, when she went all eccentric and arty and angular. But it's fascinating to see her as a more mainstream synthpopper earlier on. Here's her later mentor Hosono playing
Flower Bird Wind Moon
with Tomoko Yasuno (also non-embeddable) the same year.
If that's too low-key and schmaltzy for you (personally I love that sort of thing), try a bit of Phew, collaborating here with Can's Holger Czukay on a track called "Circuit":
Phew was the vocalist in Japanese "no-wave" band Aunt Sally. Here she is after going solo and recording with Conny Plank in Cologne. This is "Finale", a 1980 song by Ryuichi Sakamoto:
Sakamoto was, of course, in YMO with Hosono at this point. But Hosono was a man with his finger in many pies. Here's some video music he composed, given a disco treatment on an Emulator in 1984 (watch out for the spoof NHK interview midway through):
Now it's time for a little diversion. Just because it's one of my favourite songs ever written, here's Holger Hiller's 1986 song "Oben im Eck" (featuring ghostly backing vocals from Billy Mackenzie):
And here's a track from the 1981 Crepuscule Christmas album by Antena, a song called Noëlle a Hawai:
I like the static video, because I love that Antena album sleeve (one of Benoit Hennebert's classics for
Crepuscule
). I could stare at it for hours.
Now, to come full circle and yet end somewhere completely unexpected, here's a Haruomi Hosono tribute with images and music by Wisut Ponnimit, a Thai animator now working in Kobe: