Last weekend, the British artist Angus Fairhurst hanged himself at a remote Scottish beauty spot, on the last day of his solo
show
at London gallery Sadie Coles. Best-known for a piece involving a badly-fitting gorilla suit entitled "The Missing Link", Fairhurst was himself a sort of missing link between members of the Young British Artists generation. A close friend of Damien Hirst and ex-partner of Sarah Lucas, Fairhurst graduated from Goldsmiths with them and helped Hirst organise the 1988 group show Freeze, seen as YBA's originating moment.

Reports in the British press of the artist's death at the age of 41 sketched a portrait of a self-deprecating under-achiever much-loved by the much bigger art stars who were his friends and peers.
The Daily Telegraph
called him "the art world's secret weapon" but noted that his "self-effacing" work was dismissed as "frustratingly slight": "his essentially cerebral approach often seemed overshadowed by the more visually exuberant work of Hirst and Lucas". For
The Guardian
, Fairhurst was "a well-liked artist who tended to play down his standing and talent". Obituary photographs of the artist tended to show him together with his friends rather than alone.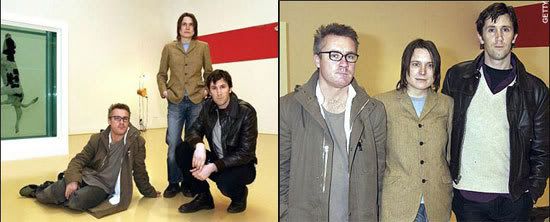 My exposure to Fairhurst's work was also slight: I saw his conceptual band Lowest Expectations (they supported Pulp at the Brixton Academy once) at the ICA twelve years ago. As Frieze
describes
, the band, consisting of Fairhurst and his artist friends, mimed to sampled loops of music by Supergrass, Manfred Mann's Earth Band, Gil Scott Heron and Pulp.
Nobody can say at this point exactly why Fairhurst took his own life, but the obituaries report the general context, and highlight a point my current column on the Frieze website,
Metacritics and Strangers
, inadvertently touches on. It's a piece about how the internet tries to quantify art algorithmically. Describing ArtFacts.net, I wrote: "Here, artists, dealers, buyers and interested observers can indulge their narcissism and
schadenfreude
by poring over how their artist ranking relates to their auction turnover. They can watch a plummeting exhibition ranking turning, a year or so later, into plummeting auction prices, or plot up to four artists' auction and exhibition stats on top of each other to pick out, for instance, the winners and losers in a group show, or the high flyers from a bunch of art school friends who all graduated the same year."
Fairhurst, as reported in the UK press this week, emerges very much as that less-successful artist in a bunch of art school friends, the overlooked figure in the group show.
ArtFacts
ranks him at 1103 (and falling) on its "stock exchange of reputations" -- Sarah Lucas is at 318 and Damien Hirst at 49. These raw stats are, of course, arbitrary and banal. I end my article by saying that such quantifications tell us very little indeed about art. But of course they can determine life outcomes: the Daily Telegraph
reports
that Angus Fairhurst Ltd, Fairhurst's company, had £50,000 in the bank and owed £30,000. His friend Damien Hirst, meanwhile, sits on a personal fortune
estimated conservatively
at £200 million.
The relationship between happiness and money is something I've looked at here on Click Opera. In
Richer isn't happier
, a piece from February 2006, I looked into Richard Layard's ideas about the relativity of happiness: "Layard believes that people don't get happier in proportion to their wealth because happiness is relative. He quotes Karl Marx: "A house may be large or small; as long as the surrounding houses are equally small, it satisfies all social demands for a dwelling. But if a palace rises beside the little house, the little house shrinks into a hut".

While increasing wealth doesn't mean increasing happiness, a sense of relative deprivation in relation to your immediate peer group can certainly make you unhappy. Angus Fairhurst died at a remote Scottish cottage. His friend Damien Hirst lives in the massive Toddington Hall, described by the Evening Standard as "a far cry from the traditional view of the lonely artist's freezing garret," and a "reward of fame". Although Fairhurst's death was by suicide, many commentators this week seemed to be suggesting that
Evil Gini
may have had a hand in this -- by all accounts -- lovely man's tragically premature demise.