Help build the gigantic factories!
Remember how we mocked
Monocle
magazine
back in November
for the "shameless advertorial"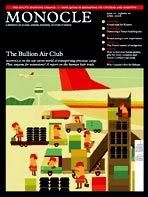 of editor Tyler Brulé? Remember how Tyler -- hyping the next edition of his magazine via his International Herald Tribune style column -- mixed up the empirical and the imperial when he described his own personal selection of "the best in travel" as
"a poll"?
With shock labour we will ensure prompt delivery of the giants of the Five Year Plan!
Well, Monocle has done it again, this time in spectacular style. In an astounding example of what I'll call
"capitalist Stalinism"
, Monocle runs an advertorial section in its new issue about Heathrow Terminal 5.
Now, the rest of the press has been
describing
Heathrow Terminal 5, empirically, as a colossal disaster. In the three weeks since Terminal 5 opened it's cost British Airways £16 million in lost revenues and passenger compensation. More than 500 flights have been cancelled and nearly 30,000 bags lost due to a series of mega-bungles with the baggage-handling system.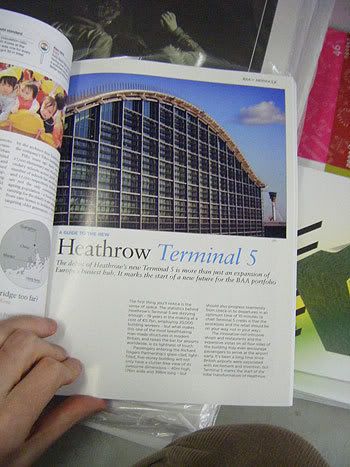 Naomi Campbell's
hand luggage got lost
, causing the "ranting and screaming" model to be arrested and deplaned. Kate Moss also
had her luggage lost
in the terminal, including, she claimed, the designs for her new Topshop line and a
£10,000 gift
for a friend. British Airways reportedly paid her £20,000 compensation. When I met art writer Brian Dillon last week, over for the Berlin biennial, he told me his luggage had also been lost in Terminal 5, and hadn't made the transfer flight.
Full spead ahead for the fourth and final year of the Five Year Plan!
But while the rest of the press and politicians have reached for terms like "bungled", "a debacle" and "an acute embarrassment", Monocle has hit the newsstands with a completely different story. In a four-page feature paid for by Terminal 5 operator BAA and delivered in Monocle's characteristically taut, smug style, the magazine gives us a picture that crosses Prada with Pravda. Hold the presses, darling, the famine is just a rumour! In fact, targets have been exceeded!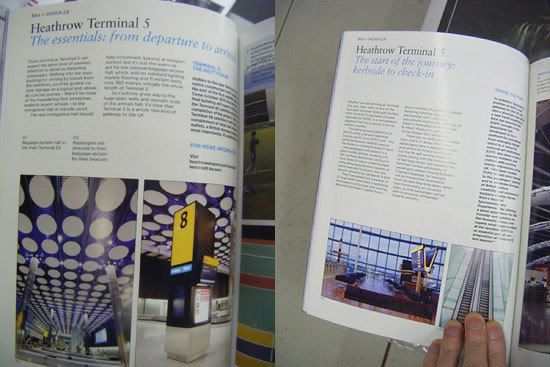 8 Million tons of pig iron!
Terminal 5's "lightness of touch... raises the bar for airports worldwide", says Monocle, or rather "BAA x Monocle" -- the formula for sponsored advertorial. While, in the real world, tens of thousands of passengers were forced to camp out in Terminal 5 for days waiting for cancelled flights to come up on the signboards, in Monocle they "progress seamlessly from check-in to departures in an optimum time of 10 minutes".
Employing a firmly non-conditional future tense, the magazine assures its discriminating readers that "the 96 self-service check-in kiosks (along with the same number of fast-bag drops) will expedite the terminal's simple philosophy of passengers always moving forward. Checked baggage, for example, will be transported downward from the fast-bag-drop desks then horizontally on conveyor belts, so that passengers will be able to proceed, unimpeded, towards security.... you'll be guided by clear signage and a logical and, above all, concise journey -- there'll be none of the meandering that sometimes bedevils airport arrivals".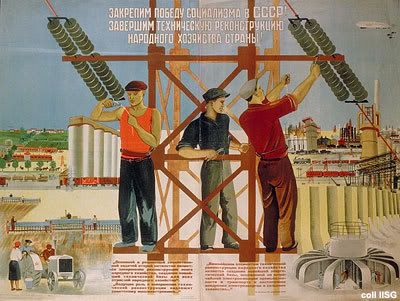 Under Lenin's banner for the second Five Year Plan!
Of course, to be fair, this was all written before the calamitous opening of Terminal 5. It was written by BAA officials and then printed by Monocle after a light rewriting designed to make it sound a bit like Tyler Brulé. Clearly, an advertorial feature in a style mag isn't going to say what
The Observer
, for instance, recently told us about Terminal 5. That, in the months before the opening, Heathrow workers were shown 3D walkthroughs of the new terminal, given popcorn to munch while watching them, and handed mock boarding cards asking "Are you up for it?" Those who answered yes to this question were then offered jobs with new conditions their unions found highly dubious. That the attempt to maximize profits for BAA's owner, Spanish construction company Ferrovial (liable for £1bn a year in interest payments on a £22.6bn debt), had led to the sidelining of both airport workers and airport users.
Let's consolidate the victory of socialism in the USSR!
The ironic disparity between Terminal 5's reality and Monocle's account of it could just be bad luck, bad timing. How could they know it would turn out so badly, and irony would clang so heavily through their feature? Perhaps they'll learn not to lend their editorial voice too readily to outside bodies for money. Perhaps they'll see how it damages the credibility of their own features. Unfortunately, this mix of design press utopianism and corporate
langue de bois
fits a little too well with Monocle's past practice (their confusion of a poll with Tyler's personal views, for instance) and with the general direction of capitalism itself. From the collapse of Enron, via Bush's "victory in Iraq" speech off the coast of California, to the credit crunch, there's been a Stalinist failure, in the capitalist West, to distinguish fact from fiction, and realities from wish fulfillment. Capitalism has become thoroughly Stalinist in its contempt for the empirical. Given the choice between fact and myth, all too often we print the glorious five year plan.