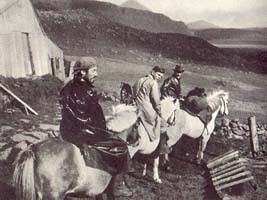 One of the unexpected side-effects of my first trips to Japan in 1992 and 1993 was that I developed a fascination with Scandinavia. Just flying over the region's ragged coastlines, scattered islands, myriad lakes, gazing down from a 747, I felt some kind of pull, some sort of call. Luckily, at the same time real Scandinavians were calling too, with expenses-paid invitations to visit. I made a concert tour of Sweden and Finland in 1994, and a trip to Helsinki to make the "Man of Letters" video in 1993. After shooting videos for some of my songs with director Hannu Puttonen, I took a train up through Finland to the Arctic Circle, rented a Volvo, then drove around in Finnmark, that weird topmost part of Scandinavia where Finland, Sweden and Norway all join up.
Talking into my video camera (some of the footage turned up in "Man of Letters"), I remember saying that the region felt like an older, richer version of my native Scotland -- a Scotland with all its features exaggerated. Instead of bare low hills, Finnmark had tundra. Instead of sheep, it had deer. Instead of grey squirrels, red. Instead of low squinty sun in winter and halfhearted overhead sun in summer, Finnmark had total blackness and the midnight sun. It was an Ur-Scotland, a Scotland on strange drugs, a Scotland with millienia-long
deja vu
. I remember driving the Volvo back to the rental shop through the night, racing to make my flight back to Helsinki. At 2am and 3am the sun still shone brightly. I felt completely disoriented -- yet oddly at home.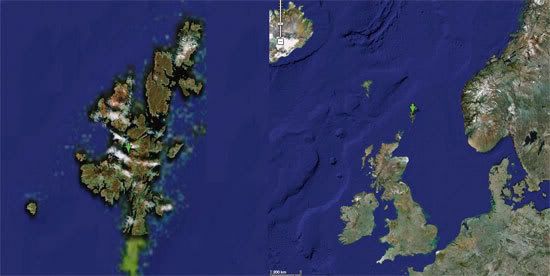 I always suspected that I had Scandinavian ancestry, but my mother -- an avid ancestor researcher -- has now confirmed it. She's traced our family tree (through her father's line) back to 1660, when people with Norse-style patronymic surnames lived on Shetland, an island almost as close to Norway and Iceland as it is to Scotland. The tree goes like this: Jarem Robertson (from Grobsness, Shetland) begat Hercules Jaremson (born 1690). His son John Herculesson (you see how the surname changes according to the father's first name?) sired William Johnsson, who married Margaret Jarmsdochter and produced Hercules Johnson in Muckle Roe. We're now at about 1800. The Icelandic-sounding names break down at this point, replaced by more Scottish-sounding ones. Laurence Johnson marries Catherine Sinclair. Their daughter Jane marries Alexander Mackintosh, and their daughter Margaret Munro Mackintosh marries William Robert Hood, who lives into the 20th century. His son is my grandfather, who marries my granny Janetta MacKechnie (the MacKechnies come from Mull, an island my mum has written
a history of
).
Now, I normally glaze over when the subject of genealogy comes up -- and if one's own genealogy is dull, other people's doesn't stand much of a chance. But I have a great interest in northernness (as
this rather odd entry
from earlier this year shows), and of course this all makes for great research / daydreaming opportunities for my Book of Scotlands.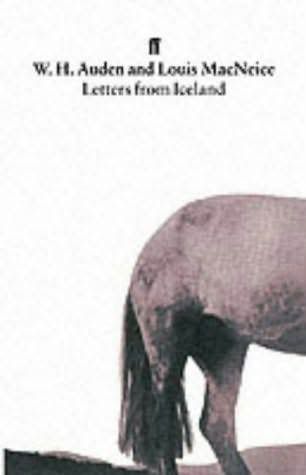 In the second week of June I'll take the overnight ferry from Aberdeen to Shetland in the company of my mother. We'll spend a few days there, the two of us (the tenth and eleventh generations on from Jarem Robertson) and visit Orkney too.
Perhaps it'll be a bit like W.H. Auden's trip to Iceland in 1936, with Louis MacNeice. Auden believed himself to be of Icelandic descent, and thought of Iceland as "holy ground". But, as the
New Statesman
tells us, Auden was quickly irritated by the reality of the Iceland he discovered: "In his letters home, Auden mocked the mediocrity and shabbiness of the architecture, the gloom of the locals, and the awful food - the bitter soups, the dried fish, the overcooked mutton and, a speciality, the rotten shark pickled in sour milk... "Reykjavik," he wrote, "is the worst possible sort of provincial town as far as amusing oneself is concerned, and there was nothing to do but soak in the only hotel with a licence."
Auden went back in 1964 and found the place much more to his liking. Iceland was now an independent republic. It was more prosperous, but "had not yet become vulgar". Anyway, I'm looking forward to some generational time travel this summer; in preparation I've been watching Michael Powell's film "
Return to the Edge of the World
", documenting his 1978 trip to the Shetland island of Foula.