Over the next day or so two new articles I've written go up online -- a
piece about the 101 Tokyo art fair
for
the Frieze site
and a piece about the 5th Berlin Biennial for
The Moment
. They probably won't get much attention -- art pieces never do -- and, after a week or two, will be completely swept away in the ephemeral rush of fresh online commentary.

I've been thinking recently about magazines, newspapers, kiosks, newsagents. In the days before the internet, the closest thing for an information addict was the newsagent. But nothing could be harder than reconstructing the magazines (let alone the cultural and intellectual climate) of a bygone era. There are hardly any pictures of the outsides of British newsagents in the 1970s, let alone the magazines on their shelves or the content of those magazines.

Here's a quick snapshot of the periodicals I would have been purchasing in newsagents in particular periods of my life:
Typical Teenager, 1975
: Time, The Listener, The Montreal Star (with its groovy supplement Scene), The Radio Times, Amateur Photographer, Car, Design.
Make it new, 1980
: New Musical Express, New Society, New Statesman, New Left Review, Spare Rib, Gambit, Bananas, Zigzag,
Studio International
.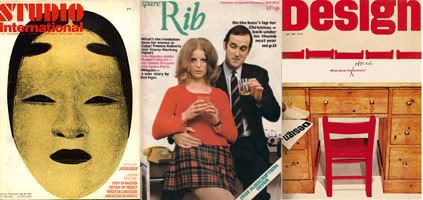 Style Press and London Listings, 1985
: Smash Hits, The Face, i-D, The Fred, TLS, City Limits, Time Out, Blitz.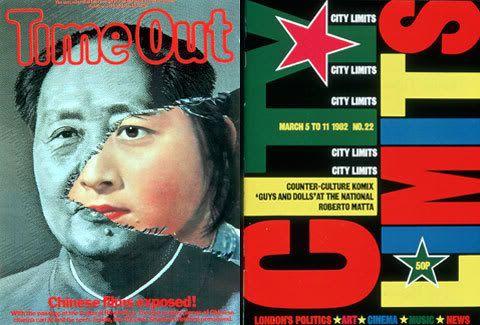 Getting More French, 1990
: Actuel, Liberation, Lime Lizard.
Digital and Japanese Culture, 1995
: Les Inrockuptibles, Select, Nova, Wired, Interactif, Magic, Barfout, H, Beikoku Ongaku, Cutie, Olive.
Japan Seen from New York, 2000
: Studio Voice, Tokion, Raygun, FRUiTS, Relax, Frieze, Index, Sleazenation.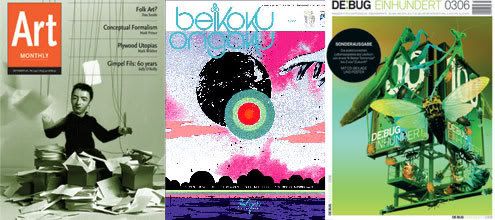 Esoterica and Slow Life, 2005
: The Wire, De:bug, OK Fred, Kidswear, Exberliner, Vice, Artforum, Ku:nel, 032c.
British newsagents in the 70s were
feral, shabby, habitual places
, corner shops filled with confectionery, cigarettes, mags. The struggle was always to find something intelligent in them, yet in the 70s there was still something Reithian on the racks -- the BBC's magazine The Listener, for instance. There were still left wing sociology magazines like
New Society
, for which John Berger, Rayner Banham, David Cooper, Colin MacInnes, George Melly and Dennis Potter wrote.

When the 80s rolled around you could find intelligent writing in the style and music press, though it was a bit more glam and flashy than the Reithian voices of the 70s. I began to turn to the French press -- Actuel and Libé. Globalization meant that you could buy those pretty easily in London. As for the art and design press, in Britain they were still in the dark ages. Peter Fuller's Modern Painters didn't launch until 1988; before then you had
Artscribe
and Studio International, both now gone. The Design Council's
Design magazine
, despite the nice cover, was full of rather snoozy insider's reports on Thorn lighting rails and trade fairs. It's gone now too, although consumer design commentary has percolated and permeated everywhere.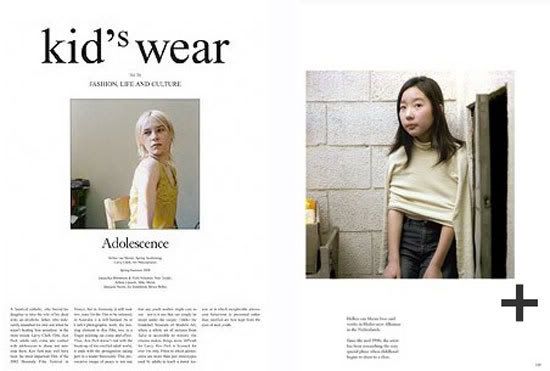 The fact that I'm writing now for the online presences of journals like the New York Times and Frieze (reports which don't appear in the print versions) says a lot, I think. Magazines and newspapers will be eaten by the web, and when that happens newsagents will become tobacconists and confectioners, and nobody will have to go out in the rain to try and find an interesting magazine to read. Nobody will walk up to Waverley Station's news kiosk at midnight -- as I did one evening in 1978 -- and come back with a typewritten copy of Zigzag with Iggy Pop on the cover. It'll all just be a click away, with a banner ad.
Hisae tells me that a magazine she used to read regularly,
Kokoku Hihyo
(広告批評) has announced that it's to
cease publication in April 2009
, soon after celebrating its 30th anniversary. Kokoku Hihyo (literally: ad criticism) is a cultural review about advertising. It reviews the work of ad directors and copywriters, celebrating commercial creatives pretty much the way the music press celebrates musicians.
Former editor (now publisher) Amano Yukichi is getting on now, and he's closing his mag not just because magazine culture is being eaten up by the web, but because advertising is. The mass culture ads he's reviewed -- ads familiar to all Japanese -- are becoming targeted niche ads online. The situation described by
Keiko Sei
in this 1990 article is rapidly vanishing:
"CMs enjoy such immense popularity in Japan that advertising comes to seem less an accessory and more a primary industry in itself, an important creative output generating yet further spin-off media. From wholly dedicated CM magazines to regular mention in the 50 million daily newspapers and 1100 million other magazines, discourse on CM takes many forms. Japan's leading "intellectual" newspaper, the Asahi Shimbun, features a weekly column, CM Watching by Amano Yukichi , chief editor of the monthly Koku Hihyo (Advertizing Critique), as well as another weekly column, Cheerful Consultations by major copywriter Nakajima Ramo. Both claim a huge readership, the former known for his skill at educing a picture of the world at large from a single CM, while the latter adopts a tried-and-true CM format to discuss eccentric queries from readers. Cheerful drivel to be sure, yet Nakajima's media presence is telling. In any other country, the persons behind-the-scenes in advertising remain invisible; in Japan, they are familiar household names. Where else but Japan do hit commercial makers step forward and become stars? Ask any Japanese: there's top copywriter Itoi Shigesato, and CM "creators" Kawasaki Toru, Nakahata Kishi, Sugiyama Kotaro and Lee Taeyong, to list but a few. This "up-front-behind-the-scenes" awareness is paradigmatic of the critical doublethink relationship that exists in Japan between the media and the viewer."
Eighteen years later, Yukichi says "Kokoku has come to a big turning point once more, the transition from the era of exclusive devotion to mass media to the era of coordination with internet. As things were going slowly with mass media Kokoku, we decided to have a break now." The break, I suspect, will be forever. Once-lively Kokoku Hihyo will join the list of interesting, defunct periodicals old codgers recall fondly on their blogs.