You can forget
Colette
; Paris fashionistas already have. They're queuing, instead, outside a remarkable new select-guerilla store on the Rue Legendre, up in the deceptively-shabby, dusty, muggy 17th arrondissement. It's called Couleurs Droguerie Ménage.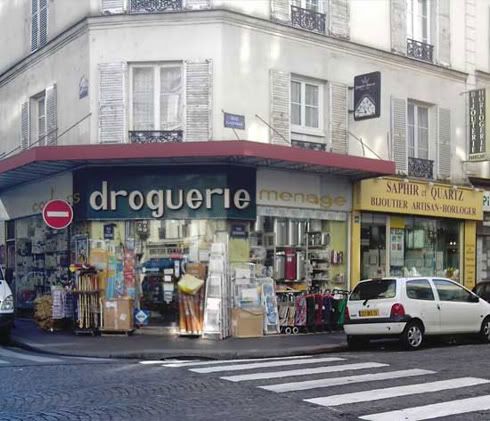 Couleurs Droguerie Ménage
, run by a collective known only as "les drogueurs", is offering all comers (by invitation only) a unique experience: when you reach the head of the queue (be warned; you'll need to set aside a good couple of hours for that), you get the chance to run around the inside of the store for up to five minutes, smelling the remarkable odor of linoleum polish and licking the colored lids of paint pots. You're likely to be overwhelmed by the range of fusty things on display: discontinued wallpaper designs in limited editions, odd non-electric carpet sweeper designs, and packets of industrial tacks with plastic heads in gorgeous shades.
For the moment, needless to say, none of this image-boosting loot is available to buy; Couleurs Droguerie Ménage is, for the time being, a purely conceptual select store, an advanced prototype. It's whispered, however, by friends-of-friends-of-
les drogueurs
, that one day we
may
be permitted to purchase the extraordinary items in this psychedelic Aladdin's Cave. Strictly cash only, though, darling; no checks or credit cards accepted,
bien sûr
!
Not sure about you, but we ghost-materialists can't wait!