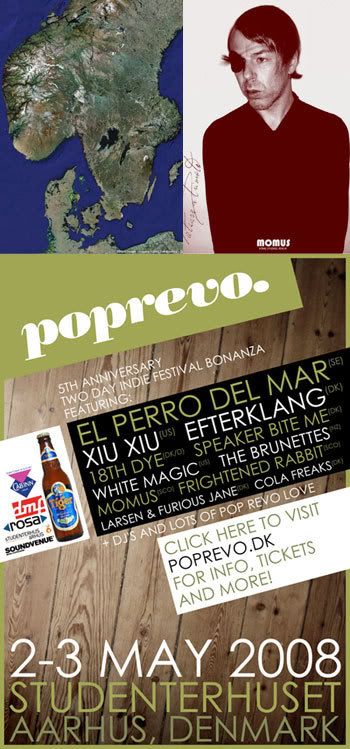 I'm always a bit last minute with these announcements, but today I want to tell you that I'm scheduled to folk the fuck out of Denmark tomorrow night in the form of an appearance at
Pop Revo 08
, a music festival in Århus.
Or should I say "rock the land of Hamlet in the manner of Led Zep"? Nikolaj Thorenfeldt, one of the festival organisers,
raved on his blog
:
"Of course Efterklang, El Perro Del Mar and Xiu Xiu are fantastic bands who enjoy great recognition in almost every part of the world. Still, in terms of the Pop Revo spirit, this year's absolute headliner is without a doubt a Scottish man named Momus. You still have 2 weeks to get into his music, there's more than 20 records to choose from. I'm not gonna tell an awful long story about the man's genius, you'll experience that yourself very soon. To cut the story short, even if we get Led Zeppelin next year, you'll still see those overlooked musicians who we believe have played an equal part in the music history."
Gosh, on a par with Plant! I have no complaint, except that it looks like I'll miss Xiu Xiu, a band I find very interesting, because I'm leaving early on Saturday. Maybe I can change my train.
Pop Revo 08
: a two-day music festival in Aarhus, Denmark.
Friday night line-up:
Speaker Bite Me
Momus
El Perro del Mar
Frightened Rabbit
Cola Freaks
Saturday night line-up
:
The Brunettes
Efterklang
18th Dye
Xiu Xiu
Larsen & Furious Jane
Tickets
are 150 Danish crowns for one day, 250 for two. Doors open 8pm, with the first band going on around 8.30. Location is Pakhuset, Studenterhuset, Nordhavnsgade 1, 8000 Århus, Denmark (
map
).
More details here.