The Schinkel Pavilion -- the most mysterious venue of the Berlin Biennial -- dedicated a shuttered, octagonal room to the mirrors and musings of Italian mystic, designer and womanizer Ettore Sottsass, who
died in January
aged 90. The place, dominated by a pink Art Deco phallus -- from the
terracotta yantra
series "inspired by Aztec sculpture and jazz age radio receivers", it
says here
-- felt like a kind of temple to Sottsass' spirit.
It was the semi-accidental layering of styles that provided some of the magic -- a typically Berlin, and typically Sottsassian, experience. First of all, the Schinkel Pavilion itself is a luxury 19th century structure near the Opera, remade in the communist era with a kind of mysterious Communist-Modernist ambience with ancient Greek undertones (the palmette wallpaper, for instance). Secondly, the Sottsass exhibition itself combined the "grey furniture" of offices (represented by swivel chairs) and texts strewn about in typewriter font with
some funky 70s mirrors
, so it felt like a 70s office combined with a hairdressing salon combined with an erotic temple. And all this was framed by the restrained chintz of the Schinkel's 1950s
nomenklatura
style of austere luxury, Germanic Modernist solidity, and the Berlin Biennial's own Deco graphics.
My favourite of the Sottsass texts strewn on the floor pinned down exactly this sort of multi-layering of styles, and the kind of poetry that results from it. "In a room, one is asked to put as much as possible of the "grey furniture", to the extent that the normal, "cute" square structures of mass-produced or not mass-produced room furniture become almost or totally covered and destroyed," Sottsass wrote in
a 1970 text
entitled
Could Anything Be More Ridiculous
.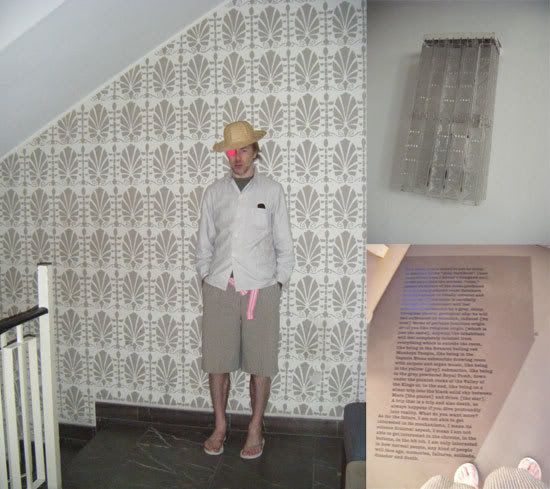 "If this point is carefully reached, the inhabitant will feel practically suffocated by a grey, shiny, fibreglass plastic, geological slip: he will feel suffocated by roundish, inflated (for ever) forms of perhaps feminine origin -- or, if you like, religious origin (which is the same thing); anyway, the inhabitant will feel completely isolated from everything which is outside the room, like being in Benares in the boiling red monkey temple, like being in Captain Nemo's submarine drawing room with carpets and organ music, like being in the yellow (grey) submarine, like being in the grey powdered Royal Tomb, down under the pinkish rocks of the Valley of the Kings or, in the end, like being on a silent trip into the black solid sky between Mars (the planet) and Orion (the star). A trip that is a trip and also death, as always happens if you dive profoundly into reality."