When I was interviewing Nairy Baghramian, she mentioned Yvonne Rainer's films as an influence. I wasn't sure who Yvonne Rainer was, but when I got home and researched her I realised she'd made a film I saw in 1980, when I was 20 --
Journeys from Berlin / 1971
. Not only can you see the whole film (which is excellent) on UBUWEB if you click that link, but, thanks to my voluminous and pretentious diaries, I can give you my account of the day I saw it. I can take you back to the Edinburgh Film Festival, August 1980.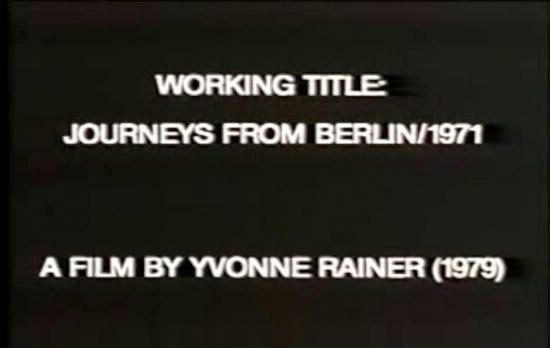 So picture me aged 20, a virgin. I'm a student of English Literature at Aberdeen University, back in Edinburgh for the summer holidays, just back from a trip to Rome, where I've been staying with my Greek friend's communist parents. I'm a huge fan of Beckett and Kafka, in unhappy love with a girl called Paula, an art student, who's not interested in fucking such a green, self-involved little St Sebastian. (Years later she'll relent, but -- tragically, farcically -- I won't fit.) I'm writing art reviews for Insight, a local (and short-lived) Edinburgh art magazine.
I haven't yet thought of launching a music career, but I'm composing absurdist Eno-esque pop songs with prepared piano up in my old bedroom on Drummond Place. What really surprises me, reading this diary entry 28 years later and seeing the Rainer film again, is how little has changed. Except that now I actually live in Berlin, instead of watching films about it. I found the community I aspired to find back then, I overcame that sense of isolation. I got laid. Now I write for Frieze and
The New York Times
(about how Punk Rock is dead -- a very 1980 subject!). My first novel -- and the writer of this journal is
such
a "first novel" guy -- still hasn't come out, but it won't be long now.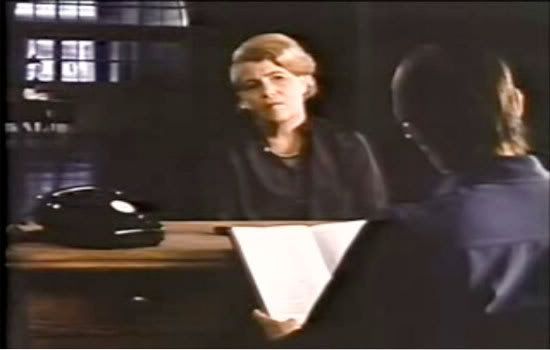 Monday August 18th 1980
Nonexistent thing, wretch that I am, here on my back in the dark, nonetheless nothing stops, rather it (nothing) never stops, so here are some of the things that negate it:
Paula, at the Scotsman Steps Art (Students) Exhibition, with a girlfriend, facing in towards the corner at the top, apparently discussing something, carrying away some insecure items from her own display area down below. I stood a few steps above them, her, us. Then abruptly came in. 'You're finally exhibiting here, are you?' 'Oh, hello!' She is a consummately good actress -- could she not have seen me, could she have been genuinely pleased -- or at least not dismayed -- to see me? She asked me if I was reviewing the show for 'Insight' -- 'No, it folded, soon after I left. I don't think it had anything to do with my leaving, though!' I was aware that the 'it' had changed its denotation, also that the joke was old, uninspired, and in danger of conveying the wrong impression of my mood, so instead of easing it home with a smile or some other such harmless pretense (semblance of uncomplicated 'humanity' -- calculation) I looked away desperately after speaking. 'How's university?' she asked. 'It's four months, I can't remember.' She was beginning to follow this up, but I had already asked 'Did you go to Spain?'
This is awful.
That's right, pretend you have feelings.
'Oh well,' she said twice. I left with the consolation of moving down to her drawings & oils. 'They aren't very good,' she said, leaving, smiling.
They weren't very good, except for the signatures, similar to those on letters in my possession. I might buy one to expand my collection.
Galleries. Kafka's 'Amerika' back home. Possessive, clutching destruction of the self. Outside threats are competitors who can be afforded no foothold (especially not the binding, straw to flesh, of dummy self to partner, saviour, killer, woman).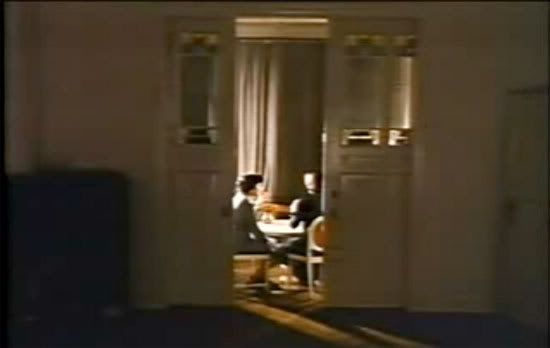 A film, 'Journeys from Berlin / 1971 (Working Title)' -- all human life is contained in it. If only I could
have it in writing
, yet, no, that was its greatest fault, the words flow incessantly, arrows which were unbearably accurate, unscrupulously demanding: 'You are God, you are our victim, you are omniscient, you are stupid,' they cried as they hissed into our helpless flesh (which is, after all, only that)...
Stonehenge from the air over / under a girl's sensitive diary entries -- her distance from the feelingless slabs, her necessary involvement nonetheless. 'There will be no steerage on spaceflights departing from the earth...' 'Want an axe to break the ice' ('Ashes to ashes') -- here the axe was that of the R.A.F. ('What makes you think anyone's worried about you?' -- Eno, 'R.A.F'). Psychoanalysis, surrealism. 'My brain is lying on the floor beside tramlines that go through the wall to the ashphalt six feet away...' -- but it was a camera track, not a tramline.
The shots of streetscenes through windows, landscapes from trains. How Kafka would have liked them! The scenery always a slap in the face to the ideals of the captions and words on the soundtracks -- not because they were 'real' -- but because they were so ruthlessly realised a dream.
Wonderful city. Narrow steps off Victoria Street, up towards the castle, descended by exotic black Africans in strange, brightly coloured robes, holding tartan-covered musical instruments. Off to a pub.
The buildings, yellow or brown, swelling with pride, suffer the service of harsh lights in the interests of moral enlightenment.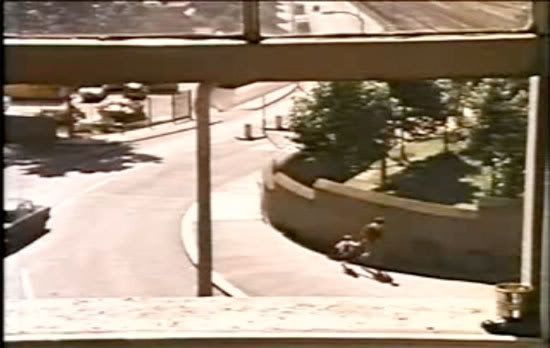 The director of 'Journeys' was there, waiting to be addressed by her audience in the bar. I couldn't bring myself to confront this person who had just widened my appreciation of the possibilities of expression, and my sense of community with anyone at all, vastly. At the door of what I took to be the bar, where everyone but me seemed to be going, an official asked to see a blue card which everyone but me seemed to possess. Such devices of exclusion, even though enigmatic, surprise me less than the simplest inclusion.
The girl who sat beside me during the film. What a wrench when she leaves so hurriedly afterwards. A relief too -- imagine having to speak immediately after receiving this huge innoculation of speculative stimulation. Yet she was my partner, at each shuffle or sigh I tensed adoringly.
We are clenched so intensely together in this cinema that a simple release becomes a violent ejection.
'
Espece de monstre
, species of monster,' I whisper to myself on the streets.