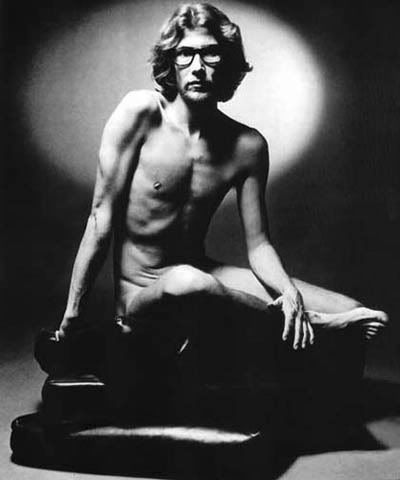 I first developed a fascination with the persona -- not the clothes -- of Yves Saint Laurent (
who's died
, aged 71) in the mid-1980s, when I was living in Chelsea. I was a poor man in a rich area, but I was ambitious, and curious to know whether people like me -- fine-boned, effete aesthetes, "homosexuals", whatever our actual sexual orientation -- could succeed in capitalism.
One answer to that question lay in Knightsbridge, where the Yves Saint Laurent shop was a kind of shrine to the most effete, most fine-boned, most aesthetic homosexual of them all, YSL himself. A huge black and white photograph of him -- naked but for his trademark spectacles -- loomed over the Rive Gauche boutique. In this 1971 image by Jeanloup Sieff, YSL seemed to radiate a Christlike spiritual glow. He was both immensely delicate and immensely successful, a sort of Christ who had succeeded in business just by making beautiful things.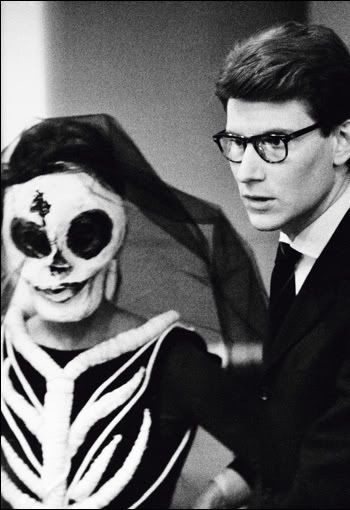 YSL joined my list of hyperaesthetic ectomorphs -- Christ, Warhol, Bowie, Sylvian -- whose beauty and talent had allowed them to break through endemic prejudice against their over-refinement to a wild success which would turn even their failings into admirable qualities. Their delicacy, childishness, protectedness, indulgence and narcissism would be encouraged, and mothers, managers and assistants (Saint Peter, Coco Schwab, Pierre Bergé) would protect them from the tough buffetings of the business world, or from petty jealousy. (It didn't always work, of course: Warhol's mother was nowhere to be seen when Valerie Solanas burst into the Factory with a gun. And where was Christ's father when...)
While the art and fashion worlds were the natural habitat of these bespectacled sissies, it was possible to be like that in the music industry too; the New Romantic 80s had thrown up one or two examples. What's more, I was signed to a label, él Records, run by a man who fitted the type to a T: Mike Alway. Mike and I would sit in
L'Etoile patisserie
on Westbourne Grove debating
"semi-ecclesiastical Op Art lime green lanterns"
and other abstract absurdities which seemed to us, at the time, to be solid steps on a sparkling, illuminated stairway to glory, albeit in some parallel universe (which turned out, in fact, to be Japan).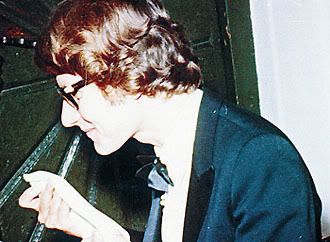 One of the ideas I remember discussing with Mike as we sat in L'Etoile, spectacle-to-spectacle and cheekbone-to-cheekbone, was a Momus album themed around Yves Saint Laurent's autumn 1968 Protest Collection, in which -- in a piece of homosexual
chutzpah
both admirable and derisory -- the designer had sent gold-toggled duffle coats onto the catwalks. What was he thinking? That the rich have the right to protest too? That protest is a fashion statement? That protest is golden? That
anything
can be recuperated by fashion? That having a cause you'd be willing to risk arrest and even death for is hopelessly rockist and hetero? That paying mocking tribute to such a cause is daringly anti-rockist and gay?
The Protest Collection album by Momus would have featured songs on precisely this issue -- the question of whether chic should or shouldn't be radicalised, and therefore whether the aesthetic and the political have any business with each other (it's a question I still haven't resolved). The cover shot would have doubled as our marketing campaign: it would have featured an image of me, looking as much like YSL as I could in my Ray Ban Wayfarers, double-breasted
Jaeger suit and sandals, running into the YSL shop in Knighsbridge and spraying the word PROTEST across the Jeanloup Sieff image of Saint Laurent. I would, of course, have been arrested and sentenced to serve in a prison where I would have been brutalised horribly by thickset bricklayers and swarthy car thieves.
In the end, I bottled the spray can protest and moved on to albums pastiching Mishima and Derek Jarman. But I retain some perplexed, complex affection for YSL, and would like to picture him, today, in heaven, sporting a shy grin, running up some swishy robes for his gorgeously prissy, sissy perfumed peers, too talented to fail, too gifted to live: Jesus Christ and Andy Warhol.