This Sunday I'll play an open air show in Hamburg with Felix Kubin, author of the splendid song
There is a Garden
. I
met Kubin
when I played Hamburg last year, but this will be our first show together.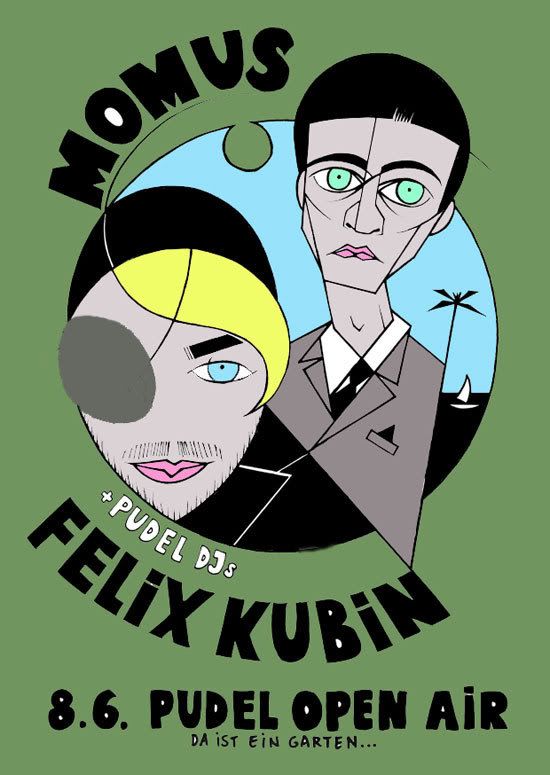 It's an afternoon gig in the open air, organised by the legendary
Golden Pudel Club
and staged right next to the garden I described in
my piece
about the utopian Park Fiction project. My stage time is approximately 5pm, with Kubin following.
Sonntag 8.6. 2008 ab 15.00 Uhr
THERE IS A GARDEN
live: MOMUS & FELIX KUBIN
plus diverse Pudeltanten
Sankt Pauli Fischmarkt 27
St. Pauli
20359 Hamburg
Telefon: +49 40 31979930
According to a loose translation of
Sebastian Reier's blurb
on the Pudel site, "two vain dandies will rake the stage, effulgently word-praising each other. One of them wears an eye patch, the second complains about knee problems. Momus is a Briton and a poet. He was even former labelmate to stadium rockers Oasis. Otherwise he has nothing in common with them. The park visitor only has to listen to his stories, full of punch lines and strange twists. In the late eighties, with Primal Scream on tour, Momus was witness to the fighting in the occupied houses in the port road. Later, he returned to play the Golden Pudel Club. Passion he showed that the fight is worthwhile.
"Felix Kubin, the man with the knee problems, also plays this afternoon. That he is an extremely talented musician and entertainer, Park and Pudel knows well. No two concerts by Felix Kubin are the same. This Sunday afternoon he will play music composed for radio plays. We expect surprises!"