I've been planning to write about Japanese art collective
Chim↑Pom
for a while, but their performance on Monday night at the opening of the new
NADiff a/p/a/r/t store
gives me the perfect excuse. It was, in some ways, a strange choice. NADiff is short for "new art diffusion". Chim↑Pom, on the other hand, is short for penis. In fact, you can think of the little arrow symbol in the middle of their name as a tiny, cute, erect one if you like.
Monday's NADiff opening and Chim↑Pom performance, at a new five-floor gallery complex near Ebisu station, was queued around the block, and got blogged by regular Tokyo art scene observers
Roger McDonald
and
Ashley Rawlings
. Chim↑Pom made a performance called "Japanese Art is 10 Years Behind", which -- according to Ashley -- involved a rubbish-strewn, graffiti-covered basement lit by fireflies, with Chim↑Pom
garu
-star Ellie rowing about in a rubber dinghy. Outside a "future van" was parked, and members of the collective dressed in shirts painted with the motto "GO FOR FUTURE!" invited guests to write their wishes on it.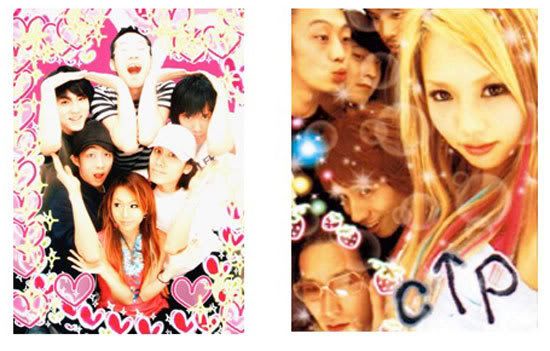 For the last ten years NADiff has been right at the heart of my own personal Tokyo. The bookstore, cafe, record shop and gallery space just off Omote Sando was where I bought the CDs that provided the samples for my "Oskar Tennis Champion" album, and where I met outsider musician
Yximalloo
for the first time (his forthcoming album, by the way, is called Unpop after
this essay
). Chim↑Pom, on the other hand, are brand spanking new: they only formed in August 2005. Before that, as they relate in this YouTube interview, they were just a bunch of art groupies who used to hang around Makoto Aida's house.
"We'd hang around Makoto's house, drinking late," they tell the interviewer, "then wake up in the morning, still there, demanding food. We didn't really consider how busy he was. Then we started making art."
Chim↑Pom's ascension to the position of "young Tokyo art stars to watch" marks a swing from the Koyama-Ishii stable of galleries (representing, amongst others, the Takashi Murakami constellation) to the Mizuma-Mujinto stable (
Makoto Aida
is represented by Mizuma, Chim↑Pom by
Mujinto
). The Mizuma-Mujinto group are younger, more fiercely Japanese, more humorous, less oriented to bling, less anally career-fixated, more socially-conscious. Since the Murakami school made a big deal about the power of
otaku
, Chim↑Pom start their interview by marking a certain distance from the idea. They began quite dark and nerdy, they say, a boy's club. But that was too
otaku
, and
otaku
"is not everything". Then (a bit like the Human League) they recruited
Ellie
, a gal -- or
garu
-- who lives for clubbing (she sleeps all day and dances all night).
Since then -- as
PingMag reported
back in January -- they've posed real rats they collected in Shibuya in cute Pikachu poses, filmed Ellie spewing pink vomit, blown up their possessions, staged an auction in which the prices went down instead of up (a protest against Damien Hirst's diamond skull and Takashi Murakami's Miss Ko2, which both went for record sums), gathered a cloud of crows over 109 Shibuya using a motorbike (the action Hisae and I reported last week during our
London-as-Tokyo event
), turned Tokyo's Disney Sea simulacrum of Venice into their own personal Venice Biennale, and made a Princess Diana-style anti-landmine video in Cambodia.

"How many prosthetic legs could be bought with the $100 million that Hirst's work got?" they ask. It's a good question, but Chim↑Pom aren't puritans. Bling culture is there to be used: "In the spirit of Diana we channel the lineage of the volunteer spirit and the girly culture from Hepburn to Madonna via Angelina Jolie." Individual expression is boring, the collective thinks, and doesn't matter. Happiness is decided by your heart; it's best to be poor but happy. Only one issue divides the group at present: whether they wish everyone in the world to feel
galaxy
(Ellie's wish) or
universe
(Ushiro's).